BWW Review: THERE IS NOTHIN' LIKE A DAME, Cadogan Hall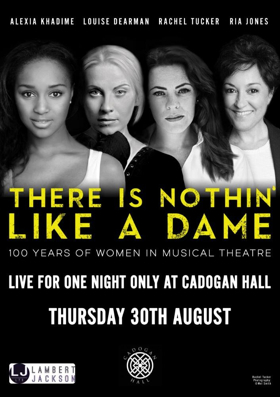 Lambert Jackson's debut show, There is Nothin' Like a Dame, was a smash hit, with four talented actresses celebrating 100 years of women in musical theatre.
West End stars Louise Dearman, Ria Jones, Alexia Khadime, and Rachel Tucker showcased famous female roles from the past century in chronological order over the course of the night, with each number seeming to be better than the last.
It was a wonderful balance of solos, duets, and even trios and quartets. The show opened with a great "Anything Goes" quartet and ended with all four women singing "Let It Go" from current Broadway hit Frozen.
Some other highlights of the night included Alexia Khadime's sultry "Can't Help Lovin' Dat Man" from Showboat and Ria Jones bringing the house down via "With One Look" from Sunset Boulevard. Rachel Tucker and Ria Jones absolutely did justice to the gorgeous "I Know Him So Well" from Chess, and the "Big Spender" quartet was somehow simultaneously sexy and funny.
They did a splendid selection of Rodgers and Hammerstein songs, with Rachel Tucker singing a hilarious "I Cain't Say No", Alexia Khadime a bouncy and playful "I'm Gonna Wash That Man Right Outa My Hair", Ria Jones an elegant "Shall We Dance", and Louise Dearman a stunning "You'll Never Walk Alone".
Louise Dearman also performed wonderful renditions of "I Dreamed a Dream" and "She Used to Be Mine". In general, the concert emphasised her versatility as a performer. One of the best numbers of the night was the truly magical "The Wizard and I", sung by three former Elphabas: Louise Dearman, Alexia Khadime and Rachel Tucker.
Lambert Jackson held a competition to pick a young singer to have the chance to do a number onstage. Daisy Greenwood sang a great rendition of "Don't Rain on My Parade", especially considering she's only 17 years old. It was so wonderful to see a potential future West End star up amongst four actresses with illustrious careers and many credits to their names.
Cadogan Hall is always a lovely venue for a musical theatre concert as it provides a stately backdrop. It is also worth mentioning that between the four ladies, they wore eight gorgeous gowns over the course of the concert. The audience clearly was having a blast and there were multiple standing ovations over the course of the evening.
One of the best parts of the night was seeing the four stars watch each other perform with such joy on their faces. In today's world, it's so important for women to support each other and it was amazing to see proof of it happening onstage. These four very talented women demonstrated that there have been some great female roles over the past century. Here's to a hundred years' more!
Be sure to check out our interview with Louise Dearman about this concert.
There is Nothin' Like a Dame took place at Cadogan Hall on 30 August.
Related Articles View More UK / West End

Stories

Shows