BWW Review: THE DIARY OF A NOBODY, King's Head Theatre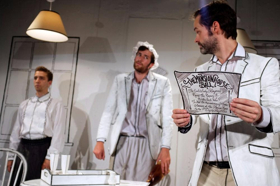 You wouldn't expect a Victorian tale to be this relatable, but The Diary of a Nobody showcases a surprisingly modern everyday life. London clerk Charles Pooter struggles through family issues, class conflict and work trials with hilarity and hijinks.
The stage comedy, directed and written by Mary Franklin for company Rough Haired Pointer, adapts the classic 19th-century novel by George and Weedon Grossmith. Set from 1888 to 1889, the play retains the diary format, which keeps it fast-paced by never spending too long on any one day. This production follows two well-received runs at the White Bear Theatre in 2014 and the King's Head Theatre in 2015.
It almost feels more like a series of sketches based around one character than a typical play with a linear plot line. Just four actors play 45 roles, with everyone but Jake Curran (Mr Pooter) switching between roles continually.
The play mocks typical Victorian pun-based humour and replaces it with both social and physical comedy. Pooter's small world is fairly recognisable to a modern audience as he attempts to assert dominance over his wayward son, keep peace with his wife, and impress his boss at work. The show also utilises music throughout, of varying quality; while some is simple guitar, piano, or singing, other songs involve bizarre combinations of instruments, including a kazoo.
Jake Curran shines as Charles Pooter, bringing a distinctly middle-class self-importance to the man without ever veering into caricatured vanity. He's a reassuring constant as the other actors of the company (Jordan Mallory-Skinner, Loz Keystone and George Wright) cycle through dozens of characters.
Mallory-Skinner is impressive as Pooter's wife, Carrie, and draws many laughs from the audience. While he's also the set designer for the show, his most impressive moment may be when he eats a raw egg on stage.
Keystone employs hilarious facial expressions, both as Pooter's son, Lupin, and particularly when posing as a series of portraits. Meanwhile, Wright's talent lies in how distinct and well-formed his characters are - from the maid, Sarah, to Carrie's friend, Mr Jones. All four actors remain on stage almost during the entire show.
The space itself feels quite intimate and the actors often venture into the audience. In one scene, snow even falls in the middle of the aisle. The actors often appeal directly to audience members, and the fourth wall seems flimsy at best.
The comedy ranges from more old-fashioned physical humour to jokes about theatre itself. The latter went down quite well, especially when one of the actors imitated the front-of-house man at the beginning of the show who had advertised their merchandise and donation buckets.
Otherwise, the humour is best received when it's relatable, like when Pooter awkwardly runs into an old classmate who's done quite well for himself, or when the ironmonger fixing the scraper announces that he's somehow hit a gas line and thus there are tons of workers on the street. The moment that drew the most laughs, however, may not have been intentional as it seemed that the fake piano was actually broken accidentally by one of the actors - to the audience's delight.
Christopher Hone's effective black-and-white set is based on the original illustrations included in the novel. The stage is littered with props, from bottles of Champagne to the maid's feather duster. Lighting is used creatively and humorously, such as the flash of red every time the word "ironmonger" is said.
The audience may also recognise something of themselves in Mr Pooter's wish for his thoughts to be heard. While his family dismisses the importance he places on his diary and his desire that it may one day be published, it's easy to see a resemblance to the modern day fascination with documenting our lives via social media, blogs and YouTube. Maybe we have more in common with the Victorians than we thought.
The Diary of a Nobody at the King's Head Theatre until 18 November.
Photo Credit: Susie Safavi