BWW Review: LES MISERABLES, Festival Theatre, Edinburgh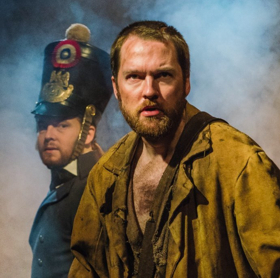 For the first time in nearly a decade, worldwide sensation Les Miserables is heading out on a UK tour. Cameron Mackintosh's 25 year anniversary tour has been described as "Les Mis for the 21st Century". This production is set against a backdrop inspired by Victor Hugo's paintings and provides a breathtaking spectacle.
Set in early 19th-century France, Les Miserables centres around Jean Valjean, a man who was imprisoned for 19 years for stealing a loaf of bread. Valjean breaks his parole upon release and a police inspector named Javert is relentless in his pursuit.
The score is sung-through by incredible talent. Leading the cast is Killian Donnelly as Jean Valjean, who gives a terrific performance with vocals that shake you to your very core. Nic Greenshields plays Javert and gives the most powerful rendition of "Stars" that I have ever had the pleasure to hear.
As a contrast to these big, belting male vocals, Tegan Bannister gives the sweetest "On My Own" as Eponine. While Eponine is quite a tragic character, Bannister portrays strength and determination, which is a delight to watch. Katie Hall makes for a wonderful Fantine and her "I Dreamed A Dream" is an early show-stopper in the piece.
The sets are undoubtedly the best I have seen on any touring production. The scene changes are seamless and so impressive. The scale of the show, particularly the barricades, is jaw-dropping. Beky Parry's lighting direction is a sight to behold as the spotlights create isolation for the characters and set the mood against the murky projections.
The strongest scenes are the group numbers, such as "Look Down", "One Day More" and "Do You Hear The People Sing", as the well-directed cast seem to move as one. The vocals throughout the production are extraordinary and you cannot fail to be moved by it.
It was announced earlier this month that the London production of Les Miserables is going to be replaced with the touring version and the revolving stage will be no more. While many are disappointed by this news, after seeing this touring production I can't imagine anybody being unhappy with this exceptional staging.
Les Miserables is on tour around the UK.
Related Articles View More UK / West End

Stories

Shows