Click Here to Visit the College Center

Blogs are the opinions of the authors and do not necessarily reflect the opinions of BroadwayWorld. BroadwayWorld believes in providing a platform for open and constructive conversation.

Student Blog: Back Onstage- The Understudy Run
If you do the work, it will always see you through. Take a deep breath, believe that you can, and get back out there.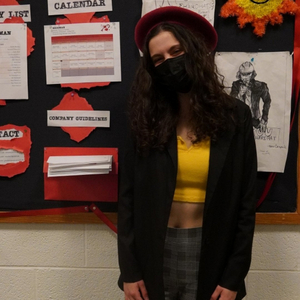 Hello Broadway lovers, theatre students and creators around the world! Welcome back to the blog as we enter November in the final week before Thanksgiving Break. Sending everyone lots of love and strength as we push through this crazy month, with all its quizzes and papers mysteriously falling on the same day. Personally, I don't think I've taken a full breath since September! This semester has been a hectic, theatre and caffeine fueled whirlwind.
As I wrote about in my last blog, this fall I've been involved in UMD's production of Hookman, Lauren Yee's existential, slash-killer comedy. I understudied the role of Chloe, the frantically busy UConn freshman with a slight coffee addiction. Not only was Hookman my first live production since COVID, it was also my first time being an understudy. I appreciated understudies before actually being one myself, but there was always that degree of separation. I viewed the understudy process from the outside looking in, but didn't really know the ins and outs of the experience. Well, now I know. Being an understudy is HARD WORK, much more so than I anticipated.
The whole experience was a balancing act between emulating the main cast's choices and creating a character uniquely my own. It was a lot of watching and learning, without many opportunities to get on my feet and practice in the rehearsal space. I was grateful to learn so much about the understudy's job from the safe space of college, getting the chance to tackle this new position. I loved embodying Chloe, as well as working with my directors and main/understudy casts. The only difficulty? I didn't get to practice onstage before the show. At UMD, we have an understudy run: one performance with just the understudy cast. In preparation for the run, we watched the main cast and practiced our runs in a separate rehearsal room. But we did not touch the stage until the night of our show.
Our show happened last night. I was literally overrun with nerves. This performance marked my first time on that stage, physically and figuratively, since the pandemic. Just a few too many firsts for one slightly overwhelmed understudy. The moment before my first scene was rough. I felt completely vulnerable, a far cry from the way I usually feel while performing. During the first scene, I actually went on a kind of autopilot. I just let my work take over while I mentally got used to the feeling of an audience again. I was shaking as I walked offstage. That rocked me. I loved theatre more than anything in the world. Why was I so nervous?
I had two more scenes, and knew I couldn't stay in this place of anxiety. I had to really take a moment to breathe and collect myself. Most importantly, I had to forgive myself for being so nervous (as opposed to my current stream of negative self-talk). I reminded myself that the return to "normal" post-pandemic is difficult, and the same goes for theatre. Especially on the first onstage run! Then, I had to put renewed confidence in my work so I could get back onstage and actually enjoy the process. That was the hardest moment for me. I didn't have time to rehearse again or change any of my previous choices. Instead, I had to trust in myself and my abilities to perform again- just as I was. And I did.
My second scene felt infinitely better. As did my third. While I was still nervous, I could actually breathe and relax into the role- entering the world of the play. And it was fun!! I was so grateful to enjoy acting again. It had been so long. My journey with live theatre continued.
Usually when I blog, I know exactly why. There's something I have to say: a lesson, advice, a worry, etc. But, I'm not 100% clear on why I wrote this one. Is this article an appreciation for understudies? An observation about my re-entry to live theatre? Maybe a little bit of both. But I think that, most importantly, this article is a reminder to breathe and trust yourself. Your performance will always be enough, because it's uniquely yours. You have the strength to step on stage again, even when you don't feel ready or capable. If you do the work, it will always see you through. Take a deep breath, believe that you can, and get back out there. Happy live theatre!