Photo Flash: GEFILTE FISH CHRONICLES Performs at the White House
Gefilte Fish Chronicles the Musical was invited to perform at the White House. The event was hosted by Presidential Senior Advisor,
Valerie Jarrett
and Congresswoman, Debbie Wasserman Schultz. After a crowd pleasing presentation, the entire cast, writers, and crew, were invited to attend a VIP reception with Vice President Biden. Scroll down for photos!The Chronicles was invited to the White House to celebrate Jewish American Heritage Month. This year the focus was on entertainment and family. Iris Burnett, Executive Producer said, "What is really important is that a celebration of family resonates with people regardless of culture, color, or religion. Only three of the nine cast members were Jewish, but they had no problem identifying with the theme -- "celebrating the power of family."
The Gefilte Fish Chronicles the Musical is directed by Emily Maltby, with orchestrator
James Higgins
. Recently adapted to a musical production following its 2007 television premiere, "The Gefilte Fish Chronicles" speaks to the Jewish American experience and to the rich traditions and stories that American Jews have kept alive across the generations.
Gefilte Fish Chronicles, the Musical, which celebrates the power of family. Written by Iris Burnett and Matty Selman, with music and Lyrics by Matty Selman. Starring Broadway's own Elizabeth Ward Land, and world famous mime Bill Bowers, the production uses music, stories, and humor to tell a universal tale.
The musical answers the universal question all families face. How do we pass on to our children and their children all the traditions, celebrations, and history about the family to which they belong. And how do we keep the spirit of all those family members who are no longer with us, alive in out hearts, minds and memories.The show also features experienced actors,
Matt Harrington
,
Jordan Kai Burnett
,
Dayna Grayber
,
Sara Dobri
nich, and Rebecca Odorisio and
Max Bisantz
.The Chronicles opened in Torrington Ct. in March and is moving to Boulder Colorado, Montreal, Canada and Just Off Broadway, in the Fall.


Cast of GEFILTE FISH CHRONICLES THE MUSICAL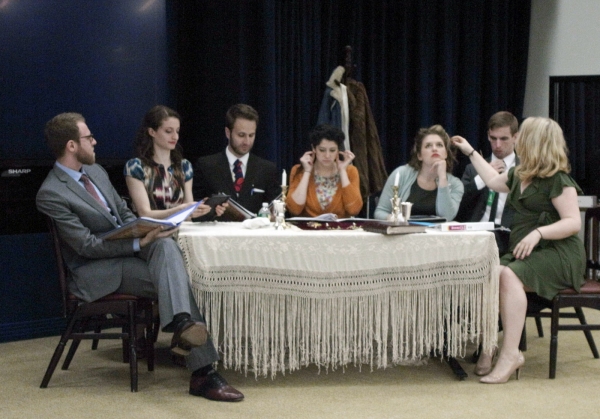 Cast of GEFILTE FISH CHRONICLES THE MUSICAL

Cast of GEFILTE FISH CHRONICLES THE MUSICAL

Related Articles View More Washington, DC

Stories

Shows
More Hot Stories For You