Maurice Hines to Emcee 2018 Arena Stage Gala with Mary McBride as Headliner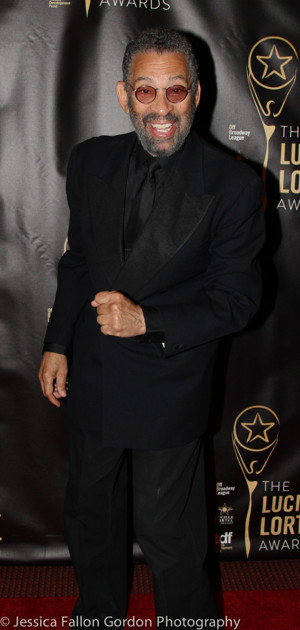 Arena Stage Artistic Director Molly Smith and Executive Director Edgar Dobie are pleased to announce that Broadway legend Maurice Hines will serve as the Master of Ceremonies and international touring artist and global humanitarian Mary McBride will headline the 2018 Arena Stage Gala honoring Mayor Muriel Bowser on Thursday, May 10, 2018 at the Mead Center for American Theater (1101 Sixth St., SW). As previously announced, the Gala features the presentation of the third annual Beth Newburger Schwartz Award to D.C. Mayor Muriel Bowser, and will recognize Jessica Stafford Davis as an Emerging Leader. The Gala is helmed by event chairs and Arena Stage Trustees Lavern Chatman and Maggie FitzPatrick.
Maurice Hines, an actor, director, singer and choreographer, returns to Arena Stage to emcee the 2018, and will perform a couple of numbers. At Arena, he has performed in Maurice Hines is Tappin' Thru Life, Sophisticated Ladies and Guys and Dolls. Launching his career at the age of five, his Broadway credits include Eubie!, Bring Back Birdie with Chita Rivera and Donald O'Connor, Sophisticated Ladies, conceived/directed/choreographed/starred in Uptown...It's Hot (1986 Tony Award Best Actor nomination) and collaborated with Maurice White to choreograph/direct the hip-hop musical Hot Feet featuring the music of Earth, Wind, and Fire.
Singer Mary McBride and her band have performed in more than 30 countries, taking audiences on a roller coaster ride with their fiery blend of blues, gospel, country and old school rock 'n roll. The Washington Post described her voice as a "rugged, force-of-nature voice [that] unpacks the old spiritual like some distant relative of gospel legend Marion Williams." McBride is also the Founder of The Home Tour, which brings high energy, high impact, live shows to audiences where they least expect it, including orphanages in Pakistan, disability centers in Vietnam, senior centers on the Estonian-Russian border and women's prisons in Albania. CNN acknowledged McBride's contribution to the global community: "McBride is on a mission. She is performing and touching hearts, reaching out and connecting people through music." A native Washingtonian, she recently sang the National Anthem at Nationals Park. She appeared on both the soundtrack and in the film, Brokeback Mountain; released four albums; and has been profiled by The New York Times, The Wall Street Journal and MSNBC's Morning Joe.
"I launched the Home Tour as a way to reinforce the fact that people, no matter who they are or where they are living, have a right to live music, and to be surrounded by art," McBride says. "I am honored to be performing in my hometown in Washington at Arena Stage, which, through its tremendous performances and generous spirit, makes every single person who walks through its doors feel instantly at home."
"I am thrilled to honor Mayor Bowser at the Gala," says Newburger Schwartz. "She exemplifies the best qualities of leadership in the ways she has brought disparate groups of citizens together to move our city forward. From her groundbreaking work that has given new life to the Southwest Waterfront, to her thoughtful policies that produce better schools and housing for our children and their families, she has created the vibrant community that is Washington today and it is my pleasure to present her with this award."
The evening kicks off with a cocktail reception, followed by a performance and a three-course seated dinner. The performance will feature the presentation of the Beth Newburger Schwartz Award to Mayor Muriel Bowser, in recognition of her unparalleled commitment to and support of the arts throughout Washington, D.C. The award was first presented to Arena Stage Board Chair Newburger Schwartz in 2016, and Arlene Kogod in 2017, and celebrates a female leader who strives to better the community in which she lives through her own unique strengths and talents. In addition, Jessica Stafford Davis will be honored as an Emerging Leader in recognition of her passion and entrepreneurial support of the arts. Davis is the founder and CEO of The Agora Culture, a multi-cultural arts platform that connects emerging and well-known artists with collectors.
All proceeds from the evening support Arena Stage's award-winning artistic and community engagement programs.
Space is limited.
Event Schedule
Thursday, May 10, 2018
5:30 p.m. Cocktail reception
6:30 p.m. Award presentation and performance
8:00 p.m. Seated dinner
Individual Tickets
Dinner Ticket - $1,000
Young Professional Ticket (35 or under) - $300
For additional event details visit arenastage.org/donate/special-events/1718benefit/index.shtml.
For information on individual ticket or table purchases please contact Maria Corso at 202-600-4025 or email mcorso@arenastage.org.
For information on corporate sponsorship packages, please contact Char Manlove-Laws at 202-600-4030 or email cmanlove-laws@ArenaStage.org.
2018 Arena Stage Gala honoring Mayor Muriel Bowser is generously sponsored by Exelon. Additional support is provided by Decker Anstrom and Sherry Hiemstra, Arent Fox LLP, Joanne Barker, Judith N. Batty, Susan and Steven Bralove, Compass Realty, GEICO, Ann O. Hamilton, Beth Newburger Schwartz and Peggy and David Shiffrin.
Maurice Hines last appeared at Arena Stage in Maurice Hines is Tappin' Thru Life, Sophisticated Ladies and Guys and Dolls. At the age of five, he studied tap at the Henry LeTang Dance Studio in NYC. Along with his brother, Maurice appeared in Broadway and touring productions as the opening act for such headliners as Lionel Hampton and Gypsy Rose Lee. Their father then joined the act and Hines, Hines & Dad performed to rave reviews in NY, Las Vegas and Europe. He made 35 appearances on The TonightShow with Johnny Carson. Maurice starred as Nathan Detroit in the national touring company of Guys and Dolls and then appeared on Broadway in the hit musical Eubie! (1978-79) He co-starred in Bring Back Birdie with Chita Rivera and Donald O'Connor, and starred in Charles Randolph Wright's Sophisticated Ladies. Maurice made his screen debut in Francis Ford Coppola's The Cotton Club. He created the dance company Ballet USA with Mercedes Ellington. Maurice conceived, directed and choreographed the musical Uptown...It's Hot! which played for 17 sold-out weeks in Atlantic City. He joined the cast when the show moved to Broadway and received a 1986 Tony Award nomination as Best Actor in a Musical. He co-directed and choreographed the national tour of the musical Satchmo, produced by Kenneth Feld. Maurice directed, choreographed and starred in the national tour of the musical Harlem Suite with successive leading ladies Jennifer Holiday, Stephanie Mills and Melba Moore. Maurice has directed and choreographed many music videos, including "I'll Be Good to You," the first release off of Quincy Jones' "Back on the Block" album. Maurice because the first African-American director for Radio City Music Hall when he directed The Radio City Spectacular. Maurice starred as Jelly Roll Morton in the forty city first-class national tour of the musical Jelly's Last Jam (1994-95). In 2006 Maurice collaborated with Maurice White to choreograph and direct the hip-hop Broadway musical Hot Feet featuring the music of Earth, Wind, and Fire. Maurice's latest album on Arbor Records "To Nat 'King' Cole, With Love" was released to critical acclaim. Recently, he choreographed productions of Hairpsray in Santo Domingo, Arena Stage's Sophisticated Ladies at The Lincoln Theatre, as well as new show called Dance, Dance, Dance Snap. He also directed MetroStage's Ella: First Lady of Song starring Freda Payne. Maurice is the recipient of the Helen Hayes Award for Outstanding Choreography for Cool Papa's Party at MetroStage. Maurice most recently was seen performing his biographical one-man-show, Maurice Hines is Tappin' Through Life at Arena Stage, ALLIANCE THEATRE, The Wallis Annenberg Center and Cleveland Playhouse.
Mary McBride is a singer-songwriter, who has released four albums - "Everything Seemed Alright," "By Any Other Name," "Every Day Is a Holiday," and "The Way Home." Mary received significant acclaim for her performance of "No One's Gonna Love You like Me" on-screen and on the soundtrack of the Academy Award-winning film Brokeback Mountain. Mary and her band members have performed thousands of live shows and have collaborated, performed or toured with Blondie, Chubby Checker, Clarence Gatemouth Brown, Cyndi Lauper, Delbert McClinton, Jerry Lee Lewis, Joe Cocker, John Prine, koko Taylor, LL Cool J, Lou Reed, Marcia Ball, Rufus Wainwright, Maria Muldaur, Natalie Merchant, Patti Smith, Mavis Staples, Philip Glass, Ray Davies, Son Volt, Sugarhill Gang, B52s, Indigo Girls, Tony Joe White and Ziggy Marley. They have also performed with Elton John for the 35th Anniversary Concert of "Goodbye Yellow Brick Road," and at the New Orleans Jazz and Heritage Festival. As a Cultural Envoy for the U.S. Department of State, Mary has performed in more than 30 countries, including Afghanistan, Pakistan, Russia, Ukraine, Vietnam and Saudi Arabia (where she toured with the first all-women touring band from the U.S.) Mary is also the Founder of The Home Tour, which uses live music to inspire and connect people, and engage the global community. In partnership with more than 100 social service organizations worldwide, The Home Tour brings live concerts to long term health care centers, veterans facilities, homeless shelters, supported-housing, mental health facilities and prisons. Between 2012 and 2016, Mary oversaw a music and leadership program, in coordination with the CT Mental Health Center, Yale School of Psychiatry and the CT Department of Mental Health Services, to support young people recovering from trauma and mental illness. Mary is a sought-after speaker on cultural diplomacy and international exchange. She was a featured speaker on a panel at NYU Abu Dhabi on a panel on Arts and Diplomacy in the Emirates, and also represented the U.S. on the plenary panel at the International Women's Conference in Islamabad, Pakistan. Most recently, she spoke on a panel at Yale University as part of the International Art and Ideas Festival; at the International Society of Performing Arts Presenters in New York; and at The National Humanities Center in Chapel Hill, NC as part of a new public program entitled Novel Sounds: American Fiction in the Age of Rock and Roll. Mary's work as a musician and humanitarian has been featured on CNN, MSNBC and in New York Times, Wall Street Journal and Washington Post.
Muriel Bowser serves as Washington, D.C.'s seventh elected Mayor. Sworn in on January 2, 2015, she pledged to bring a fresh start to the District of Columbia, create pathways to the middle class for residents, and foster a culture of inclusion, transparency and action. Mayor Bowser expanded opportunity across all 8 Wards of D.C. by strengthening job training programs, and by attracting and retaining jobs in the District. As of the first quarter of 2016, there are burgeoning projects across the city that will eventually deliver 32,000 new jobs. Washington, D.C. is the economic engine of the metropolitan region, and has one of the strongest local economies in the country. Mayor Bowser is committed to producing, protecting and preserving affordable housing. In her first budget, she devoted an historic $100 million to the Housing Production Trust Fund, putting an unprecedented number of affordable housing units into the pipeline. She also made historic investments in education to accelerate the pace of education reform. DC has the fastest improving urban school district in the nation. The Mayor is committed to making sure every Washingtonian gets a fair shot, including its most vulnerable residents. When she came into office, she pledged to end homelessness. She has taken bold moves to deliver on that commitment, including closing D.C. General to replace it with family transitional homes. In everything she does, the Mayor puts District residents first, and ensures that the city's priorities match the peoples' priorities. She holds community engagement forums to solicit public input prior to finalizing her fiscal year budget. She is creating a more transparent and open government through a cutting edge open data policy. She championed the successful launch of one of the largest, most transparent body worn camera programs in the nation, to enhance trust between the community and D.C.'s metropolitan police department. And she launched an inclusive technology program to support startups and entrepreneurs offering products and services to underserved communities. Prior to her time as Mayor, Bowser served as the Ward 4 councilmember of the D.C. Council - first elected in a special election in 2007, and re-elected in 2008 and 2012. As a Councilmember, Bowser served as the Chairwoman of the Committee on Economic Development which created more than 5,000 units of affordable housing, passed legislation to build a new soccer stadium and secured from the federal government the best portion of the Walter Reed campus for D.C. Bowser led her colleagues to pass comprehensive ethics reform and increased transparency in government contracting. Bowser also served as an Advisory Neighborhood Commissioner in the Riggs Park neighborhood. A native Washingtonian, Bowser earned a Bachelor of Arts degree in History from Chatham University and a Master's degree in Public Policy from American University.
Jessica Stafford Davis is the founder of The Agora Culture, a multi-cultural arts platform that connects artists with a diverse array of new and experienced collectors. Raised in Virginia, love of art is nothing new for Jessica. During her childhood and beyond, she had an admiration for art, but access to both physical pieces and art education was more difficult to come by. Aside from the aesthetic appeal, her appreciation for artists cultivated as she learned just how nuanced the creation process can be. While her professional career initially took her into jobs in the finance and business world, Jessica has always known her passion was art, and merging that love into a "job" was a top priority. Motivated, Jessica went back to school for art history as she prepared for the launch of her new business. The Agora Culture launched in July 2013 with a private reception in McLean, Virginia for Mequitta Ahuja, a world-renowned mixed media artist. Subsequently, she co-curated her first exhibition, "Women as Color Light and Form", with the Galerie Myrtis in Baltimore, Maryland. The exhibition was a part of Network Exhibition Sondheim awards for the 2013 Artscape festival, America's largest free arts festival. Jessica currently serves on the boards of the Washington Project for the Arts (WPA) and the Advisory Council for George Mason University School of the Arts. Jessica also is a member of ArtTable, a leadership organization for professional women in the visual arts. At home, Jessica nurtures her most precious works of art, her two sons, Thurston and Triston.
Beth Newburger Schwartz is Arena Stage's former Board Chair. She is an entrepreneur who has founded and sold several businesses and is currently heading Richlynd Federal and Epoch Communications. She is known for her work as director of communications for the National Trust for Historic Preservation. Prior to joining the National Trust, she was appointed by President Clinton to co-chair the Presidential Women's History Commission and vice-chair the bi-partisan Congressional Women's Progress Commission. She also served in both Clinton administrations as associate administrator of the general services administration and outreach coordinator for the White House Office of Women's Initiatives and Outreach. Before entering public service, Beth was the founder and CEO of Corabi International Telemetrics, Inc., the company that invented and marketed the patented telepathology process that allows physicians to make diagnoses from a remote location. She was also the founder/president of Owlcat/Digital Research, Inc., the company that developed the first computer-based test preparation products for the SATs. Newburger Schwartz has also served as publisher of Washington Woman Magazine, chairman/CEO of Health Street, Inc., marketing manager of The Washington Post and the director of advertising for the New Republic Magazine. Newburger Schwartz is a former chairman and currently a trustee of the National Children's Museum and the Franklin D. Roosevelt Library. In addition to Arena Stage, she also serves on the boards of the Eleanor Roosevelt Papers, President's Council of Cornell Women, ApolloPacs and Boat Owners Association of the United States. The Cornell University graduate shared her love of theater and the arts with her late husband, Richard Schwartz, the founder of BoatUS and an extraordinary philanthropist.
Arena Stage at the Mead Center for American Theater, under the leadership of Artistic Director Molly Smith and Executive Director Edgar Dobie, is a national center dedicated to American voices and artists. Arena Stage produces plays of all that is passionate, profound, deep and dangerous in the American spirit, and presents diverse and ground-breaking work from some of the best artists around the country. Arena Stage is committed to commissioning and developing new plays, and impacts the lives of over 10,000 students annually through its work in community engagement. Now in its seventh decade, Arena Stage serves a diverse annual audience of more than 300,000. arenastage.org
Photo Credit: Jessica Fallon Gordon