BWW Review: Theater J's ACTUALLY is, Actually, Very Thought-Provoking
Theater is one of the most reactive art forms that we have. It is a way for us to examine our world's most pressing issues and reveal humanity which is often not seen in news headlines. With everything in the news recently relating to Title IX, sexual assault, and campus safety, everything can feel like a clear-cut issue. But Theater J's new production of Actually, which opened on Monday night, provides new voices to this oft-discussed issue. Anna Ziegler's script undoubtedly has important things to say-and Actually is a crucial piece which dives into the intricacies of campus safety. It's tough material that suffers from some uneven pacing but one which, nevertheless, encourages continued engagement and thought.
Amber (an incredible Sylvia Kates) and Tom (Jaysen Wright) are having a good time together at the show's beginning: talking and drinking at a college party. But, when discussing the evening with her roommate the next day, Amber reveals it may not have been a good time for her. She reveals that "he practically raped me" as if it was the most casual thing in the world. Unsurprisingly, this statement snowballs until Amber and Tom find themselves on opposite sides of a Title IX investigation. As the "he said, she said" continues, the events that led to their hearing become less clear-cut and cast doubt onto both of their recollections.
It's a tough pill to swallow in light of recent events. Amber's memories of the evening are spotty, but does that mean they are inaccurate? Tom seems like a perfectly nice guy, but does that mean he's not a rapist? Both of them were drinking to excess on the night in question, but does that remove blame from Tom? All of these questions felt much easier to answer before 2018-but they now become much more uncomfortable to explore.
A lot of the uncomfortableness stems from the bare production design, which gives you no other stimuli beyond the actors and their thoughts. Jesse Belsky's set design is utilitarian with only a green platform (like a chalkboard or a college quad) with two desks. It doesn't feel completely barren, however, thanks to some excellent lighting design (also supplied by Jesse Belsky). With only one costume each for the night, Sarah Cubbage does dutiful work-providing enough layers for the two of them to have interesting elements to play with. Overall, Johanna Gruenhut has minimized almost any movement during the evening, letting Ms. Kates and Mr. Wright sit at their respective desks on either side of the stage for the majority of the show. It's a move that forces you to listen to the script with more intensity but also one that can make the pacing feel sluggish when Ms. Ziegler's writing is less compelling.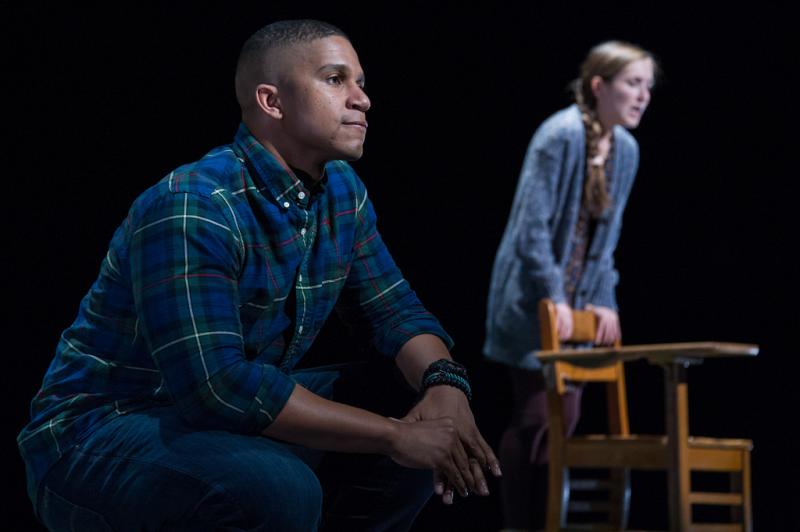 Pace ends up being the biggest downfall for this production. Almost all of the action is told in dueling monologues where Amber and Tom recount their life stories and the early days of their flirtation at Princeton. It's a nice device but Actually suffers from too much of a good thing. Their monologues become borderline repetitive at many points, a truth that is underscored by just how dynamic the brief moments of dialogue are. The last fifteen minutes or so are incredible, but there's a whole lot of stop-and-go you have to get through before reaching the show's moving climax.
The pacing oddities fall outside of the control of the two very skilled actors for this production. Ms. Kates brings a lightness to Amber that perfectly paints a woman who feels uncomfortable in her own skin and longs for someone to look at her the way they look at her "hot roommate." Amber is annoying for most of the production, sure, but Ms. Kates is just too endearing to not elicit some form of sympathy from the audience. Mr. Wright, conversely, is the picture of a suave playboy. He hits the emotional points of his performance well, but Mr. Wright has thinner material to work with overall-making him work much harder to get the same sympathy from the audience.
And maybe that's the point. Ms. Ziegler's script is more than just a study of college rape cases and Title IX procedures. Actually has a lot to say about race, gender, and sexuality and how those factors can bleed into our preconceived notions about others. You'll likely leave the theater thinking something drastically different from everyone else in the audience. After leaving Monday night's show, almost every audience member I talked to had a different interpretation of the events on stage. Theater J's Actually isn't a perfect production-and that's okay. It is, however, a show that encourages discussion beyond the walls of the theater and which you will likely ponder-much like I have-long after the stage lights turn off.
Theater J's Actually runs approximately 90 minutes with no intermission and plays through November 18 in the Kogod Cradle of Arena Stage at the Mead Center for American Theater. For tickets and information, click here. For additional information about Theater J, click here.
---
Sam Abney is a Washington, D.C. based arts professional. A native of Arizona, he has happily made D.C. his new home. Sam is a graduate from George Mason University with a degree in Communication and currently works for Arena Stage as a member of their Development team. He is a life-long lover of theater and is excited about sharing his passion with as many people as possible.
To stay up-to-date on reviews from Sam, click here and subscribe to alerts.