BWW Review: THE WOLVES at Studio Theatre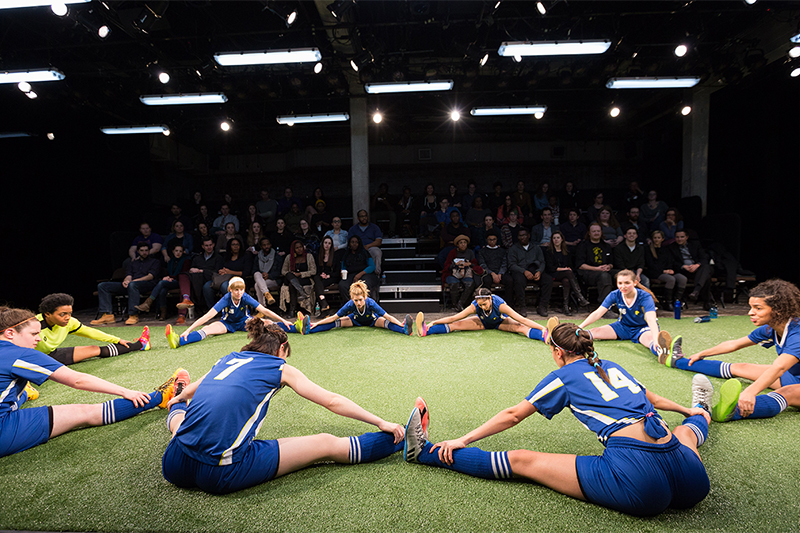 Anyone who has ever loved a young woman or been a young woman will have an emotional response to The Wolves, playwright Sarah DeLappe's 2017 Pulitzer finalist. Premiering the day after the Women's March in D.C. as part of the Women's Voices Theatre Festival, The Wolves is startlingly timely.
Directed by Marti Lyons, The Wolves is an immersive experience. Set Designer Debra Booth has transformed the small but adaptive Stage 4 into a mini soccer stadium with a turf field.
The Wolves is the story of an all-girls, high school level, competitive soccer team. It begins with the nine team members stretching in a circle on the turf, chattering distractedly, whizzing from topic to topic with a mindboggling frankness that epitomizes the intrepid inquisitiveness of adolescence. The age-old tampon vs. pad debate makes a cameo early on, followed by a swift and unforeseen detour to the Cambodian genocide.
Like a happy case of deja vu, The Wolves made me laugh innumerable times, transporting me back to my own adolescence.
The team members have "synchronized" more than their periods over the past eight years. They know how to hurt and help each other and they laugh together a lot. They gossip, "story-top," and the infamous and insufferable "actually" rears its pretentious head. Idiosyncratic, individualistic, painfully awkward, and ruthless athletes - the Wolves defy social stereotypes.
Goalkeeper #00 (Gabby Beans) suffers from Social Anxiety Disorder and vomits violently before each game. Striker #7 (Katie Kleiger) is committed to growing up too fast, gleefully shocking her teammates with her casual sexuality and explicit language.
Meanwhile, the new girl, #46 (Jane Bernhard) struggles to fit in despite the guidance of the team captain #25 (Chrissy Rose). The daughter of a travel-writer, #46 lives in a yurt and takes the bus (shocking!). Her surprising talent, untraditional upbringing, and a rather spectacular case of foot-in-mouth disease, make her an easy target for a team of frustrated and vulnerable of young women.
Ready or not, in The Wolves the team is forced, like so many young people in the world today, to confront a myriad of complex issues that far exceed their level of emotional maturity. A parade of tragedies leave their marks on both the Wolves and their audience.
Lighting Designer Paul Toben and Sound Designer Mikhail Fiksel's disorienting design (accomplished with strobe lights and overly loud soundbites of physical activity) communicates the emotional violence of girlhood and the passage of time during adolescence as a paradox; time moves so fast and yet so very slow.
Like girlhood, The Wolves has no intermission - no break from the drama.
Women are often underrepresented on stage and screen, but in The Wolves, DeLappe flips the script. The Wolves boasts an all-female cast and the lack of any male in a play set in the male-dominated world of sports is innovative. In The Wolves, our perception of the Wolves is in no way reliant on male validation. The Wolves do not need to charming, or cute or (and I cringe here) sexy. Not a man in sight or insight. Just girls being girls, in whatever way they see fit.
The rest of the absurdly talented cast of actors (and erstwhile soccer players) is comprised of #11 (Lindsley Howard), #14 (Maryn Shaw), #2 (Merissa Czyz), #8 (Shanta Parasuraman), #13 (Sara Turner), and #14's soccer mom (Anne Bowles).
Running Time: 90 minutes, no intermission
Advisory: Adult language and themes, strobe lights
THE WOLVES plays through March 4th, 2018 at Studio Theatre in the Mitzi E. Newhouse Theater located at 1501 14th St NW, Washington, DC, 20005. For tickets call (202) 332-3300 or click here.
Photo credit: The cast of The Wolves. Photo: Teresa Wood.