BWW Review: THANKSGIVING AT MACBETH'S at Capital Fringe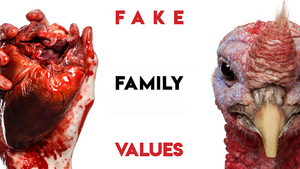 Warning: audiences should know that there is a gunshot sound about halfway through this show. No warning is given in the program or by anyone before the show (and if there was a sign, it's not visible enough). It's too loud, too realistic, and several members of my audience were visibly disturbed once the shock wore down. As a note to all artists and producers, not just those involved in this show: it's 2019. Do not do this. (I considered where to place this in the review; it didn't have a place anywhere in the body, and at the end it might be missed, so I have chosen to put it on top. The review starts properly below.)
The pitch for Thanksgiving at Macbeth's is about what you'd expect from a show called Thanksgiving at Macbeth's. Stitched together from a number of Shakespeare plays to create a "new" play, it follows a badly behaved socialite family gathering for dinner as they're filmed for a reality television program. The text is prepared and "remixed" by director Solomon HaileSelassie, and to HaileSelassie's credit, the text is well-assembled.
There are some hiccups, namely that nouns in the text are never altered, which would be fine if extra non-Shakespeare lines (like "fuck you" or "fuck this") weren't also thrown in. It might better serve the story being told if HaileSelassie had taken more liberties; as is, it's incredibly confusing when a character not named "Richard" in the program is called "Calpurnia" because the actor saying the line is speaking an unaltered line from Julius Caesar.
Still, the idea's ridiculousness is followed through on by an incredibly game cast. Jamie Burroughs' Juliet - not quite the Juliet we know, but none of these characters really are - is hysterical and magnetic, as is James Jelin's Romeo (I'm pretty sure the biggest belly laughs in the show for me came from just watching Jelin's face). There's a great sadism in every line purred by Anissa Parekh's Richard. Everyone fully commits to this bizarre show - props to Ryan Chapman, Jenna Doulong, Emilie Homstock, Danielle Gallo and Henry Kramer.
The real star is Kathleen Akerly, the live broadcast director of the television show. She follows all the action with a camera, and we can watch the live broadcast right next to the stage. It's never intrusive and adds to a lot of the humor that works (ie, a moment where the two heads of the family are whispering about their evil plot, realize they're being filmed, then just turn around). It emphasizes a ridiculousness I wish the creative team followed through on more. For the first tiny chunk of the play, Hamlet (Chapman) wears a turkey suit. Why? I'm not sure and I'm not sure they are, too. But it's great, and then he takes it off and we never see it again, with over an hour of show left. I'm no expert, but if you have a turkey costume, use it.
In fact, the big stumbling block of this production is when things take a turn at the halfway mark, and the show stops being funny. Instead, we're treated to a family drama that never works at all. I admire HaileSelassie's experimental spirit in creating this text, but it doesn't serve the tragedy he's attempting - the story of which I had barely more than a grasp on - and the entire second half goes on for entirely too long (and 85 minutes is already pushing it for a Fringe show). I spent that time yearning for a return of the turkey costume or a reprise of an extended, nutso dance sequence that happens early on, both moments of raucous, weird, Fringe-y joy.
Thanksgiving at Macbeth's is a supremely weird show, and I mean that as a good thing. Its technical prowess is by far the strongest at Fringe this year - the set is extraordinary - and it's definitely a crowd-pleaser. Despite its shaky second half, it's an overall successful attempt at something truly bizarre, with a truly applause-worthy ensemble, and it deserves accolades for that. There is one more show at Capital Fringe - buy your tickets here.