BWW Review: Spellbinding Multi-Sensory CONFECTION at Folger Theatre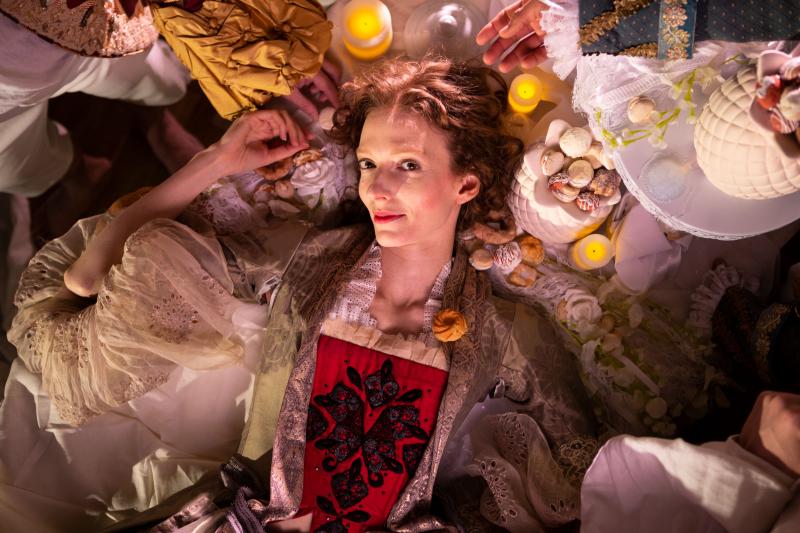 Confection is a spellbinding multi-sensory dance and theater performance that contemplates decadent consumption and the high cost of feeding our appetites. While "confection" usually refers to toothsome honeyed sweetness, this Confection has the right amount of acidic bite and zing folded in to keep things very interesting.
The highly imaginative, gorgeously rendered, thought-provoking Confection is performed by New York's acclaimed Third Rail Projects, considered one of the leading theater companies creating site-specific, experimental artistic performance. The world premiere immersive event is staged in the old-world Tudor splendor of the Folger Library's private Paster and Sedgwick-Bond Reading Rooms. A rare chance to glimpse the curlicued dark wood and ornate plaster lit by candlelight (albeit safe, battery powered candles) is, indeed, icing on the cake.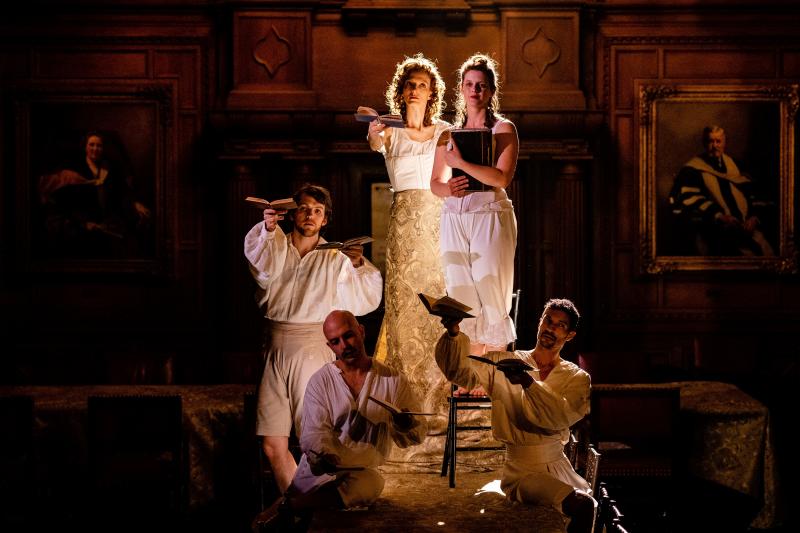 Audiences are led in small groups, room by room, to experience different vignettes that contemplate indulgence, decadence, and social consequence. In the main room, a sumptuous banquet table serves as a stage, the clear, white theatrical lighting sharply illuminates the lace and brocade of the costumes, the muscle and skin of the bodies as in a Vermeer painting. My group later gathered in a small boudoir where a woman sits at a mirror and adorns her face in sugar. Then, seated around a communal table, audience members are led in arcane table manners explained in an indecipherable language. We are then asked to ponder the weight of man in sugar, learning of the dangerous, difficult work which resulted in war and enslavement, all in the quest for refining sugar. Around another corner, into an old-fashioned nook, we are led in a years-old game of sharing or hoarding. Up a tight staircase, quickly past precious folios, then at a balustrade overlooking a banquet table in the ornate reading room, we see the artists atop the table, make their point in words and in movement. The company talks of lamb and mutton, calf and beef, asking "when does a body cease to be a body and become a thing to be consumed?" Soon after we are invited to a table and offered tiny, tasty treats.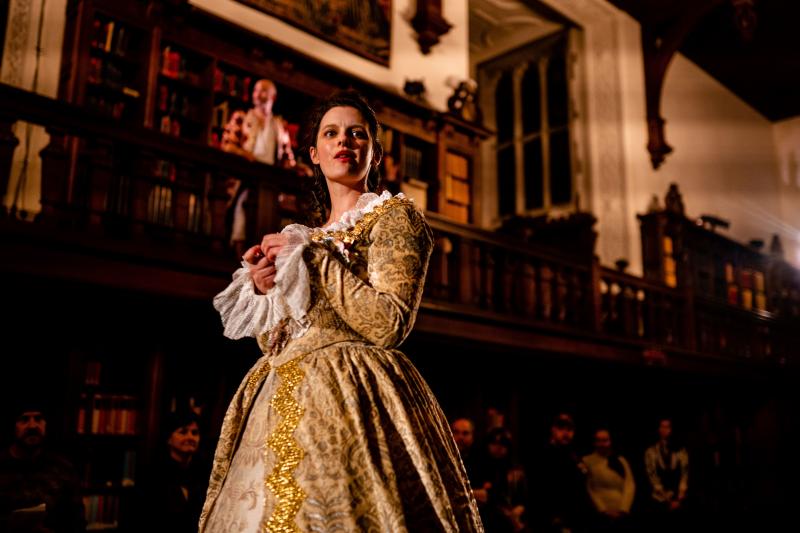 Confection is simultaneously steeped in customs, manners, and tradition while being innovative, fresh, and completely unexpected. This is a performance where ornate wigs and lace-up corsets easily coexist with a harpsichord rendition of the Archies' "Sugar, Sugar." Similarly, there is wonderful beauty and lightness to behold, but a pervasive dark seaminess as well.
Third Rail Projects was commissioned by The Folger Shakespeare Library to create the site-specific installation. Third Rail Projects is led by artistic directors Zach Morris, Tom Pearson, and Jennine Willett who directed and choreographed the show; Confection was conceived and written by Zach Morris. Confection was expertly performed by Elizabeth Carena, Alberto Denis, Joshua Dutton-Reaver, Justin Lynch, and Marissa Nielsen-Pincus who easily engaged the audience without making them feel uncomfortable. The company moved fluidly, and transitioned among the varied vignettes smoothly, bringing the audience along.
Confection runs concurrent with the Folger Theatre's production of Nell Gwynn. Third Rail Projects uses the extravagant banquets and sumptuous feasts of the time of Nell Gwynn as artistic inspiration. In a review for BroadwayWorld.com, Andrew White says Nell Gwynn features "showstoppers galore" and "is a joyful visit to our theatrical past, and it is so brilliantly crafted it would be a crime to miss it-get thee to the Folger, make haste." All are a part of a Mellon Foundation collaborative research project Before 'Farm to Table': Early Modern Foodways and Cultures. The Folger also has on display the exhibition First Chefs: Fame and Foodways from Britain to the Americas which gives Confection audiences great context before experiencing the production.
Confection is stunning and disturbing, surprising and enlightening, magnificent and completely unique. This world premiere event staged in the seldom seen reading rooms of the Folger has a limited run of just 38 performances. With a maximum capacity of 50 people at each performance this is truly a rare treat.
Running Time: Approximately 60 minutes with no intermission.
Given the unusual and immersive nature of the experience, there are a few caveats. There is a maximum capacity of 50 audience members per performance. Audiences will be standing for several minutes at a time over the course of the performance and will be required to navigate small spaces and steep stairs. Comfortable shoes are advised. Audience members will be asked to check coats, bags, and electronics (secure lockers are provided) prior to the performance. Confection is recommended for audiences 14 years of age or older.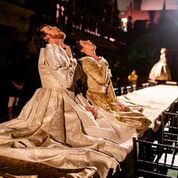 Third Rail Projects' Confection, commissioned by Folger Theatre, is performed at the Folger's Paster and Sedgwick-Bond Reading Rooms at 201 East Capitol St., SE, Washington, DC 20003. Confection runs Wednesdays through Sundays through March 24; performance times vary. See website for more details. Tickets are available online at www.folger.edu/theatre or by calling the Folger Box Office at (202) 544-7077.