Review: SWIMMING WITH WHALES at 1st Stage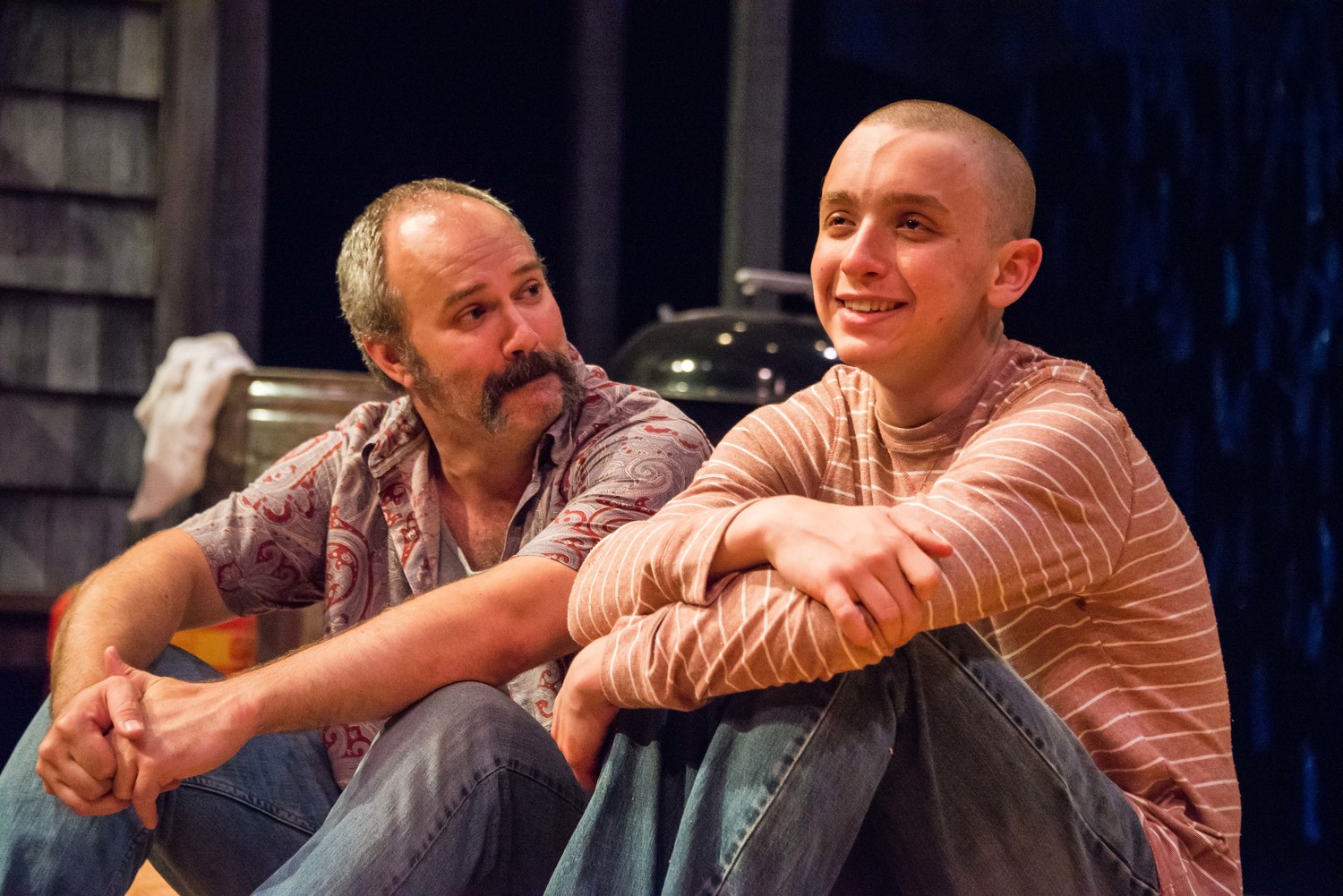 There is a lot to unpack in the world premiere of Swimming with Whales, written by Bob Bartlett and directed by 1stStage's Artistic Director Alex Levy. Set in 1983 on an isolated Nantucket homestead, Swimming with Whales is the story of fifteen year-old Owen (Ethan Miller), his estranged father Patrick's (Matthew R. Wilson), and Ketos the whale (Nate Shelton).
Black-clad and tatted-up, Owen rejects the sandy beach upon which he was born and lashes out at Patrick, hurtling homophobic slurs in a solid attempt to win the "World's Most Difficult Teenager" award. After ten years in Boston, Owen is no longer a happy beach-bum baby but rather an unhappy teenager with a mysterious illness. All the while, Patrick is mourning the loss of his partner, Hoagie. There is heartbreaking familiarity in their failure to grasp the severity of one another's pain and fear in this well-paced play.
Miller and Wilson have a wonderful father-son chemistry. High schooler Miller deserves special notice for the emotional depth of his portrayal of Owen. I hope I will have the opportunity to see him onstage again soon!
Swimming with Whales ventures into magical realism with the introduction in the first scene of Ketos the whale. Much of what Ketos is and does is open to audience interpretation but Shelton's fluid portrays of the sweet and inquisitive whale radiates calm comfort. Owen and Patrick need Ketos in very different ways but for both father and son he is their anchor to the island and their spirit animal as they navigate the complexities of their grief.
Owen's mom Anne (Teresa Castracane) and "Aunt" Grace (Jessica Lefkow), both characters a little more thinly drawn than the boys, act as counterpoints to the heavy-headed Owen and Patrick.
Set Designer Kathryn Kawecki's set meets at the intersection of realism and surrealism. Two parts true-to-life rundown Nantucket beach cottage (complete with actual sand), Kawecki's set is dominated by an abstract seascape. Squint your eyes and employ your imagination and you are at the beach. The amount of sand onstage is the most visually transformative and impactful aspect of the set.
Bartlett has a light touch as a writer. His descriptions of loss are captivating and ring true to life because they are drawn from his own deeply personal experience of love and loss. Despite its preoccupation with death, Swimming with Whales is joyful, funny, and surprising in all the ways that life everyday can be. This is what makes Swimming with Whales so watchable, despite it's lengthy run time.
Running Time: 2 hours and 30 minutes, including a 15 minute intermission
Advisory: Nudity and adult language
SWIMMING WITH WHALES plays through June 24 at 1STStage located at 1524 Spring Hill Rd, Tysons Corner, VA 22102. For tickets call (703) 854-1856 or click here.
Photo credit: Matthew R. Wilson and Ethan Miller in "Swimming with Whales" at 1st Stage. The show runs through June 24, 2018 in Tysons Corner