BWW Review: LA STRANIERA at Washington Concert Opera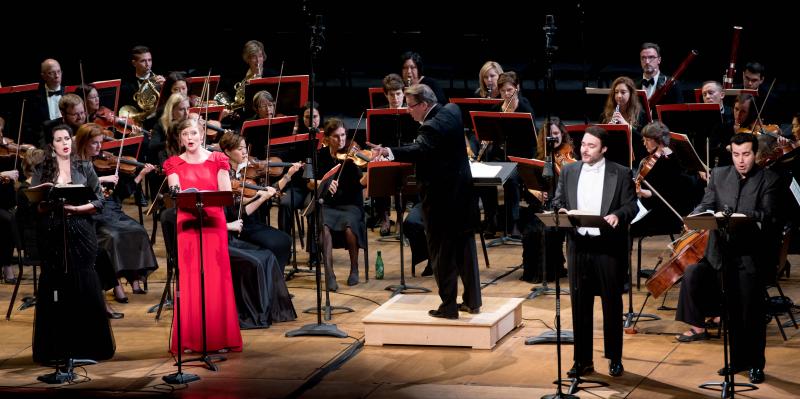 Washington Concert Opera brings a nicely performed La Straniera to Lisner Auditorium nearly two hundred years after its premiere at La Scala Milan. Vincenzo Bellini's first Milanese success took place in 1827 in the form of Il pirata. Two years later, he stood in a shadow of his own making. He needed to compose an opera that was not only could meet the success of Il Pirata, but also surpass it. He met this challenge with La Straniera, which reviewers and contemporaries of the time proclaimed a glittering success. Despite this, La Straniera is rarely performed in the United States.
The story begins at the water's edge, where a chorus of local villagers and fishermen sing to the swells of Bellini's music. Count Arturo is to marry the beautiful and innocent Isoletta, but she is afraid that he no longer loves her due to his fascination with a mysterious woman. The plot is driven by the unknown identity of this woman. Who is she? Why is she here?
Performances by WCO allow the audience to focus entirely on the music and its physical performance. Instead of a set, we have the opportunity to see the singers free from the restrictions of blocking and props. The orchestra and conductor, Antony Walker, remain onstage instead of hidden away in the pit. Operas here are as much a display of symphonic prowess as they are singing.
Over half of this production's soloists made their WCO debut with this production, including the two leads Amanda Woodbury and Gerard Schneider. Just before the opera began, executive director Caryn Reeves asked the audience to turn off their cell phones-a directive that at least one person ignored-she also revealed that Woodbury had recently fallen ill, but was still excited to give it her all and sing the role.
It was an odd piece of information to give to the public, and rather unprofessional in such a setting. As an audience member, we expect the performers to, at the very least, make us believe that they are giving their all for every performance. Very few people would have been able to discern any disparity in Woodbury's performance. A self conscious moment proved more a distraction than an encouragement. To singers everywhere: when in doubt, fake it.
Despite all of this, Woodbury gave an excellent performance. Besides a bit of uncertainty in her middle-high range, her interpretation easily kept pace with Bellini's long melodies. Her higher range proved no problem at all. It soared above the orchestra and beautifully complemented Schneider's voice.
Given the bare stage, next to no blocking, and a score in mostly major keys, some dramatic moments proved difficult to translate to the audience. Bellini and his librettist, Felice Romani, created a story full of betrayal and overreaction. The stakes are high for these characters: broken hearts, fallen monarchies, and even death. When paired with a major key, the audience often laughed at certain moments when tears might have been more appropriate. Perhaps this was Bellini's attempt at an intense story told in a jolly way? Today, many animated films and TV series juxtapose tragedy with an upbeat score. No matter the two hundred year old intent, WCO's cast of young performers delivered an engaging and enjoyable performance. Each is a talent to watch, and certainly look forward to WCO's upcoming interpretation in the Bel Canto cannon: Donizetti's Maria di Rohan.