BWW Feature: 2018 HELEN HAYES AWARDS at Theatre Washington
The DC theatre community hurried along the waterfront on Monday night, attempting to beat the looming, black storm clouds that threatened, but this could not dampen the vibrant crowds as they entered the recently opened Anthem for this year's Helen Hayes Awards. This stunning, modern space will be greeting the likes of Belle & Sebastian, Janelle Monáe, and Nine Inch Nails in the coming months, and on this evening, theatre creative showed off their finest.
Now in its 34th year, The Helen Hayes Awards celebrate the work of theatre artists in the DC area for the previous year, to include actors, directors, playwrights, designers, and more. Further, it is an annual place where artists gather in en masse, in a business where companies are often separated by conflicting show schedules. This year's festivities were hosted by Michael J. Bobbitt and Alyssa Wilmoth Keegan, who opened with a charming rendition of "Wilkommen" from Cabaret. Their banter was light hearted and charming, and they treated the audience to a mid-award dance duet. The evening was a solid 3 hours of awards and despite noble attempts by Keegan and Bobbitt, the pacing was hit and miss. The Anthem is a very large and cavernous space, and though the design of the stage was clean and crisp, it meant that walking either from backstage to the podium as a presenter or up form the audience to accept and award took a draggingly long amount of time. Equally frustrating were the awkward holds as a presenter awaited the arrival of an award winner who was not in the audience. Much of this could have and should have been anticipated.
In spite of all that, the celebratory tone of the evening shone through. Bobbitt led a delightful set of audience shout outs to celebrate the companies who bought out the boxes for their companies to attend, as well as leading a full audience selfie and shout out to DC actor Rayshun Lamarr, who is a current competitor on The Voice. While some classic pieces from Signature Theatre and Shakespeare Theatre Company took home awards, the theme of the night seemed to be the raising up of the minorities. As is sung in In The Heights, "Alabanza", indeed...
The musical that introduced the world at large to Lin-Manuel Miranda ruled the night, taking home both the Helen and the Hayes awards for Best Musical, thanks to slightly staggered presentations of In The Heights at GALA Hispanic Theatre and a co-production by Olney Theatre Center and Round House Theatre. Both productions were touted during their run with sold out houses and featured work recognized at this year's awards. Recipients included Laura Lebrón, Luis Salgado, Christopher Annas-Lee, Walter "Bobby" McCoy, Félix Marchany, and Rayanne Gonzales, who acknowledged in her acceptance speech that her work was built on the shoulder of other strong women who left their islands behind. Accepting the Oustanding Ensemble Helen, a GALA Heights cast member exclaimed, "This is what America looks like!"
The struggle for representation was echoed in a number of other acceptance speeches throughout the evening. Two notable awards went to artists representing Theatre for Young Audiences productions competing against shows for adult audiences. Wonderland: Alice's Rock & Roll Adventure gave what might be considered an upset win to Kathryn Chase Bryer of Imagination Stage and Karen Zacarías accepted on behalf of herself (book) and partner Deborah Wicks La Puma (music) for Ella Enchanted at Adventure Theatre MTC, reminding audiences that "smaller voices are not lesser" and pointed a well deserved jab at The Washington Post, who, as a policy, does not review TYA productions. In accepting the award for Outstanding Ensemble Hayes, a Ragtime cast member noted the relevance of the show, which originally hit Broadway in 1998, for its themes of immigration, women's rights, and racial justice in the age of #MeToo and Black Lives Matter. Further, in a wonderfully sweet tag team, the two young actors who tied for Outstanding Performer, Visiting Production, for their roles and Small and Middle Allison in Fun Home at the National Theatre, Alessandra Baldacchino and Abby Corrigan said of the LGBTQ community that, "these stories are being told now and this is just the beginning".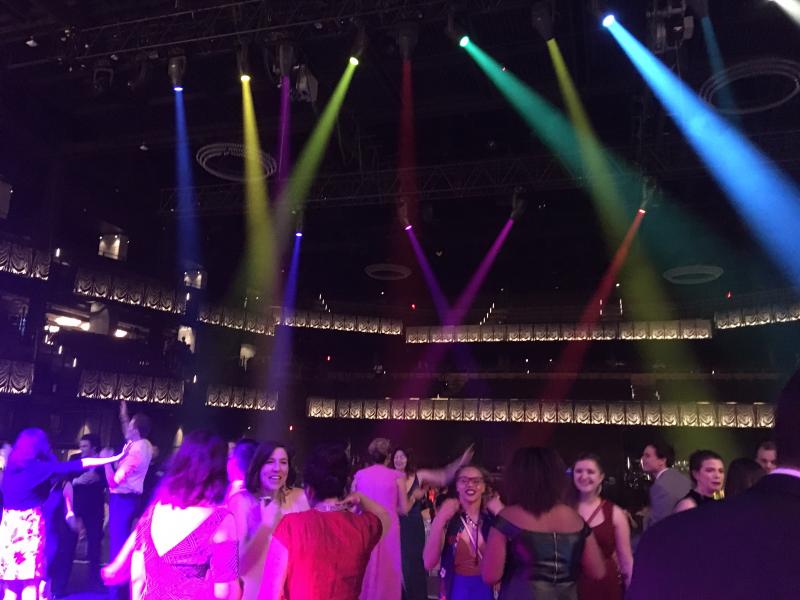 Local favorites also delighted the audience, with Kari Ginsberg (Outstanding Supporting Actress in a Musical, Helen) of The Wild Party telling her fellow artists to never let people tell you that you are too much of anything, Susan Rome (Outstanding Supporting Actress in a Play, Helen) of Brighton Beach Memoirs asking if they weren't sure the envelope said the name of her fellow nominee, Lise Bruneau, and Felicia Curry, winner for Outstanding Leading Actress in a Play (Helen) for the one woman show, Lela & Co, floating to the stage in a dream of a white gown to thank Washington, DC for allowing her to continue telling stories in this city. Equally thrilling was the audience chanting Frank Britton's name as he came to the stage to accept the Robert Prosky Award for Outstanding Lead Actor in a Play. The much loved local actor was accepting his very first Helen Hayes award for his work on 1st Stage's Jesus Hopped the 'A' Train. The subtle memoriam closed out with loving applause for the late Joel Markowitz of DC Theatre Scene, and Nancy Robinette said upon accepting the Helen Hayes Tribute that, over the years, the Helen Hayes Awards she has won "gave me a boost of confidence and helped others in her life to take her work more seriously" and encouraged other artists to hold on to their idealism. As winner Félix Marchany said, quoting a musical favorite, "How lucky we are to be alive right now?"
Related Articles View More Washington, DC

Stories

Shows
HOPE VILLANUEVA is a stage manager and playwright based in the DC area and originally from California, with her first full length play just produced (read more...)