Tron Theatre Announces A Season Of Radical Takes On Classic Drama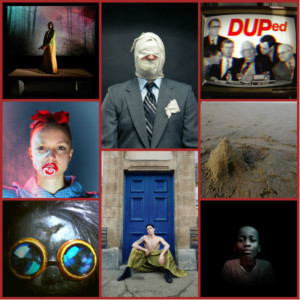 Tron Theatre's Spring-Summer 2019 season is packed full of work that will challenge conventions and subvert some of drama's most classic of texts. Andy Arnold's programme for the new year sees him welcome early career influencers like Pete Brook of Impact Theatre and Linda Marlowe alongside some of the finest emergent artists and companies making work. Highlights will include:

* Jo Clifford's razor-sharp new version of The Taming of the Shrew, presented by Sherman Theatre, Cardiff and Tron Theatre Company.
* imitating the dog's bold re-telling of Joseph Conrad's Heart of Darkness fusing live performance with digital technology.
* The Zinnie Harris re-working of August Strindberg's Miss Julie presented by Perth Theatre.
* Marius von Mayenburg's fast-moving farce about external beauty, identity and the brutality of capitalism, The Ugly One in Tron Theatre Company's summer comedy directed by Debbie Hannan.

Sherman Theatre, Cardiff and Tron Theatre Company will present Jo Clifford's new version of Shakespeare's The Taming of the Shrew (20-30 March, Press Night: Thu 21 March, 7.45pm). A bawdy and riotous take on a contentious classic, directed by Michael Fentiman, the theatre invites you to step into a world where women hold all the power, the patriarchy is being challenged and new possibilities abound. The theatre's summer comedy this year will be the Marius von Mayenburg farce translated by Maja Zade, The Ugly One (4 -20 July, Press Night: Friday 5 July, 7.45pm). Debbie Hannan will direct this hilarious and fast-moving piece that exposes some very ugly truths about our self-obsessed culture.

The main auditorium programme opens with Celtic Connections (18 Jan - 2 Feb), after which the theatre programme gets underway with Fuel's production The Dark (15 & 16 Feb) about a four-year-old boy and his mother escaping a country divided by dictatorship and consumed by conflict. Shilpa T-Hyland will direct Perth Theatre's production of Miss Julie (27 Feb - 2 Mar), in a version re-worked by Zinnie Harris and set in 1920s Scotland. The theatre will welcome back Tamasha for the Scottish premiere of Approaching Empty (5 Mar), an incisive new drama set in Northern England in the aftermath of Margaret Thatcher's death, by award-winning playwright Ishy Din. imitating the dog present a bold re-telling of Joseph Conrad's Heart of Darkness (7-9 Mar), a visually rich, multi-layered work fusing live performance with digital technology. Choreography, live sewing, comedy and original music come together in ThisEgg's dressed. (14-16 Mar), celebrating the power clothes have to define us, liberate us, hide us and embellish us.

Mark Thomas is back, this time with Check Up Our NHS@70 (9-11 Apr), using his own demise to explore the state of the NHS. Let Me Look At You (12 & 13 Apr) is a hilarious and deeply moving celebration of LGBTQ history performed by Mark Pinkosh and written by Godfrey Hamilton, otherwise known as Starving Artists. For young audiences, Tortoise in a Nutshell present The Lost Things (16 & 17 Apr), Oliver Emanuel's dark fairy-tale where nothing is quite as it seems, performed in a unique dome structure. Hilarious and heart-lifting, Tangram Theatre (who presented Team Viking in 2017) present A Hundred Different Words for Love (19 & 20 Apr), a story of romance, despair and friendship. Following overwhelming responses from previous runs at the Traverse Theatre and Abbey Theatre, Gary McNair's Locker Room Talk (25-27 Apr) continues the conversation about misogyny and masculinity which has become even more urgent since its premiere.

The Changing House programme opens with performance artist Katy Dye's Baby Face (7-9 Feb) a brave and outlandish show about the infantilisation of women. Testroom 2019 (12 Feb) returns to showcase puppetry-making and performance skills ahead of performances at manipulate. Sonnet Youth, Scotland's literary ravers, take up residence for a spoken word Weekender with Gigantic Lying Mouth (15 Feb) about the human desire to lie and Confessionals (16 Feb) a coming-of-age character piece set in an East End boozer. The tour de force that is Linda Marlowe gives voice to Steven Berkoff's outrageous female characters in Berkoff's Women (21-23 Feb) and they will host the Scottish premiere of In Other Words (5-7 Mar), a deeply moving love story exploring the effects of Alzheimer's disease.

Kolbrun Bjort Sigfusdottir examines the immigrant experience of the EU referendum in (Can This Be) Home (14-16 Mar) and Holly Gallagher presents her new show Tensile Strength (Or How To Survive At Your Wit's End) (20-22 Mar) about stress and how so many of us feel it to an unhealthy degree. DUPed (4-6 Apr) explores the legacy and continuing impact the Reverend Dr. Ian Kyle Paisley and his Democratic Unionist Party on those who oppose extreme religious and social conservatism. Harry Josephine Giles brings bleak humour and tender fury in Drone (11-13 Apr), a live jam of sound, visuals and poetic storytelling about the life of a military drone. Father (17-20 Apr) is the European premiere of an intimate work with mythical scope - an abusive parent/child relationship reflected in their wider relationship with Mother Nature and the evolution of our climate. Perth Theatre have the last Changing House show of the season with their fast-paced and irreverent Marie (25-27 Apr), a darkly comic new play inspired by the life of Mary Queen of Scots but given a distinctly modern twist.

In the Vic Bar all the regular music sessions are back including Sunday Jazz, The Seven Song Club and An Evening Of... and introduce a brand-new comedy event, Rachel Jackson & Friends alongside Tandem Writing Collective, a bold new writing and eclectic live music event.
The theatre continues to invest in its Tron Creative and Participation programmes, providing opportunities to engage with the Tron in a range of ways for artists, audiences and the community.