The Bicycle Opera Project's SWEAT Tour Rides into Toronto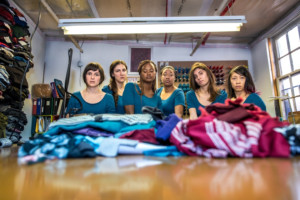 After two weeks and biking over 600 kilometers throughout Ontario, The Bicycle Opera Project is culminating its tour of Sweat in Toronto at Daniels Spectrum.
Sweat, created by Juliet Palmer and Anna Chatterton is an a cappella chamber opera for nine voices bringing the audience into the heart of a contemporary sweatshop, offering a window into the lives of the workers who clothe us.
Evoking the environment of the sweatshop, Palmer's score falls in and out of musical grooves as she contrasts the sonic world of the factory floor with the lyrical hopes and dreams of the women who labour there. With its production of Sweat, the Bicycle Opera Project provides innovative contemporary opera and thought-provoking social commentary on the often-hidden world of the workers who make our clothes.
"During my childhood my mother sewed my clothes," Sweat composer, Juliet Palmer reflects, "She was proud of her sewing lineage: my great-grandmother had been a professional tailor in the tiny town of Takaka in New Zealand. Now my clothes are made by workers I will never meet - women who live very different lives from mine. Sweat grew out of my curiosity about these unseen workers: how they came to work alongside thousands of others sewing shirts, jackets, skirts and pants; their ambitions, hopes and struggles."
Sweat is directed by Banuta Rubess, conducted by Geoffrey Sirett designed by Sonja Rainey with lighting design by Kai Masaoka, and choreography by Jennifer Nichols. The opera features Canada's next generation of opera stars: Catherine Daniel, Caitlin Wood, Stephanie Tritchew, Keith Lam, Larissa Koniuk, Justine Owen, Emma Char, Alexandra Beley and Cindy Won.
Sweat was commissioned and developed by Soundstreams with the generous support of the Ontario Arts Council and Opera.ca. It received its world premiere October 2016 in New York City's Center for Contemporary Opera.
IF YOU GO:
SWEAT
August 3rd, 4th & 5th @ 8:00pm
August 6th @ 2:00pm
Aki Studio at Daniels Spectrum
585 Dundas Street West
For tickets, visit bicycleopera.com.
The Bicycle Opera Project is the only Canadian opera company that tours by bicycle. Designed to bring contemporary Canadian music to smaller communities where there is little opportunity to hear it, the company closes the gap between audiences and singers by performing in intimate spaces, in the vernacular, and by engaging in an annual tour that is ecologically responsible.
More Hot Stories For You