Click Here for More Articles on STRATFORD FESTIVAL
Robert Lepage's Genre-Defying Production Of CORIOLANUS Hits The Stage In Stratford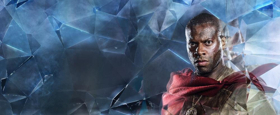 Robert Lepage makes a thrilling Stratford Festival debut with Shakespeare's Coriolanus, featuring André Sills in the title role. Created in collaboration with Ex Machina, the production begins previews this Saturday, June 9, at the Avon Theatre, and runs until October 20, marking its official opening on June 22.
Lepage is celebrated around the world for his stunning, boundary-breaking work. Like his other theatrical and Cirque du Soleil productions, Coriolanus will showcase the technologically sophisticated staging the director is known for.
"Robert has created an absolutely stunning version of this play," says Artistic Director Antoni Cimolino. "It is imbued with a leading-edge, contemporary style but never loses touch with its Shakespearean roots."
Inspired by modern media, Lepage takes the story about the rise and fall of a legendary general who must face off against the angry Roman mob and infuses it with the energy of Occupy Wall Street and the Arab Spring. The Twittersphere assumes the role of the mob traditionally represented as rioters on stage.
"Nowadays, public opinion is mostly represented not by tribunes and mass assemblies but by mass media and social media," Lepage says. "If you want to know what the public feels, you count the number of likes on Facebook, or you look at people's tweets. Even the president of the United States communicates by tweets. That's how democracy expresses itself now."
In addition to Sills, Coriolanus features Graham Abbey as Tullus Aufidius, Michael Blake as Cominius, Tom McCamus as Menenius Agrippa, Stephen Ouimette as Junius Brutus, Lucy Peacock as Volumnia and Tom Rooney as Sicinius Velutus.
The creative team, led by Lepage as Director and Set Designer, includes Creative Director and Designer Steve Blanchet, Assistant Director Adèle Saint-Amand, Associate Set and Props Designer Ariane Sauvé, Costume Designer Mara Gottler, Lighting Designer Laurent Routhier, Composer and Sound Designer Antoine Bédard, Images Designer Pedro Pires, Fight Director John Stead and ASL Coach Elizabeth Morris.
Coriolanus officially opens on June 22 and runs until October 20.
This is one of the 200 exceptional projects funded through the Canada Council for the Arts' New Chapter initiative. With this $35M initiative, the Council supports the creation and sharing of the arts in communities across Canada.
Production support is generously provided by Larry Enkin & family in memory of Sharon Enkin, by Sylvia Soyka, and by Catherine & David Wilkes.
The production sponsor is BMO Financial Group.
Support for the 2018 season of the Avon Theatre is generously provided by The Birmingham Family.
Coriolanus at the Forum
The Forum is a series of events, such as exclusive showcases, guest speakers, special meals, music and family fun, that offer theatregoers a unique opportunity to delve deeper into the ideas and issues raised by the 2018 playbill.
Saturday, June 23
10:30 a.m. to noon
There are many places in the world where citizens' freedoms are constrained; and citizens' concerns about their ability to direct their future transcend national borders. Randall Hansen, Director of the Munk School of Global Affairs, is joined by Lama Mourad and Joseph Wong to discuss the global meaning of freedom.
Saturday, August 25
10:30 a.m. to noon
Through his Roman plays, Shakespeare mythologized the birth of a new Rome in Britain. But what of the actual Roman context is lost in that process? Join Artistic Director Antoni Cimolino, former National Post theatre critic Robert Cushman and others as they consider both Shakespeare's texts and our knowledge of the Roman world.
Wednesday, September 26
10:45 a.m. to noon
Julius Caesar and Coriolanus both challenge the role and responsibilities of political leadership. In a conversation moderated by CBC Ideas host Paul Kennedy, Samantha Nutt, founder of War Child Canada and War Child USA, Chief Ava Hill of the Six Nations of the Grand River and other successful women consider the relationship between leadership and power and what makes a good leader.
The Stratford Festival's 2018 season runs until November 4, featuring The Tempest, The Comedy of Errors, Coriolanus, Julius Caesar, The Music Man, The Rocky Horror Show, Long Day's Journey Into Night, An Ideal Husband, To Kill a Mockingbird, Napoli Milionaria!, Brontë: The World Without and Paradise Lost. For tickets and more information, visit stratfordfestival.ca or call 1.800.567.1600.
CAST (in alphabetical order)
Tullus Aufidius..................................................................... Graham Abbey
Host, Doctor, Father.............................................................. Wayne Best
Cominius............................................................................... Michael Blake
Old Senator, Old Man........................................................... David Collins
Daughter, Gentlewoman........................................................ Martha Farrell
Young Martius...................................................................... Oliver Gamble
Waiter, Deaf Woman's Husband, Sentinel #2....................... Farhang Ghajar
Virgilia.................................................................................. Alexis Gordon
Menenius Agrippa................................................................. Tom McCamus
Young Martius...................................................................... Eli McCready-Branch
Bartender, Reporter............................................................... Nick Nahwegahbow
Junius Brutus........................................................................ Stephen Ouimette
Volumnia.............................................................................. Lucy Peacock
Sicinius Velutus.................................................................... Tom Rooney
Coriolanus............................................................................. André Sills
Surrogate............................................................................... E.B. Smith
Lieutenant............................................................................. Johnathan Sousa
Caller, Messenger, Caretaker................................................. Emilio Vieira
Valeria, Deaf Woman........................................................... Brigit Wilson
ARTISTIC CREDITS
Director and Set Designer...................................................... Robert Lepage
Creative Director and Designer............................................. Steve Blanchet
Assistant Director.................................................................. Adèle Saint-Amand
Associate Set and Props Designer.......................................... Ariane Sauvé
Costume Designer................................................................. Mara Gottler
Lighting Designer.................................................................. Laurent Routhier
Composer and Sound Designer............................................. Antoine Bédard
Images Designer.................................................................... Pedro Pires
Fight Director........................................................................ John Stead
ASL Coach............................................................................ Elizabeth Morris
Producer................................................................................ David Auster
Casting Director.................................................................... Beth Russell
Creative Planning Director.................................................... Jason Miller
Assistant Director (Michael Langham Workshop)................. Mikaela Davies
Assistant Costume Designer.................................................. Laura Delchiaro
Assistant Lighting Designer................................................... C.J. Astronomo
Associate Fight Director........................................................ Anita Nittoly
Assistant Fight Director......................................................... Geoff Scovell
Stage Manager....................................................................... Brian Scott
Assistant Stage Managers...................................................... Katherine Arcus, Melissa Rood
Production Assistant.............................................................. Grace Batten
Production Stage Managers................................................... Michael Hart, Janine Ralph
Maxwell T. Wilson
Technical Director................................................................. Elissa Horscroft
Watch the trailer below:
Photo by Clay Stang
Related Articles
More Hot Stories For You