Principal Dancer Piotr Stanczyk Retires After 25 Years in November 2023
Stanczyk's farewell performances in November 2023 will be announced at a later date.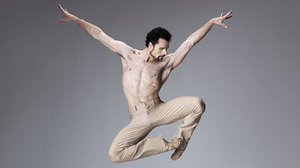 Hope Muir, Joan and Jerry Lozinski Artistic Director of The National Ballet of Canada, announced that Principal Dancer Piotr Stanczyk will retire after 25 years with The National Ballet of Canada in November of 2023. Stanczyk will dance in the company's upcoming Winter and Summer Seasons and his farewell performances will take place in the Fall Season during the 2023/24 season.
"During his distinguished 25-year career with the National Ballet, Piotr has both touched and thrilled audiences with his magnetic stage presence, explosive technique and sensitivity," said Muir. "It is my great pleasure to have watched and worked with such a nuanced and generous artist and I am honoured to have acquired a special work, to be announced in February, in his honour for his farewell performances next November."
"The National Ballet has been my creative home for many years and I am so grateful for all the opportunities I have been given," said Stanczyk. "This company allowed me to grow as an artist, dance so many challenging and rewarding roles and to work with the world's greatest choreographers. I will truly miss my amazing colleagues, coaches and, of course, our wonderful audiences. I look forward to savouring these last performances and celebrating with everyone next November."
Stanczyk was born in Poznan, Poland and trained at the State Ballet School of Poznan before studying at Canada's National Ballet School. He joined the company in 1998 and was promoted to Principal Dancer in 2008. He has excelled in his dramatic portrayals of Eugene Onegin in Onegin, Leontes in The Winter's Tale, as well as the title role in Hamlet and Mercutio in Romeo and Juliet. Stanczyk has received accolades for his performance of Prince Florimund in The Sleeping Beauty, Peter/The Nutcracker in The Nutcracker, Basilio in Don Quixote, Lewis Carroll/White Rabbit in Alice's Adventures in Wonderland and Colas in La Fille mal gardée. He has performed in company premieres by such contemporary choreographers as Alexei Ratmansky, Wayne McGregor, Kevin O'Day, John Neumeier and James Kudelka. Stanczyk has recently staged productions by Kudelka and Christopher Wheeldon for The Bolshoi Ballet, Hamburg Ballet and The National Ballet of Canada.
As a guest artist, Stanczyk has performed at the Vienna State Opera, International Ballet Festival of Miami, Charleston Ballet, Brott Music Festival, as well as across the US, Germany and Slovakia. In 2022, he was nominated for a Dora Mavor Moore Award for his outstanding performance in a solo that Alysa Pires created for him, in a state of vanishing. In 2016, Stanczyk was recognized for his portrayal of Leontes in The Winter's Tale with the Rolex Dancers First Award, his second award of its kind. The first was awarded in 2012 for his portrayal of the title role in Hamlet. He was the recipient of the William Marrié Award for Dramatic Excellence for his role as Jaguar in The Firebird in 2003.
Stanczyk's farewell performances in November 2023 will be announced at a later date.