Jeff Bird (of Cowboy Junkies) Celebrates His New Recording Felix Anima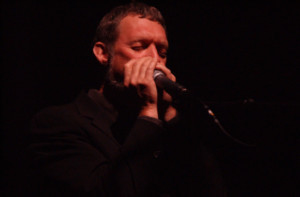 Multi-instrumentalist Jeff Bird (of The Cowboy Junkies) celebrates his new recording felix anima with Concerts in Toronto and Hamilton

"Man plays 800-year-old music on harmonica." That's how multi-instrumentalist Jeff Bird describes his latest work, felix anima, interpretations of the music of Hildegard of Bingen (1098-1179).
It isn't easy to put into words the beautiful and haunting experience of listening to Bird's latest album. Contemplative, uplifting, sacred, transcendent. Bird's thoughtful approach to combining harmonica, a droning Shruti box, and a range of other instruments, offers contemporary audiences a whole new way of encountering the medieval abbess' impressive musical works.
The melodies heard on felix anima come from the celebrated Hildegard of Bingen, an abbess in 12th century Germany, still known today for her impressive theological, scientific, dramatic and musical works. A saint, a Doctor of the Church, a mystic, a feminist, and a visionary, Hildegard of Bingen has captured the imagination of audiences, artists, and musicians around the world. In Bird's words: "Like all exceptional music, it remains timeless." The artwork for the CD, also created by Bird, is a beautiful visual that combines the transcendental with the electric, producing a stunning mandala of sacred inspiration and hypnotic form that reflects and enhances the music itself. The CD has already received considerable praise from everyone encountering it. It was featured on CBC's First Play from April 19 - 26.

Jeff Bird is a founding member of the seminal Canadian folk group Tamarack. With Cowboy Junkies he was part of the legendary The Trinity Session and continues to record and tour the world with them. He has realized 16 recordings of his own as a soloist and collaborator, and has scored music for film, television and dance. He is also an experimental filmmaker and performance artist whose work has been showcased at festivals around the world, from Dawson City, Yukon to Vladivostok, Russia. As a multi-instrumentalist Bird has appeared on over 100 recordings and has worked with such diverse artists as Jane Bunnett, Loreena McKennitt, Natalie Merchant, Scott Merritt, Townes Van Zandt.
Please join Jeff Bird and guest musicians Ben Grossman and Witek Grabowiecki for this unique and wonderful concert!

Sunday Oct 28 2018 at 3pm
at The Rock on Locke, the Church of st John the Evangelist
320 Charlton ave west (at Locke st), HAMILTON ON Tickets: $25/$15 Students (Cash only at the door)
Reserve tickets at info@gallery345.com
Purchase advance tickets online at:http://www.rockonlocke.ca/events/felix-anima/2018-10-28

Sunday Nov 4 2018 at 2pm
at Gallery 345, 345 Sorauren Avenue,Toronto ON M6R 2G5
Tickets: $23/$18 Students or seniorsPurchase advance tickets online at:
http://www.gallery345.com/performances.php#nov4

Related Articles View More Toronto

Stories

Shows
More Hot Stories For You