Buffer Festival Announces Most Diverse Creator Lineup In 7 Year History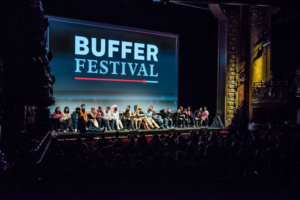 At an exclusive event held at Henry's Canada, Buffer Festival announced the creators who will be premiering original content at their 7th annual festival. Over twenty percent of the creators will be making their Buffer Festival debut this year including comedy vlogger MacDoesIt, trans non-binary YouTuber Ash Hardell, Evelyn From The Internets, BuzzFeed Ladylike member Freddie Ransome, Sharlene Taulé from Fox's Star, and Hedy Clark, the 14 year old UK YouTuber and animator. Returning alumni include Wong Fu Productions, Elle Mills, Jon Cozart, Shannon Boodram, Whitney Avalon, PJ Liguori, and Melanie Murphy.
Since its inception in 2012, Buffer Festival has been committed to growth, innovation, and inclusivity. What started out as a series of premiere screenings from some of the world's most imaginative digital producers has now grown into a movement that includes a marketplace for creators and brands, a series of insightful panels from today's industry innovators, and now a leader in promoting and supporting diverse narratives. Their commitment to being the leading all-inclusive festival is solidified with over a quarter of their filmmakers being diverse along with over 25% of them identifying as part of the LGBTQ+ community. This Summer, Buffer Festival also announced a new initiative with Road to Freedom that will focus on supporting indigenous youth as they prepare to become the next generation of filmmakers.
"I love being able to share my content in person and see people's reactions," said returning YouTuber Elle Mills. "It's something I don't get to see often so it's extremely heartwarming to experience it."
CONFIRMED 2019 CREATORS:
Alanya Fender
Ariel Bissett
Ash Hardell
Ava Gordy
Breanne Williamson
Bryan Francisco
Chantel Houston
Chris and Jack
Chris Hau
Dom Fera
Eddy Burback
Elle Mills
Emile Roy
Evelyn From The Internets
Fred Bastin
Freddie Ransome
GingerPale
Hannah Witton
Hedy Clark
Iz Harris
Jack and Dean
Jon Cozart
JR Alli
Julia Nunes
Julie Vu
Julie Zhan
Justin Gerhard
Lizzie Peirce
MacDoesIt
Makeba Lindsay
Malinda Reese
Marina Lin
Meghan Tonjes
Melanie Murphy
Michael Rizzi
Miles Jai
Nick Pitera
Nicola Foti
PJ Liguori
Raya Encheva
Rosalie Lessard
Sammy Paul
Shannon Boodram
Sharlene Taulé
Shipwrecked
Stef Sanjati
Stephanie Frosch
Stevie Boebi
Sura Mallouh
Swoop
Taha Khan
The Valley Folk
TimH
Tin Can Brothers
Tre Melvin
Wong Fu Productions
Zach Ramelan
General tickets are now on sale after their VIP package sold out in a matter of hours just a few weeks ago. Buffer Festival will be held from October 4-6, 2019 at the TIFF Bell Lightbox in Toronto, Ontario.
Related Articles View More Toronto

Stories

Shows
More Hot Stories For You