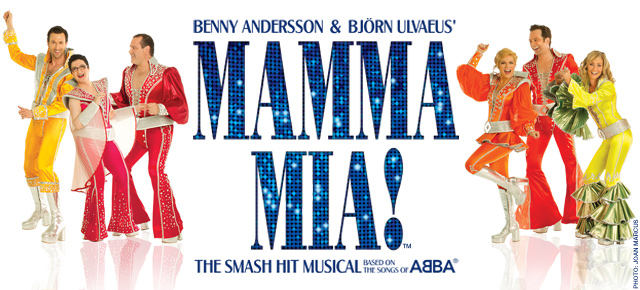 Click Here for More Articles on MAMMA MIA!
BWW Special: 13 Years Later with the Men of MAMMA MIA!
This upcoming Monday get ready to break out your dancing shoes, as cast members from the Original Toronto Production of MAMMA MIA! reunite for a one-night only benefit in support of FIFE HOUSE. They are a not for profit organization that seeks to provide secure and affordable supportive housing and support services for persons living with HIV/AIDS.
The event will feature none other than Louise Pitre in the lead role of 'Donna', one in which she originated here in Toronto and then later took to the Great White Way. She will be joined by a group of her fellow cast mates to celebrate the music of ABBA and the success of MAMMA MIA, as well as to raise a toast to the great work that FIFE HOUSE does in our community. Joining her will be Adam Brazier (Sky), Gabrielle Jones (Rosie), David Keeley (Sam), Julie Martell (Sophie), Tamara Bernier (Tanya) and Shawn Wright (Bill).
BWW is thrilled to be chatting with the cast to provide a unique retrospective on their time with MAMMA MIA!, including favourite memories and ABBA songs. Today we're focusing on the returning men including David Keeley (Sam) , Shawn Wright (Bill) and Adam Brazier (Sky):
What was your favourite memory of your time in Mamma Mia!?
DK: Favorite memory was on opening night in New York and Benny Anderson playing the grand piano in the lobby of the St Regis Hotel and me singing "Anthem" with him. It was surreal.
SW: Working with ABBA. Bjorn was on the panel at my final audition and was with us almost every day in rehearsal. Benny was there too and sometimes would play keyboards for fun on "Waterloo". And getting to hang with Frida ( the dark haired one) at the opening night party was a thrill
AB: I'm sure others have already mentioned when Benny took our musical director's place and played for us at our sitzprobe - so I'm going to go with the great cities we lived in on tour. Especially Chicago - I loved it there.
What is your all-time favourite ABBA song (and it doesn't have to be from the show)?
DK: "Fernando" because my mom loved it.
SW: "The Winner Takes It All."
AB: Err, I don't really like ABBA... (laughs)
If you could pick one song to perform that didn't belong to your character, what would it be and why?
DK: "Money Money Money"
SW: "The Winner Takes It All."
AB: "Slipping Through My Fingers" or 'Eating Chicken Fingers' as I like to call it because it's actively playable. Or "Winner Takes it All" - they're active songs. You can actually play something and they have a great deal of heart to them.
Finally, what do you think makes Mamma Mia! such an enduring show and/or what would you attribute its worldwide success to?
DK: I think it endures because it is about getting a second chance.
SW: I honestly have no idea.
AB: It has a lot a heart.
AB: I think my Mamma Mia story speaks to its enduring power - because originally I wasn't taken with the show. I turned it down twice and didn't really want to do it, and then I realized I was being a fool from a financial and a career standpoint. I got on board with it and struggled with why it was the success that it was.
I have never been more wrong in my life and I never understood why. I truly didn't get it until 9/11. We were in Boston and woke up to the horror that everyone else woke up to, and got a call from Stage Management saying we weren't going on that night. That said, we went back the very next day and I remember being angry and thinking it was inappropriate to go on so soon. I was questioning the social significance of the show and just didn't feel right about it.
We were doing a candlelight vigil and I remember leaving my house with the candle and walking all the way to the theatre with it, and then getting ready to go on. What I discovered that night was the reason the show is as good as it is. I was stuck in my own pretentious musical theatre mindset - and therefore lacked the ability to let go, forget, have fun and escape. I was letting my snobbery get in the way of the fun.
That night, the audience stood, cheered and clapped with us on stage and I realized the function of this show. It creates joy, and joy in a confined environment creates community. It was like we all got involved in a group hug that we really needed. The show has merit and meaning and a place in our society - because it creates joy and escapism and sometimes you need that more than anything.
When and Where?
Spotlight for Fife - MAMMA MIA! Reunion
Monday Oct 28th, 2013
VIP Reception at 6pm, Show at 8PM
For more information or to purchase tickets please visit their official website: http://www.fifehouse.org/index.cfm?pagePath=Events/SPOTLIGHT&id=2522