Previews: 9 TO 5 at Eight O'Clock Theatre
Violet, Doralee, and Judy take on Mr. Hart to make the workplace a better space.
On stage at Eight O'Clock Theatre now through March 12 is the comedy musical 9 to 5 under the direction of Amy Fee and the musical direction of Jason Tucker.
In a 70s-themed story of friendship and female empowerment set in the era of typewriters, Rolodexes, and female sexual harassment, an accepted part of the workplace, Violet, Doralee, and Judy hatch a plan to get revenge on the horrible, lying, misogynistic man in charge. The ladies live out every woman's dream of eliminating their CEO and making the office environment better for women.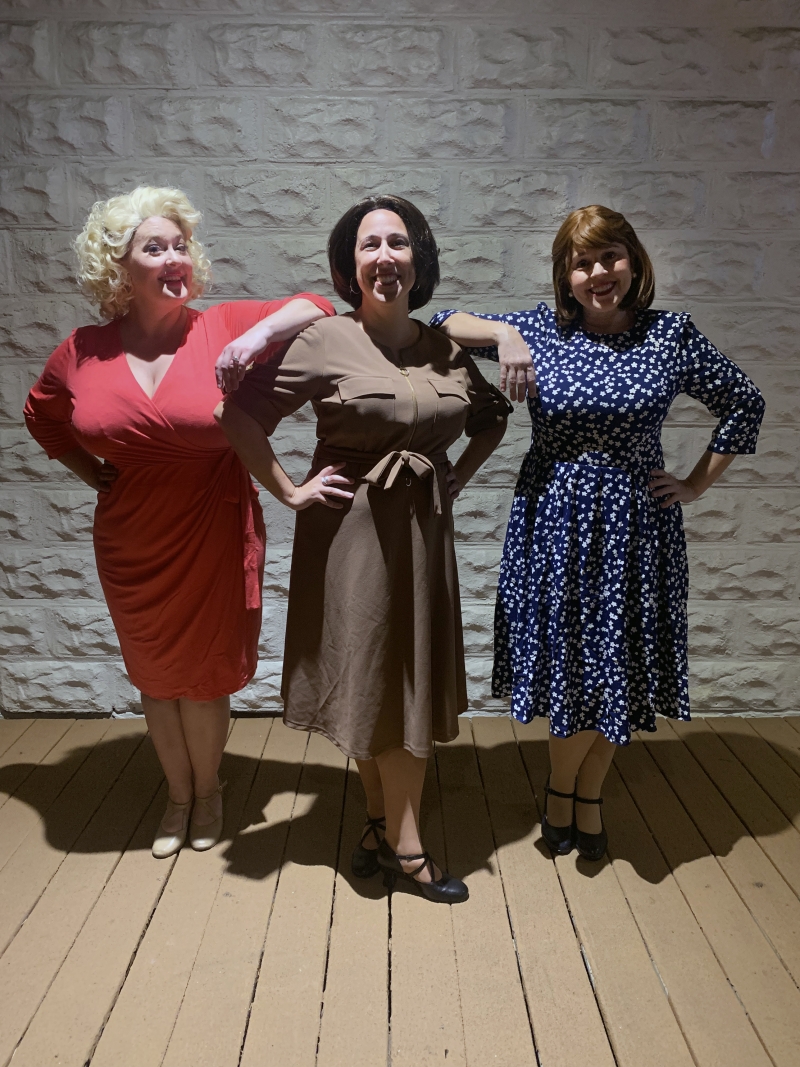 The high-energy comedy with a musical score by Dolly Parton stars Erica Vitelli as Violet Newstead, Lisa Prieto as Doralee Rhodes, Sadra Bostick as Judy Bernly, and Scott Hamilton as Franklin Hart. Paula Broadwater, Steven Fox, Ann Rhody, Lauren Dykes, Erin Nelson, Bianca Rotondo, Daniel McKay, Isaac Clark, Will Day, David W. Collins, Paige Crockett, Jackie Deppner, Sarah Dunn, Coral Furtado, Cadance Hughes, Arbie Ignacio, Topher Larkin, Tony Schmitt, and Jenelle Vinachi round out the cast.
Lisa (Doralee) said, "I love the movie 9 to 5, so I was excited to see how closely the musical follows the source material. There are so many iconic lines and scenes! I also love how accurately this story portrays many challenges women have to navigate in the workplace in a way unique to their male colleagues. And, of course, I love how much it celebrates female friendships and how those relationships are such a source of strength."
As Doralee, Mr. Hart's personal secretary, Lisa's character must endure repeated juvenile harassment from him. She can't understand why the office seems to dislike her despite being helpful and friendly to everyone. She is confident in herself and tries to see the best in others, inspiring the office to improve.
"This role was written for Dolly Parton in the movie and very much modeled after her in both the movie and musical. Case in point - Doralee sings a song called 'Backwoods Barbie' that helps the audience get to know her better, but the song (written by Dolly Parton) is very autobiographical from Dolly's point of view. So it's obvious who inspired this character, and I think it's important to honor that in my portrayal," she explained. "That said, I relate to Doralee on a personal level. I think I have a natural tendency to want to believe the best in people. And like Doralee, I've often dealt with hurt feelings from how people have treated me based on my outward appearance. So when I sing 'Backwoods Barbie,' it comes from a genuine place of sometimes feeling misread by others. I also value healthy female friendships, so I try to infuse much love and support into my interactions with Erica Vitelli and Sadra Bostick, who play Violet and Judy. Of course, that's pretty easy; they are both so talented and lovely to work with!"
Lisa described the show as a theme park ride that takes off like a shot and rarely slows down, set to Dolly's toe-tapping music.
"For anyone who's ever been frustrated about their job, or had to deal with a bad boss, or put up with being harassed, bullied, or overlooked - this show is catharsis through laughter and music! Anyone who loves to laugh, anyone who loves the movie, and anyone who loves Dolly Parton (and who doesn't?) should come to see this show," she said. "I hope they talk about what a great time they had! I know they will talk about Roz (played by the fierce and fabulous Paula Broadwater) singing her heart out in the women's bathroom. Trust me. It's a showstopper. This show has the hardest-working ensemble in town. Even when not onstage, they sing supporting vocals off-stage, often while making lightning-quick costume changes. They're all incredible. If you can, come to see the show multiple times, and pick a different ensemble member to watch each time, because they're all doing something unique and interesting in every scene. I think the audience will love how funny and heartfelt the show is and the fantastic visual effects that Amy Fee and our outstanding creative team and crew have manifested."
The musical 9 to 5 is now through March 12. Learn more and get tickets at https://cloud.broadwayworld.com/rec/ticketclick.cfm?fromlink=2228822®id=101&articlelink=https%3A%2F%2Fwww.eightoclocktheatre.com%2F9to5.html?utm_source=BWW2022&utm_medium=referral&utm_campaign=article&utm_content=bottombuybutton1