BWW Review: Arthur Miller's A VIEW FROM THE BRIDGE at Tampa Rep - One of the Year's Best Shows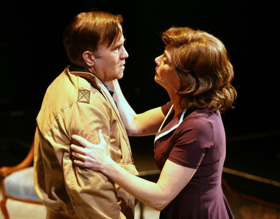 Boy, was I wrong! I always assumed that A VIEW FROM THE BRIDGE held not just second and third candle to Arthur Miller's two best plays and renowned American classics (Death of a Salesman and The Crucible), but a fourth candle, if there is such a thing, to All My Sons. But after watching A VIEW FROM THE BRIDGE in the outstanding production currently mounted at Tampa Repertory Theatre, I realized I deeply undervalued Miller's 1955 play. It not only easily surpasses All My Sons, but it can be uttered in the same breath as Death of a Salesman and The Crucible, which is about the highest praise I can find. It's an underrated classic, a hidden gem whose story resonates sadly now more than ever.
Set in Red Hook, Brooklyn, during the 1950's, A VIEW FROM THE BRIDGE features Eddie, his wife Beatrice and their niece, Catherine, who lives with them. Eddie is a complex character, sort of an Archie Bunker workingman with the feelings of a Humbert Humbert. He's bogged down with Freudian yearnings for his niece and fearful of her growing up and moving away (every parents' fear, but not quite every uncle's).
But all hell eventually breaks loose after Beatrice's Italian cousins enter the picture and one of them, Rodolpho, begins courting Catherine. Eddie keeps making accusations against Rodolpho ("He ain't right," he says more than once, always questioning the young man's masculinity). He's so obsessed with his niece and Rodolpho's burgeoning relationship that we suspect there may be even more to this story. Aside from Eddie's obsessive longing, and the fact that he hasn't been intimate with his wife for quite some time, we wonder if perhaps Eddie may be harboring something else hidden; perhaps the gay tendencies that he ascribes to Rodolpho may be his own. At one point he even says, regarding Rodolpho, "I mean, he looked so sweet there, like an angel...you could kiss him he was so sweet." But he is so conflicted from all angles that he cannot put into words any of his real feelings. But everyone around him--his family, his longshoreman friends--seems to know that something's amiss with Eddie. Only he isn't privy to that inner knowledge, and his self-denial will ultimately lead him on the path to tragedy.
From the top down, the cast is the best I've seen in a long time.
Leading the way, Ned Averill-Snell once again shows us why he is the finest actor in the area. Others come close, but there is no one who could play the harried stroke victim in Jobsite's HIR and follow it up with his work as Eddie--a blue collar man with secrets he doesn't even know he has. It's a tour de force to be sure, the finest acting you will find ANYWHERE. We understand his character's predicament and his motives, and question him, loathe him at times, and yet we cannot take our eyes off him. He is the heart and soul of the show, and there is an emptiness in him that is certainly hard to convey (but it's there). As the show progresses, Averill-Snell is wired, spiraling out of control. There is an uncomfortable fake-boxing scene in the middle of it all that he plays without overdoing it--we know he wants to really hit the young man he's boxing, but it seems all fun and games with something darker underneath, and then then the darkness comes to the surface and we're jolted. That's how I would describe Averill-Snell's work here. A terrific jolt.
Equally outstanding is the marvelous Emilia Sargent as Beatrice, Eddie's wife. Sargent has the uncanny ability to let us know what is on her character's mind without saying a word. We know she knows Eddie's secrets--or at least that something is deeply wrong with her husband--because we see it on her face even when the lines don't call for it. It's exquisite work.
Nathan Jokela is powerful as Rodolpho's brother, Marco, and at one point, he's truly frightening, his face snarled like a bull ready to maul a matador. You can see him grow tense, ready to burst, and our hearts beat faster and faster, knowing that horror will soon be unleashed.
Nick Hoop once again proves why he is the strongest under-21 actor in our area, bringing rich shading to the part of Rodolpho, making us question him and his motives, always without overdoing it. We never catch him "acting." He is alive, a breath of fresh air, but there's something bubbling underneath him as well--a mystery. Is he truly attracted to Catherine, or does he see her as an escape route from illegal immigration status? Hoop keeps us guessing, keeps us wondering who Rodolpho really is. Brilliant work. My one qualm is that his hair appears auburn rather than blonde (even though it is constantly described as "blonde" by various characters throughout the show), but this is a nit-pick, nothing more.
You know it's a winning cast when the stalwart Michael Mahoney is the fifth cast member mentioned. He plays Alfieri, the narrator of the show and a sort of one-man Greek chorus; he also acts as Eddie's lawyer and does an admirable job. He is the glue to the plot--the titular bridge so to speak--that brings the two worlds, Italian and American, old and new, together. Sometimes it was hard to understand him during his opening monologue due to the thick accent, but he nails the part brilliantly.
The real find here is Hannah Anton, a recent graduate of Blake High School, as Catherine. She is able to show so many sides to the character, and we can see her run the emotional rollercoaster--from bright-eyed to lovelorn to disdainful, from teenage girl to young woman. And Nathen VanZile and Jeffrey K. Lukas add tremendous support in their smaller roles.
Directors C. David Frankel and Megan Lamasney have guided a breathtaking production. The actors are all working at their highest levels, and the show is beautifully paced, never slow or dull. Stage movement is tops, with the actors moving out of their character's motivations, not just to keep things rolling along. I like how some of the props (dice, a telephone) are mimed; it takes nothing away from the realness of what we are witnessing. Lea Umberger's minimal set is functional, and Jo Averill-Snell's lighting is seamless, compelling without ever intruding on the action or calling attention to itself. Connie LaMarca-Frankel's period costumes work well, as does Matt Cowley's sound design. The music of Igor Santos, underscored throughout, is full of doom, preparing us for the inevitable dread to come. And it all comes together, beautifully.
In a show that deals head on with illegal immigration (one of the various plot lines it tackles), Tampa Rep has been helped by the timing of immigration being forefront in the news. Once again, thirteen years after his death, Arthur Miller seems relevant to today's world. And unlike his other, more famous works, most people have not seen a proper version of A VIEW FROM THE BRIDGE. But the world of Eddie Carbone should be required reading and viewing along with the worlds of Willy Loman, John Proctor and Joe Keller and his 21 pilots.
The Tampa Rep production of A VIEW FROM THE BRIDGE certainly needs to be seen, with performances, especially from Averill-Snell, that have left an indelible mark on anyone who's experienced it. It is easily one of the year's best shows.
Tampa Rep's A VIEW FROM THE BRIDGE plays at USF's Studio 120 until June 17th.