Review: STALKING THE BOGEYMAN Is The Heartbreaking And Harrowing Dramatization of David Holthouse's Personal Experience That Was First Made Public In Print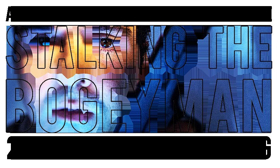 Friday 25th May 2018, 8pm, Old Fitz Theatre
Neil Gooding (Director) presents STALKING THE BOGEYMAN, David Holthouse and Markus Potter's stage adaptation of Holthouse's very personal story of being a victim of childhood rape, with care and confronting clarity. Based on Holthouse's article with the same title first published in Westword on 13 May 2004, this production presented by Neil Gooding Productions and New York Rep gives a first hand account of the damage of childhood sexual assault and having to keep it a secret for 25 years.
The dramatization of STALKING THE BOGEYMAN sees a 32-year-old Holthouse (Graeme McRae) narrating almost verbatim from his Westword article with focused monologue in a single spotlight making way for recreations of the key events in his life from his first encounter with the Bogeyman (Radek Jonak), the 17-year-old son of his parents' friends Carol and Russ Crawford, when he was just 7 years old in 1978. Whilst the names of the Bogeyman and his parents in the play are fictional and Holthouse later admitted to changing some of the details about the Bogeyman to conceal his identity, because at the time the show debuted in North Carolina in 2013 Holthouse had not revealed his rapists name(revealed in Anchorage Press in 2015), the sickening story of the destruction of a 7 year old David's life is true and Holthouse's opening line of "This time last year I was plotting to kill a man" seems justified when the crime against him is considered.
Designer Laruen Peters has created a detailed space designed to represent various locations in Holthouse's life, from the Crawford's basement den where the 7-year-old David is violently assaulted by the Bogeyman whilst their parents played cribbage upstairs to the cheap Chinese clothing store which Holthouse sees the Bogeyman years later and Holthouse's Denver home 25 years later. Other places are implied by Holthouse and Potter's text and Gooding's direction which included utilising the full space of the Old Fitz Theatre. The basement, complete with stairs leading up to the house, includes the Japanese samurai Katana which the Bogeyman uses to threaten the young David, the box television and Atari controllers he uses to distract the traumatised child and an old dollhouse that the Bogeyman's younger sister would have played with that lighting designer Alexander Berlage utilises throughout the story. A variety of lighting sources illuminate the various spaces and help transport the work, from fluorescent tubes in the basement, an ornamental lampshade over Holthouse' Denver dining room, an incandescent bulb over the stairs and follow spots to pick Holthouse out of the darkness for his monologues presented direct to the audience.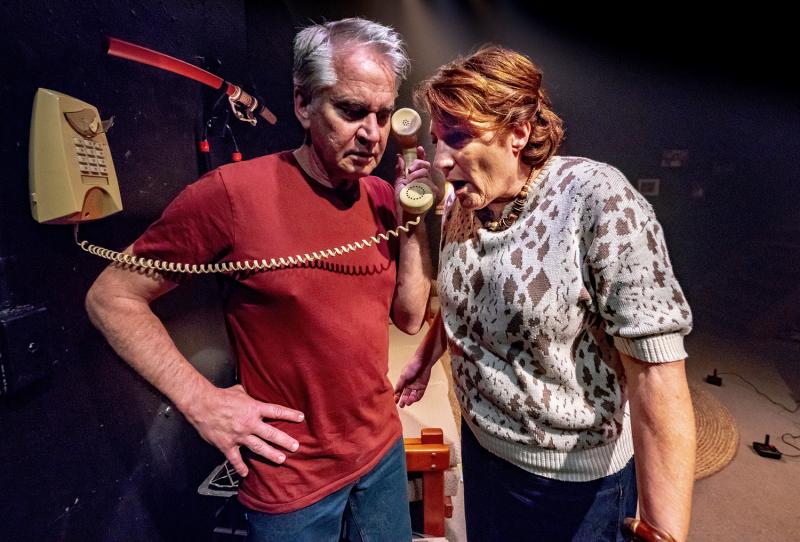 As Holthouse's parents Nancy and Robert, Deborah Jones and Noel Hodda capture the quintessential American couple wanting to fit in and make friends in their new hometown in in the Chugiak,outside of Anchorage Alaska. Both ensure that David's parents are seen as caring and compassionate people that want to protect their son but also having an innocence so that the thought that their friend's son could be hurting their child never crosses their mind. Hodda's expression of Robert's moment with a young David playing catch before bed is heartbreaking as the father has no idea why his child is hurting so much and Jones' portrayal of a fiercely protective mother once the truth is unveiled is brilliant in her control and underlying anger as she finishes her call to her former friends with "I hope your son eventually gets caught and spends the rest of his life getting raped in prison".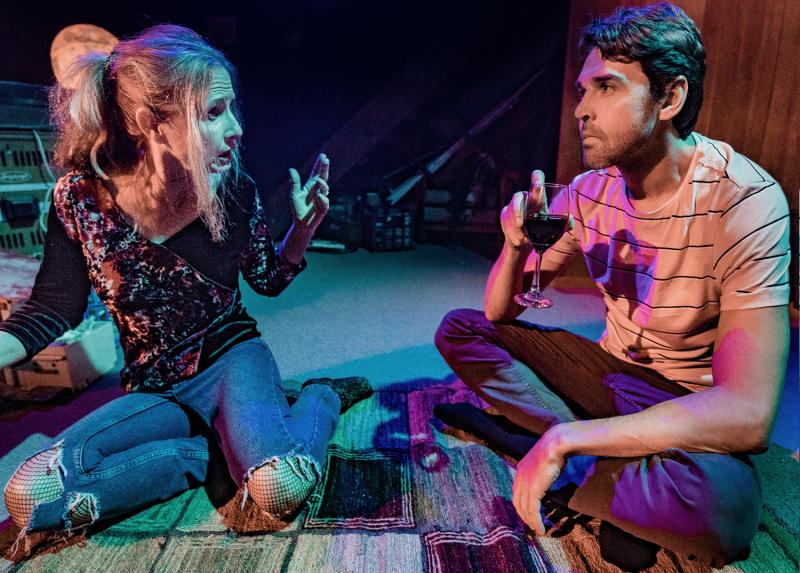 As the Bogeyman's parents Carol and Russ Crawford, Anne Tenney and Alexander Palacio present more 'worldly' and outgoing people than David's parents which gives a potential insight into the Bogeyman's sense of entitlement and power. Whilst Tenney's Carol is welcoming Palacio's Russ shows signs of being a bully as he tries to intimidate Robert and diminish him with comments about his physique not being one that would indicate a past as a baseball player and implying that if David didn't become a sportsman like the Crawford's son he wouldn't be masculine. They ensure that Carol and Russ are seen as having less control over their teenage son, instead worshiping him for his sports achievements and allowing him a certain degree of freedom that sees him drinking and cheating, amongst the much more dangerous underlying crimes that they don't know about.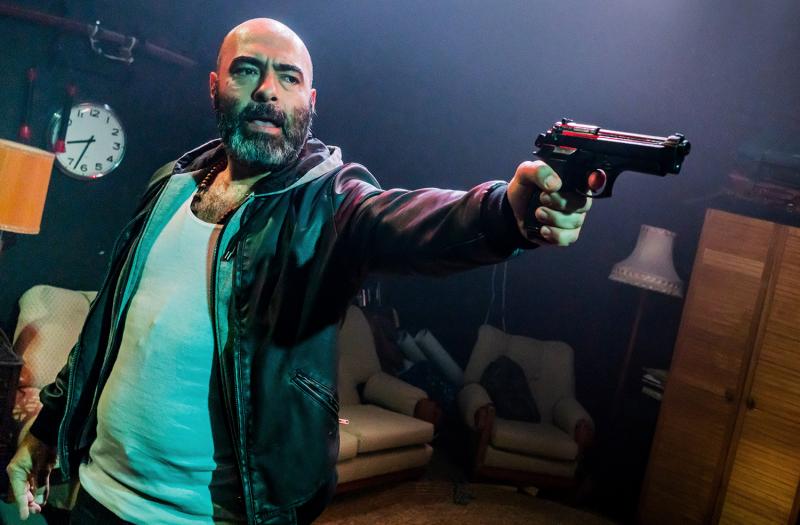 Palacio, Hodda and Tenney present other minor characters that surround Holthouse's story. Tenney's Molly gives the work an extra dimension as the sexual assault of young girls is also addressed as the drug dealing ex-exotic dancer forms an unusual friendship with David. She is ballsy and helps drive the story forward and provide David with an outlet to express himself before he puts fingers to keys to write the Westword article. Along with presenting Coach Billy, another Bogeyman that the young David came across but thankfully escaped his clutches, Hodda presents Emmit, a registered gun dealer David met during earlier journalism research, as a concerned outsider willing to share information but it is Palacio's blend of sinister with his imposing physicality that ensures that gangster Payaso is seen as dangerous but also wise in his understanding of what the ability for a final form of revenge can really have in healing old wounds.
Radek Jonak presents an evil psychopathic Bogeyman that flips between trying to befriend David and inciting fear into the young child as he uses the threat of further violence to ensure his silence. He ensures that the Bogeyman is seen as an irretrievably horrid creature so that even when David agrees to meet him on a street corner a quarter of a century after the rape the audience still isn't completely convinced that David was his only victim despite his protestations that no one else suffered. Jonak's detailed performance recreates the leers and silent threats that he would torment David with over the years whilst transforming to a seemingly remorseful family man in his early 40s.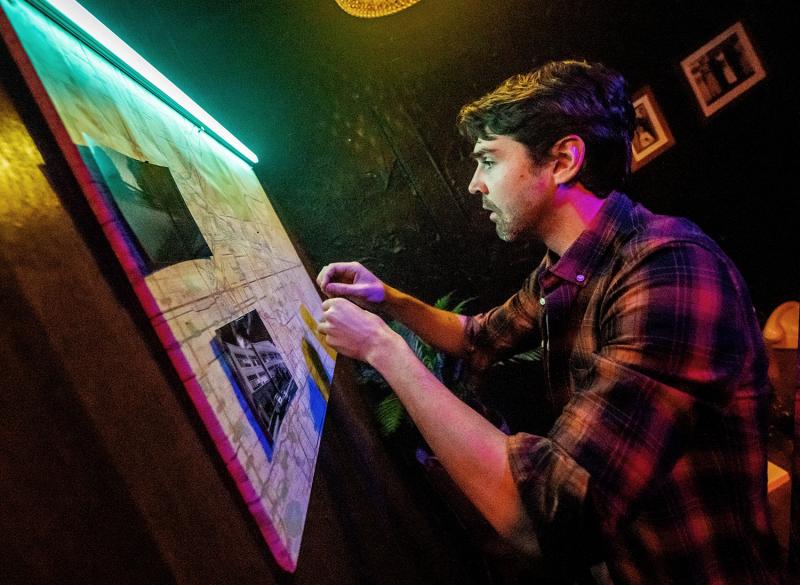 As the central character of David Holthouse, Graeme McRae delivers an outstanding performance of some intensely difficult material when the weight of the work is considered. He delivers the grown up Holthouse's recollection of events with a measured calm that presents an element of 'peace' following the publication of his story whilst still showing that there is an underlying emotion summering beneath the surface reminding the audience that the apparent apology is not enough to wipe away the trauma that has Holthouse has lived with for 25 years. McRae's portrayal of Holthouse growing up is delivered with an innocence and vulnerability that ensures the audience understands that whilst the body is still that of a grown man, he is portraying Holthouse's 7-year-old self that once looked up to the teenager that would become his Bogeyman. McRae makes it clear that whilst Holthouse has tried to move on and has achieved success, becoming an acclaimed journalist, the reality is that he has lived in fear for years, fear of his parents finding out and the pain it would cause them, and the fear that he too could become like the Bogeyman.
STALKING THE BOGEYMAN is a gripping story that is both stomach-turning and shocking as it is hard to fathom that this not just a playwright's imagination but is a real story. Gooding ensures that the work retains the truth and honesty without overacting so that the impact of the work is fully felt, and the weight of the content is clear. It is an incredibly important story that needs to be heard so that people protect the innocent. Society is highly aware of assault on adults, particularly with the #MeToo movement but child molestation, whilst abhorrent is not always considered as violent as the reality is and that children need to be protected. When the statistics that Holthouse cites are considered, the number of children that are assaulted which often includes rape is staggering and the contemplation that children in our own lives may be in danger is sickening and appalling. The more people that see this production and understand Holthouse's message to protect, give children a safe space to share if something isn't right and also have adults notice the signs that something is wrong is incredibly important.
23 May - 23 June 2018