BWW REVIEW: Packemin Productions Presents A Slick Interpretation of JESUS CHRIST SUPERSTAR

Friday 8th February 2019, 7:30pm, Riverside Parramatta
Neil Gooding (Producer/Director) delivers another well crafted Pro/Am production with Packemin Production's staging of Andrew Lloyd Webber (Music) and Tim Rice's (Lyrics) JESUS CHRIST SUPERSTAR. Almost half a century after the concept album was first released, the cast of 64 professional and amateur performers and a 15 piece orchestra remind the audience why the rock opera was such a hit around the world.
Based on the New Testament story of Christ's (Joe Kalou) final days, this work examines the story from Judas Iscariot's (Toby Francis) view, turning many bible studies teachings around to consider the apparent traitor as having more altruistic intentions of not only self-preservation, but also concern for the safety of Jesus' followers who he felt were being blindly led into danger. Most people will be familiar with at least some of the music as the original album rose to #1 position on the US Billboard Pop Albums and #4 on the Australian Albums Charts for 1971 and a number of the songs have been covered by musical theatre and pop singers over the years.
Set Designer Neil Shotter keeps the staging relatively simple with bare scaffolding surrounding a broad stepped stage. This allows space for the large cast which are often all on stage at once with people filling the balconies of the scaffolding and the stairs of the stage, echoing images of town squares, the Temple where Jesus berates sellers and, with the addition of silk banners, the governmental and royal buildings of Pilate and Herod. In contrast to Shotter's contemporary styling Costume Designer Audrey Currie uses costuming to anchor the work in biblical times with the majority of the ensemble in robes of natural earthy colors and a range of fabrics with simple patterns of stripes and checks to add variety whilst leather sandals adorn most of the feet. Featured characters have more striking features, from Jesus' white kethoneth robe and simlah shawl coat to Mary's red belted kethoneth dress to Judas' fusion of ancient Hebrew stylings and more progressive dark brown roman pants and bold blue short kethoneth and belted simlah. Pilate wears a more opulent embroidered silk roman draped toga whilst Herod has flamboyant robes reflecting his status.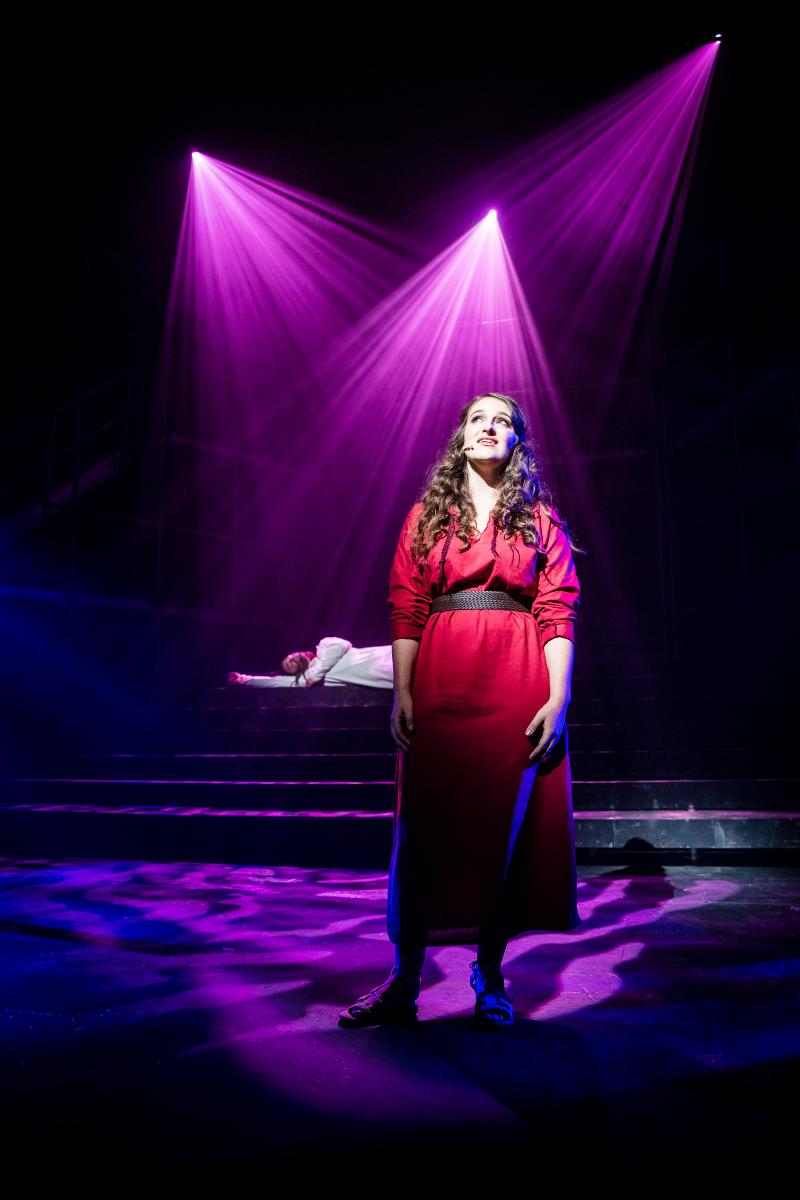 Sean Clarke's lighting design adds to the rock spectacular of the production whilst also helping shift the mood from energetic intensity to isolated contemplation. Working with Shotter's special effects, Clarke's lighting is integral to repositioning the story to elicit sympathy for Judas as the voice of reason in the work and unwitting pawn in god's machinations. David Grigg's sound design is possibly one of the better ones heard on Sydney stages of late with focus on ensuring Rice's detailed text is not missed whilst the chamber orchestra performing backstage are blended to give the impression of a fuller sound in order to match Lloyd Webber's original large orchestra compositions.
Toby Francis is brilliant as the conflicted Judas Iscariot as his pleads with his childhood friend (Jack Munzer - young Judas and Remy Freiha - young Jesus) to see reason and wake up to the danger of falling into hype of the adoration. His solid vocals shift easily between the passionate rock to the grounded observations, infused with an undertone of skepticism and simmering anger that Jesus refuses to listen to his concerns. He has a wonderfully conflicted and tortured brooding presence as he oversees Jesus unfolding rise to fame from the sidelines, refusing to succumb to the hysteria and gives everything to passionate earnest expressions of dire concern. Francis ensures that even the most hardened believer of the gospel stories that painted Judas as the bad guy will feel sympathy for the one friend Jesus should have listened to.
As Mary Magdalene, Brittanie Shipway presents a concerned and devoted young woman who gradually shifts from merely being one of the followers to feeling more towards Jesus. Rice had painted Mary as more of a woman of pleasure than the bible may have intended but Shipway blends this interpretation with a confident concern and strength not really afforded any of the women in the gospels. Her vocals are strong, giving Mary's iconic songs as country rock feel with new flourishes presenting beautiful new and refreshingly unique expressions of the well known works of I Don't Know How To Love Him and Could We Start Again Please?.
Joe Kalou's dramatics are suitably stoic and seemingly indifferent to the danger that Judas warns of but his vocals aren't always on perfect pitch, particularly in works where he interacts with other characters. Thankfully his Gethsemane is infused with the requisite doubt and depth of emotion that helps color the rendition enough to make the loss of purity to potentially be a considered character choice.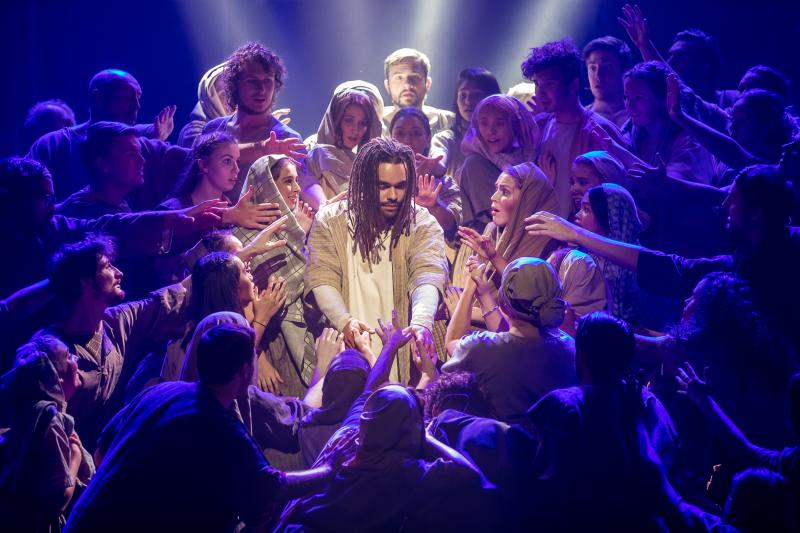 Other stand out performances come from Jenna Woolley as Annas, lending an intriguing unique sound to Caiaphas key advisor and Gavin Brightwell gives Pilate a brilliant campiness. Simon Peppercorn channels a Southern rock for his extravagant Herod and is supported by a delightful entourage of dancers which Audrey Currie has refreshingly chosen to not have in the obvious attire of a stereotypical harem.
Overall the standard of the work is incredibly high with the entire ensemble delivering fabulous vocals and purposeful but subtle dramatics. Cameron Mitchell's choreography is beautifully executed with a natural fluid expression as the large cast move with ease to give an expression of realistic crowds' movement. The use of 'frozen' tableau moments to punctuate iconic moments and also allow Judas time to share his views of the unfolding events are powerful in increasing the influence of the underlying text.
Whether you've seen previous productions of JESUS CHRIST SUPERSTAR, or this is your first introduction to the Lloyd Webber/Rice hit, whether you're a Christian, Jew or another faith, this rock opera holds a relevance for everyone in its consideration of guilt, greed, conceit, compassion and blindly believing mass mania. With production values more comparable with main stage works, well beyond the normal Pro/Am range, Packemin Production's JESUS CHRIST SUPERSTAR will delight all audiences and is a must see for all ages.
JESUS CHRIST SUPERSTAR
https://riversideparramatta.com.au/show/jcsuper/
Photos: Grant Leslie
Related Articles View More Australia - Sydney

Stories

Shows