Review: MAMMA MIA! Returns To The Sydney Stage In A New Interpretation Of The Feel Good Musical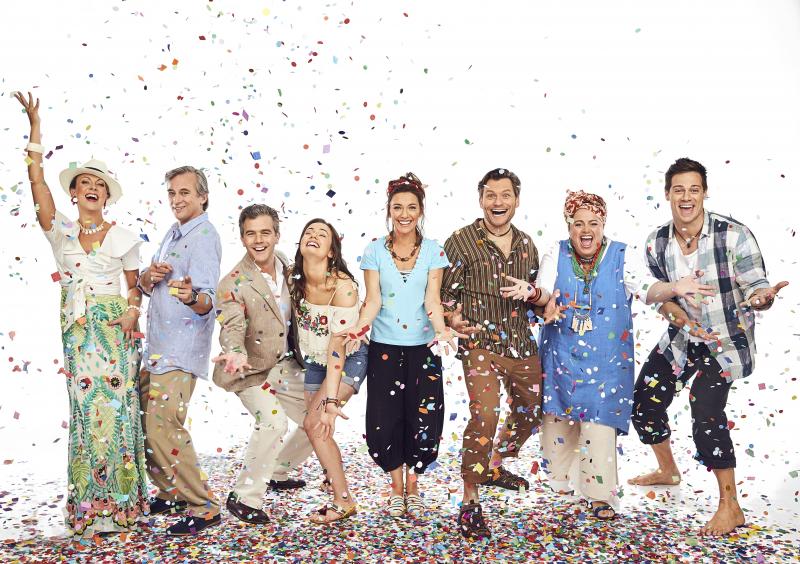 Thursday 15th February 2018, Capital Theatre
Australian Director Gary Young has reinterpreted MAMMA MIA! for Australian audiences, delivering a fresh new take on the work, 19 years after it debuted on the West End. The story of love, growth and the importance of friends, told through the songs of seventies Swedish pop group ABBA provides a heart warming and hilarious evening of easy entertainment.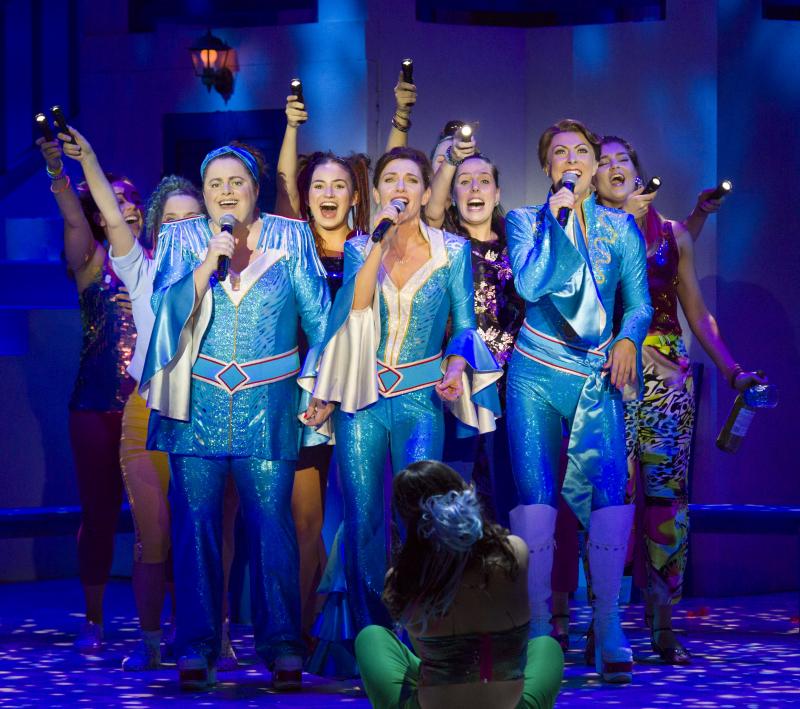 Young gives the story of Sophie's quest to find her father an Aussie twist with Australian accents and references. On the eve of her wedding, the 20 year old Sophie reveals to her girlfriends Ali (Monique Salle) and Lisa (Jessica DiCosta) that she has contacted three men that featured in her mother's 20 year old diary, British Banker Harry Bright (Phillip Lowe), intrepid travel writer Bill Austin (Josef Ber) and Australian Architect Sam Carmichael (Ian Stenlake). The formidable Aussie expat Donna Sheridan (Natalie O'Donnell) has made the little Greek island of Kalokairi her home as she runs a hotel and raises her daughter alone and is naturally flustered when faced with her past lovers but thankfully she too has two girlfriends to turn to, the posh three-time divorcee Tanya (Jayde Westaby) and the fun loving food writer Rosie (Alicia Gardiner).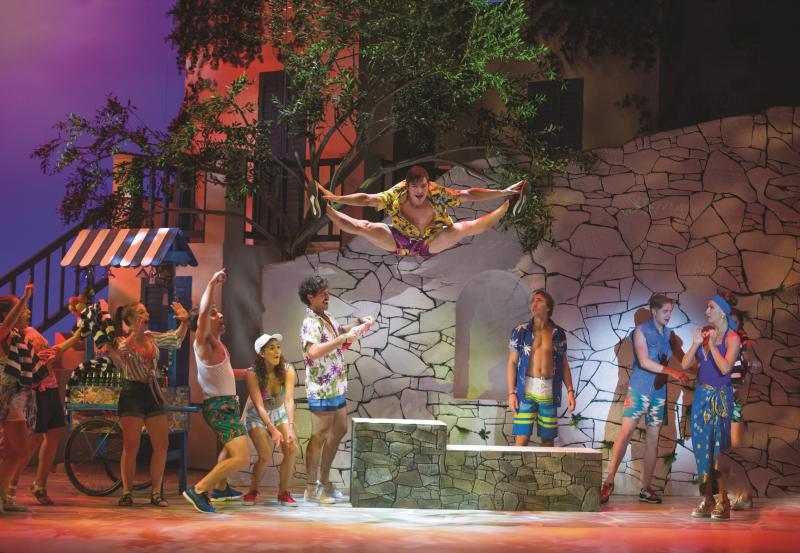 Set designer Linda Bewick has created a more traditional set for her incarnation of the fictional Mediterranean Island and Donna's Taverna. A jetty reaches out into the audience to allow for a more 'realistic' access to the island whilst a stone wall topped with trees capture the feeling of the sea wall protecting the village from the sea. These sea side accoutrements retreat to focus on the Aegean Blue trimmed two-level, sand rendered, taverna which transitions from external to internal spaces with a few simple movements. Gavan Swift illuminates the action with an inventive variety of styles to indicate the transition of time and narrow in on the emotional moments. Donna and the Dynamo's (Tanya and Rosie) are illuminated by torchlight for the Hen Party treat of Super Trouper whilst a wash of sunshine warms the beach as Tanya schools Pepper in his courtship of an older woman with the sultry Does Your Mother Know, a disco frenzy of lights provide an Entr'act for Sophie's nightmare in Under Attack and Sam's realisation of how much he hurt Donna dawns on him whilst he's kept in the shadows whilst she explains that The Winner Takes It All. Swift bathes the background in beautiful blues of the Aegean Sea and sky, making way for a magnificent moon rise as night falls.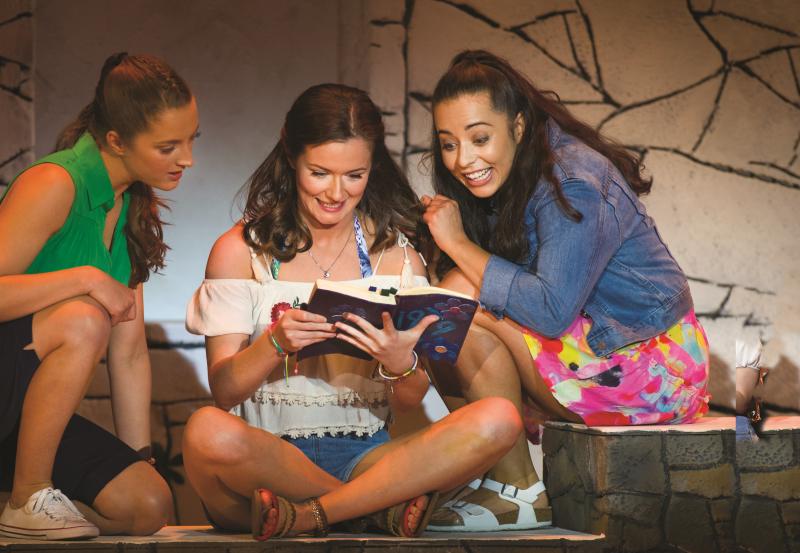 Young has gathered a near perfect cast for this production and ensured that each character is unique and interesting. Natalie O'Donnell returns to Kalokairi, this time as Donna, having originated the role of Sophie for the Australian production in 2001. It is wonderful to see Sarah Morrison return to the mainstage to create a new interpretation of Sophie after beautifully originating the role of Lisa in LADIES IN BLACK. The supportive girlfriends of both mother and daughter are presented with fabulous energy by Westaby, Gardiner, Salle and DiCosta. Stephen Mahy captures Sophie's fiancé Sky's loving devotion and protective nature along with a degree of maturity in comparison to his intended and his island friends, the energetic and somewhat immature Pepper and Eddie who are presented with playful exuberance by Sam Hooper and Alex Gibson-Giorgio respectively. Donna's former lovers, and Sophie's potential father, are presented by Stenlake, Lowe and Ber who each capture the variation in Donna's tastes in men and Stephen Anderson has an amusing feature as Father Alexander.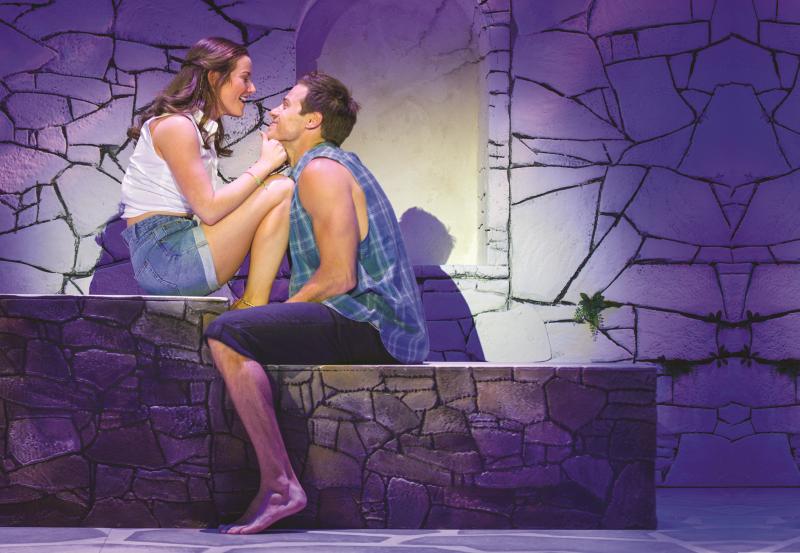 Morrison is delightful as the young woman desperate to know her full identity and choose a certain life for herself, not simply find herself in a situation like her mother did. Morrison is consistent in her retention of the Australian accent which further differentiates this production from previous works and the Hollywood movie that it spawned. She has a lovely earnestness and innocence and rides the roller coaster of emotions with ease, from the euphoria of love to the terrifying nightmare that her sleuthing has hurt her mother and ruined her wedding. O'Donnell ensures that Donna is seen as tough and resourceful although harbouring a deep-seated resentment for a lost love that has been boiling below the surface for years. She captures Donna's fatigue and scepticism whilst still being able to express that she was once a vibrant and passionate being before the challenge of running a business and raising a child dulled her fire.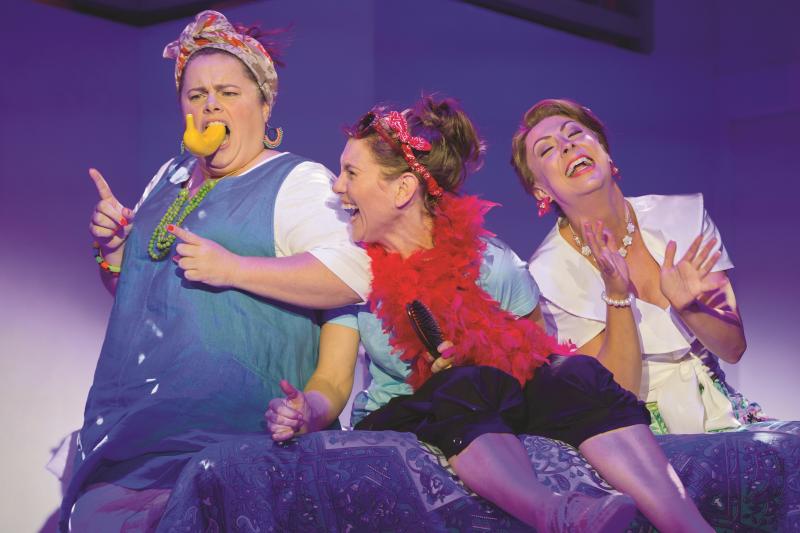 Of the friends and fathers, Westaby and Lowe as Tanya and Harry are the standouts. As the elegant Tanya, the leggy Westaby is divine with fabulous expressions and responses even when not the focal point and her fierce sultry toying with Pepper is brilliant leading to one of the longest applauses of the night. Lowe, who broke hearts in Hayes Theatre's BIG FISH, is equally as captivating as the awkward banker with stereotypically repressed British formality and an endearing goofy social ineptitude as he reconnects with his wilder youth and is eager to keep everyone happy . His rendition of Our Last Summer is beautifully presented and whilst filled with cheesy lyrics, Lowe captures Harry's fears and conventionalism that Donna once helped him escape but have seemed to returned as his gorgeous smile always gives the impression that he is hiding something from both the gathering and himself. As with Westaby, Lowe has a great comic timing and physicality as he presents a suitably awkward 'dad dance' style complete with unrestrained and unselfconscious freedom.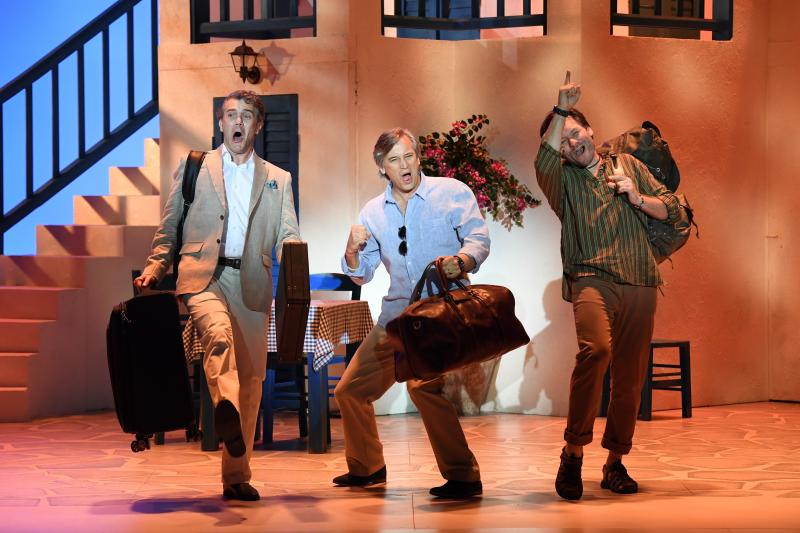 Ber and Gardiner are suitably energetic as the two-confirmed commitment phobic adventurers who have seemingly found their match. Salle and DiCosta ensure that the friends share a degree of immaturity with their friend as well as being willing conspirators in Sophie's investigation. Hopper takes Pepper's flirtation with Tanya to a new level with incredible acrobatics and Gibson-Giorgio provides a suitable sass to his portrayal of Eddie. The one weak link in the cast comes from Stenlake's Sam which is presented with an awkward physicality which feels perpetually rigid. Whilst his solid stance may have given his small screen law enforcement roles a gravitas, for live theatre the inflexibility is incongruous with the impression of the type of man one would expect Donna to have fallen head over heels for and pined for 20 years for. Stenlake's saving grace is a smooth rich voice which when considered separate from the awkward movement, or lack thereof, captures the emotion.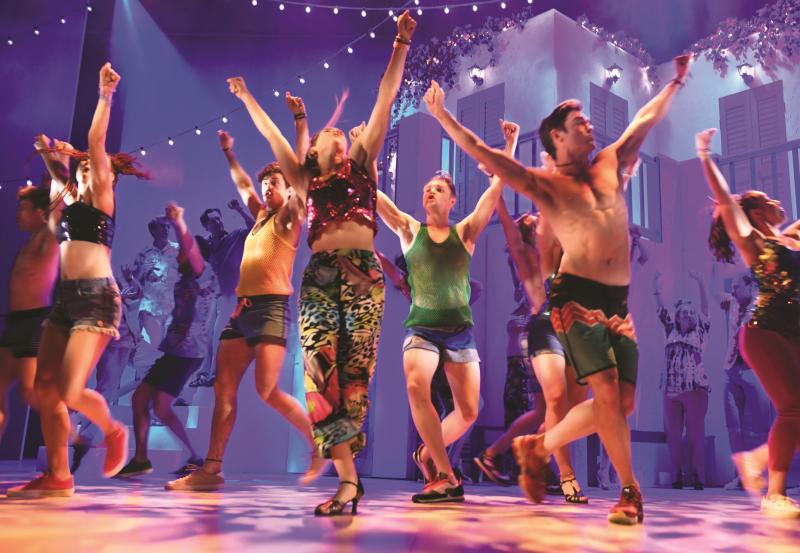 Young has utilised the large ensemble to present a balance between intimate moments and large bold sequences that capture the vibrancy of the island, from hotel guests, villagers and workers at the Taverna. Whilst filling scenes, each have their own little quirks and Tom Hodgson has choreographed high energy ensemble works and more intimate moments with delightful physical comedy and ingenuity including elements of traditional Greek dances which help give the work a more interesting aesthetic whilst explaining the story and moving it along with ease.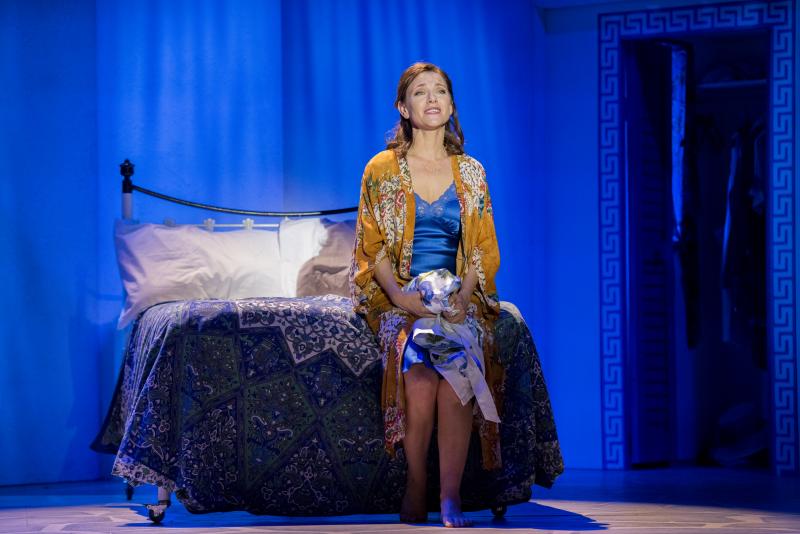 Michael Azzopardi's (Musical Director) 8-piece band present a solid backing to the vocals and sound designer Michael Waters ensures that lyrics are clear as they are more than just renditions of well known pop songs but help explain scenes and emotions. To help capture the fullness of the original works, Waters has layered in a chorus of unseen voices to give a layered and textured performance. There are moments where the balance could be less weighted to the vocals and other times when the bass is overpowering to the scene unfolding.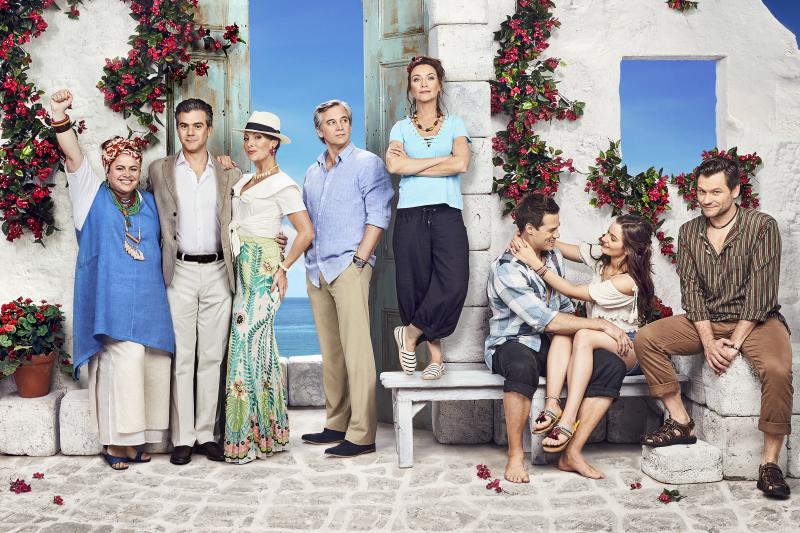 MAMMA MIA! is a fabulous night of easy entertainment that is heart-warming filled with love and fun. If you saw earlier incarnations of this work, go and see it reimagined with Australian creatives and cast. This will satisfy ABBA fans along with musical theatre fans and anyone that enjoys a night of escapist enjoyable theatre that leaves you with lyrics in your head and wanting to dance in your seat. Grab some friends and join the party.
MAMMA MIA!
(Cover Photo: Peter Brew Bevan)