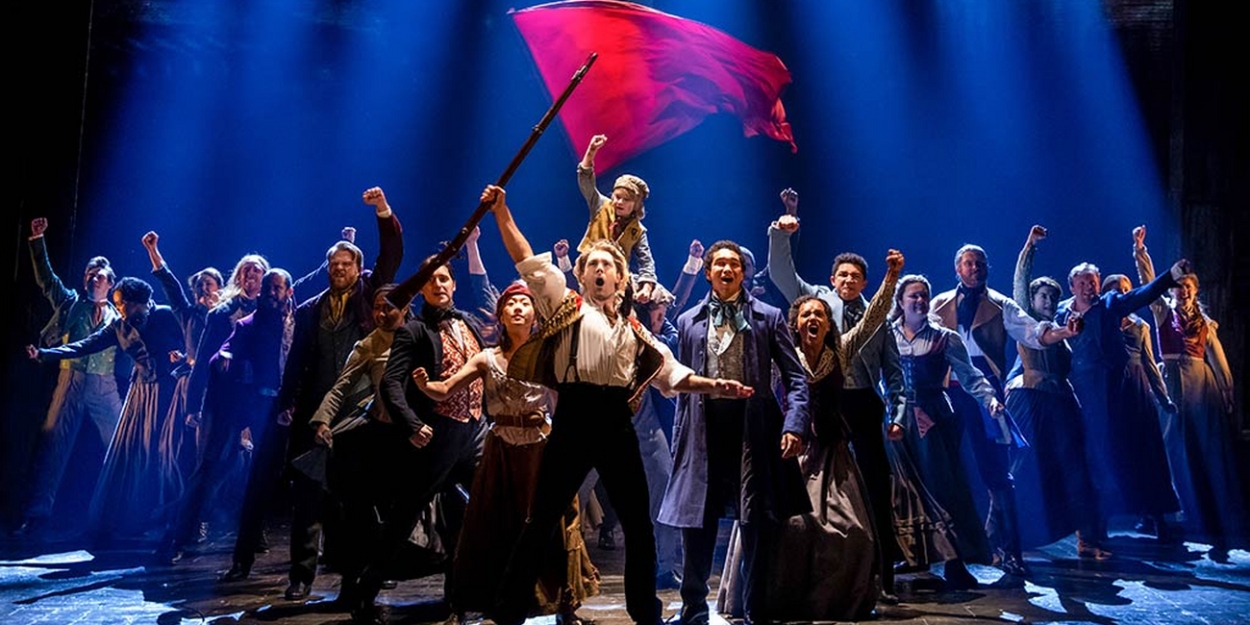 Review: LES MISERABLES at Fox Theatre, St. Louis
Les Misérables Brings Passion and Peril to the Fox Theatre
Revitalized for a new generation by Cameron Mackintosh, Les Misérables remains one of the most popular musicals of all-time. Opening at the Fox Theatre this weekend, this well acted adaptation of Victor Hugo's novel delivers passion and peril.
Spanning seventeen years, the plot centers around Jean Valjean, an idealistic French peasant who seeks personal redemption after serving a nineteen-year prison sentence for stealing a loaf of bread to feed his sister's starving child.
Swept up in a changing political climate, he breaks his parole as he looks to put his past behind him. On the run, Valjean is looking for redemption. After a series of unfortunate circumstances, he encounters Fantine, a dying working-class woman whose daughter, Cosette, will be orphaned when she passes.
Taking on a new identity, Valjean dedicates himself to raising and protecting Cosette. In doing this Valjean finds a new purpose in his life. However, running from his past is not easy as the unscrupulous Javert remains in hot pursuit. However, as the passionate Valjean makes his way through a tumultuous period of political intrigue and moral ambiguity he discovers that beyond darkness of the times, love and compassion rule the day.
From its origins as a novel in the 19th century to multiple stage and film variations, Les Misérables continues to resonate with audiences worldwide. This incomparable touring production, directed by Laurence Connor and James Powell, is a celebration of deliverance filled with beloved songs and emotional tension.
Leading the show is Nick Cartell as the angst-ridden Jean Valjean. Electrifying on stage, he gives the troubled protagonist a formidable pathos that underscores the tumult of 19th-century France. As a singer his voice is in top form, especially on At the End of the Day and for his solos on Who Am I? and Bring Him Home.
Equally powerful is Preston Truman Boyd as Javert. Capturing the inspector's unyielding determination in a mesmeric performance, his dastardly, relentless, and cunning turn make Javert's unsavory and frightening foe.
Also exceptional are Haley Dortch (making her national tour debut) as Fantine and Addie Morales as Cosette. Christine Heesun Hwang, who stars as Eponine, also gives an emotionally powerful performance. Gregory Lee Rodriguez also shines as Marius.
Boasting music by Claude-Michel Schönberg, lyrics by Herbert Kretzmer, and original French text by Alain Boublil, the production features an ever-dazzling array of musical numbers, including I Dreamed a Dream, Bring Him Home, Do You Hear The People Sing? and the fiercely catchy Master of the House. Collectively, the musical numbers function as a character of their own, giving the musical a sizzle that adds heft to the drama onstage.
Whether it is the love of freedom, country, law, or the heart, the characters of Les Misérables are unrelenting in their passion. This passion also exists in a stellar ensemble who pour their heart and soul into Les Misérables, making it a bold showstopper filled with shattered dreams, unrequited love, sacrifice, and redemption.
Not to be missed, this exuberant and tragic production of Les Misérables is a breathtakingly epic reminder that the power of theater lies in its ability to capture the essence of the human spirit.
Les Misérables runs through January 22nd at the Fox Theatre. For more information, visit https://www.fabulousfox.com/events/detail/les-miserables