BWW Review: MUCH ADO ABOUT NOTHING shines a spotlight on love and laughter at Warehouse Theatre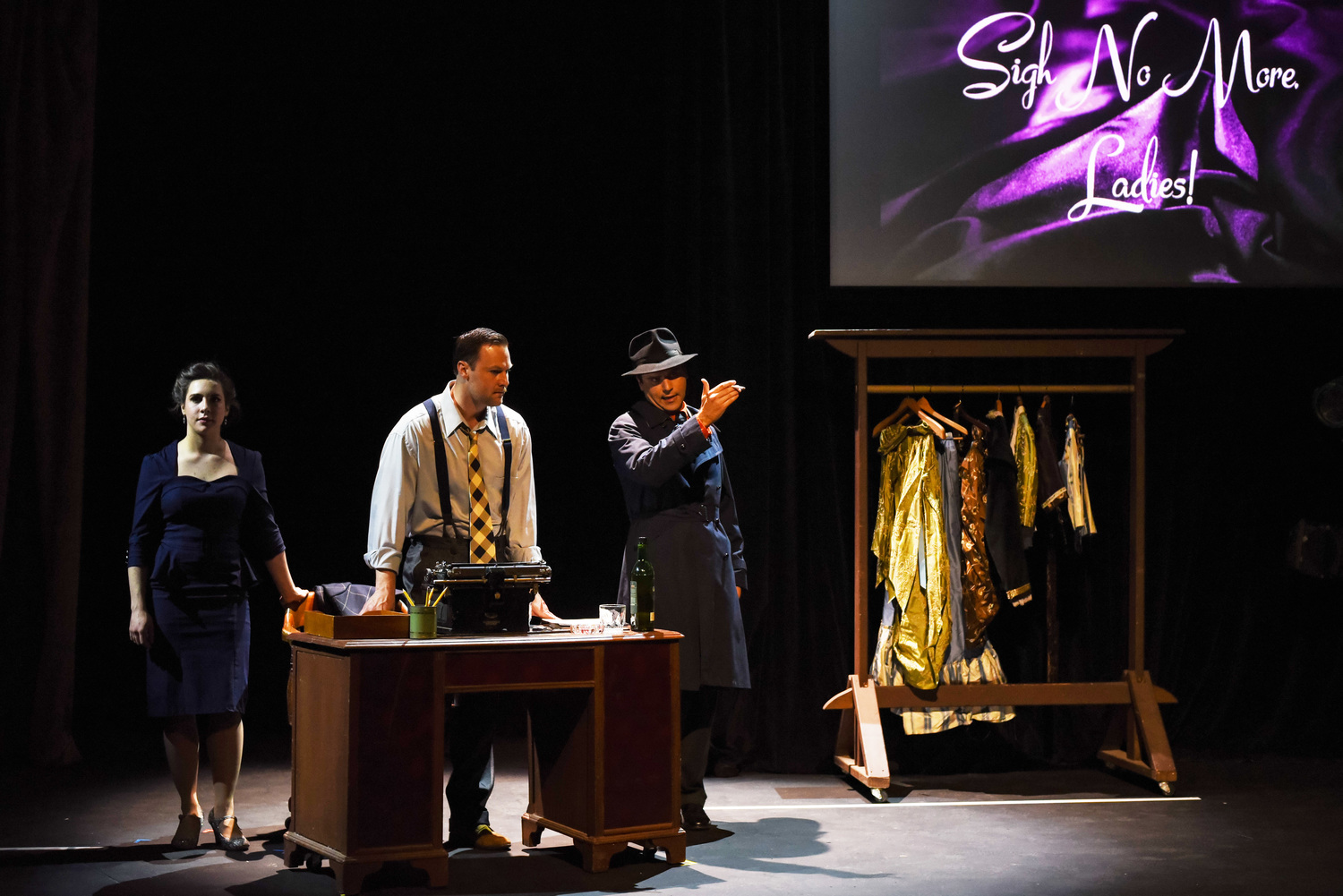 What do you get when you mix Singin' in the Rain and The Philadelphia Story with one of Shakespeare's most pleasant comedies?
Director Anne Kelly Tromsness explores that question in her production of Much Ado About Nothing, now playing at the Warehouse Theatre in Greenville, SC.
Tromsness sets the show in the 1940's Hollywood sound stages of Messina Pictures where world-weary movie stars Beatrice (Nakeisha Daniel) and Benedick (Thomas Azar) engage in a "skirmish of wit" even as sincere young up-and-comers Hero (Shelli Delgado) and Claudio (Christopher Paul Smith) find themselves falling in love. But while Cupid's arrow is enough to entangle the younger couple, it may take some actual traps to ensnare Beatrice and Benedick. Along the way we meet a confused studio head, a vengeful writer, a snarky gossip columnist, and - wait a minute - is that Ralph Kramden and Ed Norton? You'll have to see the show to find out.
The old Hollywood setting works well as a method of quickly telegraphing character relationships. It's also a sly way for director Tromsness to create additional comic business, from an actor lip syncing a song for the camera to characters hiding behind rolling costume racks. I also loved some physical bits Tromsness added, for instance with the character of Dogberry (brilliantly played by Jayce T. Tromsness) - his double take during another character's monologue had me in stitches.
The cast is uniformly excellent. Nakeisha Daniel is devilishly slinky and effortlessly witty as Beatrice. There's a fire in her eyes that belies her tossed off rejoinders, giving us a Beatrice who is confident and relaxed - that is, until she begins to question the foundation of her "merry war." As her sparring partner, Benedick, Thomas Azar is hyper-suave and just the right amount of cocky. Azar is a gifted physical actor and this production gives him some great opportunities to earn laughs with just a look.
Shelli Delgado and Christopher Paul Smith are engaging as the young lovers Hero and Claudio. Both actors effortlessly show us the warmth and innocence of the young lovers while also managing to turn on a dime as circumstances change. Delgado's sorrow in one scene was absolutely palpable, while Smith's change of heart in reaction to a rumor about his beloved Hero chilled the room.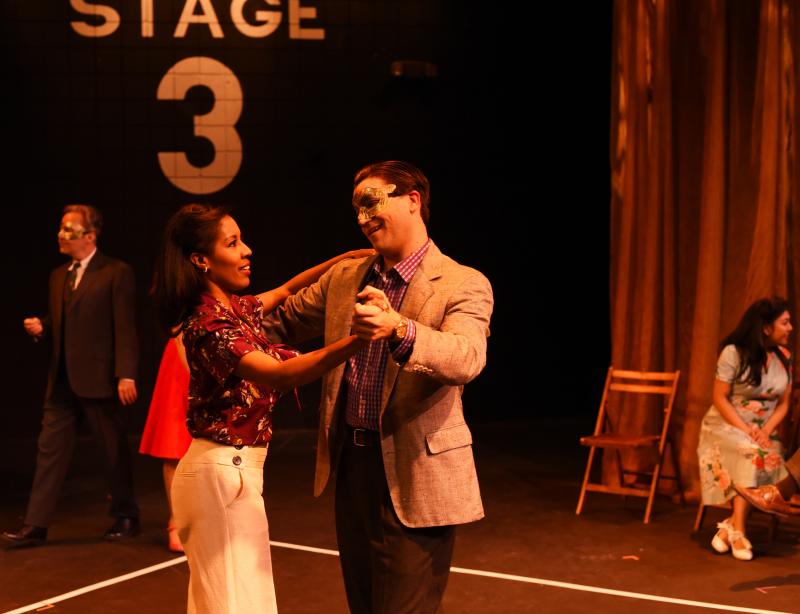 Tim Brosnan is wonderfully severe as studio head Leonato while David Bean makes a suitably light and noble Don Pedro. Most of the cast members play dual roles, which can be a little confusing at first - early on I wasn't sure if I was seeing a character I knew dressed up in disguise or if it was an entirely different character - but it all quickly fell into place. Burke Brown does a great job bringing two very diverse characters to life, first as the villainous Don John and later as the comic foil, Verges. Angelina Mussro, too, makes the most of her two small roles, that of Hero's perky friend Ursula and the cynical gossip columnist, Conrada. Amy M. Dunlap is so perfect in her dual roles you'd swear she was two different actresses - I especially loved her Lina Lamont-esque Margaret. And the aforementioned Jayce T. Tromsness is simply hilarious - both physically and vocally - as Dogberry while also giving a tiny masterclass on Irish dialect as the Friar.
Much Ado About Nothing is also gifted with solid technical support. Wylder Cooper provides lights and a couple of informative videos projected onto a movie screen, while scenic designer Henry Wilkinson's great rolling wall segments quite literally set the stage. I also appreciated Marc Gwinn's excellent sound design - using the instrumental "Powerhouse" (familiar from so many classic Warner Bros cartoons) as background music gives the audience a subtle cue to not take the proceedings too seriously. Costume designer Elizabeth Gray also deserves kudos for some brilliant work, from form-fitting dresses and sharp forties suits to white veils, a silk smoking jacket, and a dead-on tribute to Edith Head. Also, how do women actually walk in some of those shoes?
With spring in the air it's the perfect time to enjoy a light love story. And when you depart from Much Ado About Nothing, happiness will abide and sorrow take its leave.
---
Much Ado About Nothing runs through May 5 at The Warehouse Theatre in Greenville, SC. Tickets are $35 for General Admission and $40 for Reserved Seating. Tickets can be purchased online at WarehouseTheatre.com or by calling 864-235-6948.

Related Articles View More South Carolina

Stories

Shows
Neil Shurley has been covering the Greenville SC arts scene since 2001. A member of the American Theatre Critics Association, his work has appeared in (read more...)