Interview: Gerard Van Rooyen And Léa Blerk of COME TOGETHER at Theatre On The Bay
LAMTA's dance production featuring the Beatles covered/uncovered is back by popular demand.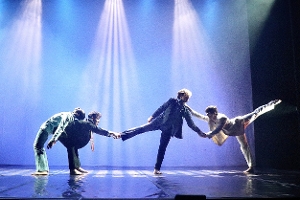 COME TOGETHER, a Beatles-inspired dance production presented by LAMTA, enjoyed a sold out run at the Theatre on the Bay in June last year. The show then travelled to Johannesburg in November 2022 and it now returns to the Mother City. The production features close to 40 up-and-coming young talents in a diverse selection of dance genres including contemporary, tap and commercial dance. Two of the performers, Gerard van Rooyen and Léa Blerk, who were third years when the show originally opened last year and who are now fresh LAMTA graduates, chatted to us about the production.
BWW: Let's start off with - Tell us a little bit about the show; what can audience members expect?
Gerard: The show is essentially a dance variety show choreographed to covers of the Beatles' music. It is a very unique theatrical experience packaged in heart-stirring nostalgia.
BWW: Has anything changed for this run of the show?
Léa: This version of the show is fresher and more polished. There have been a few changes made - better details, harder steps, renewed energy. It's also been beautiful to see how we have grown as dancers over the past few months due to LAMTA, making this third version of the show the most impressive yet.
BWW: Who came up with the concept for this show and what was the rehearsal process like?
Gerard: Duane Alexander and Anton Luitingh conceptualised the show. A myriad of well-renowned choreographers contributed their creative interpretations of the music. Duane compiled the show and oversaw the rehearsal and cleaning process for both the first and second Cape Town run and the subsequent Johannesburg run. The show is predominantly dance, with one singing number. So, the dance numbers were tackled with the utmost efficiency and polished as much as possible, while the singing rehearsal took place concurrently. The rehearsals themselves were great, however, doing full days of classes and then subsequent rehearsals were a challenge. But all the dancers involved came out the other side stronger and more well-prepared for the challenges of working as a performing artist in South Africa - very often juggling many jobs all at once.
BWW: More or less how many performers are involved in this show and from what year of study?
Léa: Every LAMTA student is involved in the show, whether on lights, sound, backstage, or onstage. As this is a new year, the students involved are now all second years, third years and graduates - but even our new first years are helping out with front of house! LAMTA really does 'Come Together' with this production.
BWW: How does it feel to be ending off your time at LAMTA with the second run of this show?
Gerard: This show has honestly been such a gift. There is the most unique atmosphere of love and joy the resonates through the cast every time we hear the opening line of the overture. Beyond that, the material itself is so delicious to perform. From the choreography to the music - which has taken on a whole new meaning to everyone who is involved in the show. All together it is just a miracle production to be a part of.
Léa: This show is so full of energy and passion, and it's definitely one of my favourite LAMTA shows we've done, so it feels quite fitting. I also arrived at LAMTA needing to improve in my dancing and in these 3 years I've worked hard at that - this dance show feels like the culmination and celebration of that hard work.
BWW: What is next for you in the musical theatre world?
Gerard: I will be performing in Nick Winston's re-imagining of Buddy Holly THE MUSICAL. It will be my first time performing at the Artscape Opera House and thereafter Teatro at Montecasino.
Léa: I hope to keep auditioning for musicals in South Africa. It is exciting to see how the industry is opening up after COVID, and there are many opportunities on the horizon.
BWW: Do you have any pre-show rituals?
Gerard: I do! Usually I would spray my hair into the high heavens with hairspray and gel. But for this show I just wash my hair and let dry so that I can get that iconic Beatles mop-top look. Luckily my natural hair lends itself to be very accurate to that period. Once my hair is in place and I step into costume my character arrives. But my first port of call before a show is getting my hair ready.
Léa: We all do a group physical warm up, a group focus, and a group energiser which always makes us zone in on the work we're about to do. And then I like to do a plank for about a minute and a half before we start, just to get my core ready and activated.
BWW: Do you have a favourite number in the show?
Gerard: 'Yesterday', choreographed by my fellow graduate Anna Olivier and third year NJ Quinzin, is my absolute favourite in the show as it captures the innate thematic essence of what the show is about: a group of people, from vastly different backgrounds, who came together to create something beautiful, memorable and great. The Beatles thus act as a metaphor for our cast and for theatre in general. Therein Anna and NJ managed to capture this essence in this single dance. Above and beyond that, it is the only dance in the show that deals directly with the life and times of the Beatles, exploring their unification, their joy, their creations, their legend and their eventual separation. It is a masterstroke of choreographic genius that marries narrative story telling with music through the language of dance. And that is what LAMTA teaches: story telling through every medium of theatre. As budding choreographers, it is a bountiful start to a very full and prolific career.
Léa: Obviously that's a very difficult question, to which I have three answers: 'Eleanor Rigby' because Duane Alexander's choreography is beautifully emotive and expressive; 'Blackbird' because I get to act ridiculous in it and tap is my favourite form of dance; and 'Come Together' because there is nothing better than letting it all out in the last number of the show.
BWW: Describe the show in five words.
Gerard: Joyful, nostalgic, new, energised and touching.
Léa: Fiery, fun, eclectic, poignant and powerful.
Photo credit: Supplied.
COME TOGETHER runs at Theatre on the Bay from 1 to 11 February. Tickets are R250 per person while 10+ student group bookings are R150 per person. Book via Webtickets or contact Sharon on 066 564 1816.