You Can't Take It with You - 2014 - Broadway
AT LAST, THE BROADWAY COMEDY WITH SOMETHING FOR EVERYONE!
YOU CAN'T TAKE IT WITH YOU, one of the most popular comedies in America is back-with a hilarious ensemble cast ready to light up Broadway.
This Pulitzer Prize-winning, uproarious family affair is led by the legendary James Earl Jones, and features an outrageous cast of 20, including Golden Globe nominee Rose Byrne (Neighbors, Bridesmaids), Tony Award nominee Kristine Nielsen (Vanya and Sonia and Masha and Spike), Tony Award nominee Annaleigh Ashford (Kinky Boots, Masters of Sex) and Tony Award winner Elizabeth Ashley.
Long before "Modern Family," there was the Sycamore family. Now playing at the Longacre Theatre, you can join this madcap clan as they live, love and laugh in an evening sure to end up with fireworks. Don't let them light the fuse without you!
Video preview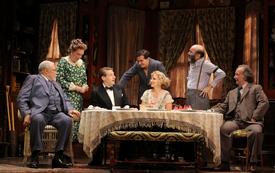 Photo preview
Schedule
Running Time: Two hours and 15 minutes
Featured Reviews For You Can't Take It with You
'You Can't Take It With You': Theater Review - Hollywood Reporter
The deluxe revival is directed with unflagging energy and an assured grasp of the play's shifting rhythms by comedy pro Scott Ellis. This is a work that champions the individualist, and the director follows suit by marshaling his impeccable cast to create loopy characterizations. This is a well-oiled ensemble full of delightful character turns from actors as adept with the witticisms as they are with the physical comedy.
Review: Vintage is the operative word for Broadway's "You Can't Take It With You" - Washington Post
You wouldn't, of course, expect nonstop cartoon looniness to reign for the full 2 ½ hours of this three-act comedy; the tension in the plot is the "surprise" visit to the Sycamores by the stodgy, patrician Kirbys, parents of ardent Tony (Fran Kranz), who wants to marry the Sycamores' "normal" daughter, Alice (Rose Byrne). But the embrace by the Sycamores of their quirky individualism feels less than total. That seems especially true for Jones, who, in the guise of the family patriarch, proves a genial rather than compelling presence. When he expounds on his character's peculiar philosophy - why, for example, Grandpa Martin doesn't pay taxes - it isn't with the kind of conviction that helps us understand, or giggle at, the sort of quaint contrarian he is meant to be. Lovers of vintage screwball comedy - a kind of lightweight cousin of absurdism - will dig its splashy return to Broadway. Others will have to wait for a more convincing resuscitation of the genre.
You Can't Take It with You Broadway Cast