You Can't Take It with You - 2014 - Broadway
AT LAST, THE BROADWAY COMEDY WITH SOMETHING FOR EVERYONE!
YOU CAN'T TAKE IT WITH YOU, one of the most popular comedies in America is back-with a hilarious ensemble cast ready to light up Broadway.
This Pulitzer Prize-winning, uproarious family affair is led by the legendary James Earl Jones, and features an outrageous cast of 20, including Golden Globe nominee Rose Byrne (Neighbors, Bridesmaids), Tony Award nominee Kristine Nielsen (Vanya and Sonia and Masha and Spike), Tony Award nominee Annaleigh Ashford (Kinky Boots, Masters of Sex) and Tony Award winner Elizabeth Ashley.
Long before "Modern Family," there was the Sycamore family. Now playing at the Longacre Theatre, you can join this madcap clan as they live, love and laugh in an evening sure to end up with fireworks. Don't let them light the fuse without you!
Video preview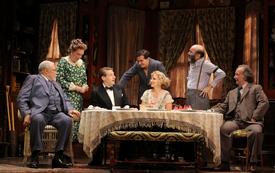 Photo preview
Schedule
Running Time: Two hours and 15 minutes
Featured Reviews For You Can't Take It with You
'You Can't Take It With You,' theater review - NY Daily News
Like many great comedies, this play tickles the funny bone and touches the heart. One very sweet scene is a hug between Alice and her dad (Mark Linn-Baker). He dabbles in fireworks and lights a bright red sparkler that mirrors her head-over-heels feelings for Tony. It's a beautiful moment. When it comes to the memory of it, you can take it with you.
James Earl Jones, Rose Byrne play for laughs in 'You Can't Take it With You' - NY Post
At times the stage is so crowded that you're not sure where to look - David Rockwell's busy set, covered with dozens and dozens of framed pictures, doesn't help. But no matter where the eye wanders, something wacky is happening. It could be Julie Halston emerging from a drunken slumber. Or Ashford clumsily standing en pointe. Or Nielsen rolling her eyes as she lifts a (real live) kitten from her typing-paper supply. Clearly, too much of a good thing is just right.
You Can't Take It with You Broadway Cast