King Kong - 2018 - Broadway
The epic modern myth comes alive on Broadway through an innovative mix of animatronics, puppetry, music and stagecraft! It's 1931, the world is in the grip of the Great Depression, and New York City is a place of pressure, of desperation, but also of hope. Enter Ann Darrow, a fearless young actress with a will of steel and dreams that reach as high as the just-completed Empire State Building. After a brutal struggle just to stay on her feet, Ann finds her big break in the form of Carl Denham, a fast-talking filmmaker who promises to make her the star of his next big adventure movie. Throwing caution to the winds, she joins Carl on a voyage to the mysterious Skull Island. There, they encounter a wonder more astonishing than they could have possibly imagined: a 20-foot-tall, 2,000-pound ape known only as Kong.
To her surprise, Ann finds an unexpected kindred spirit in this magnificent, untameable creature. But when Carl hatches a plan to capture Kong and display him to the New York masses, she's faced with a terrible choice. Will Ann follow the call of her own ambition? Or can she find the strength to stand up for what's right? Roaring with heart-pounding action, KING KONG is a gripping and spectacular story of unlikely friendship, unshakable courage, and breaking free from the cages others put us in.
Directed and choreographed by Olivier winner Drew McOnie, KING KONG features an electrifying new score by Marius de Vries (La La Land) and Eddie Perfect (Beetlejuice The Musical), and a book by Jack Thorne, the Tony and Olivier Award-winning writer of Harry Potter and the Cursed Child. Don't miss this exhilarating, emotional encounter with a legend that's always been too big to contain.
"You've never seen anything like King Kong on stage. Ever." (Entertainment Weekly).
Video preview
Photo preview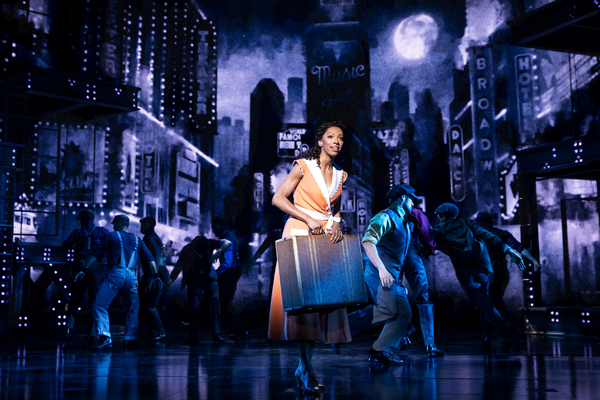 Schedule
Running Time: Two hours and 20 minutes, with one intermission
Featured Reviews For King Kong
Theater Review: King Kong, Who's There? - Vulture
Not that the show is willfully shallow. In fact, in a brochure handed to me outside the theater by the show's press representatives, one of Kong's lead producers, Carmen Pavlovic, writes about the resonances she found in the story while developing the production over the last ten years. She talks about the global recession, Harvey Weinstein, the environmental crisis, and xenophobia in both Australia and America. Brett Kavanaugh gets a mention. So do the immigrant children forcibly separated from their families. King Kong, it would seem, is about everything. But what stands out from Pavlovic's essay are its title - "Why King Kong?" - and the sole pull quote. "Could he achieve a chest-beat without punching a hole through his own sternum?" it reads. "Could he pick up a girl and run with her?"
Review: 'King Kong,' a giant animatronic ape with soulful eyes, crashes down on Broadway - LA Times
Just how horrifying is the new show? It has turned a self-respecting drama critic into a screaming Fay Wray. No, I'm not really afraid of being mauled to death by a giant ape in midtown Manhattan. But I am terrified of the monstrous concoction that has been cooked up in the international laboratory of mercenary producers eager to remake Broadway in the image of Barnum & Bailey.