Intiman Announces Cast And Tickets For THE NICETIES
The play will be staged in the round at the Erickson Theatre this April.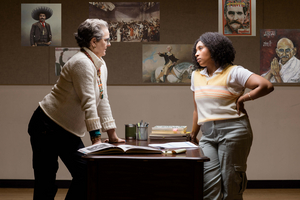 ]Intiman Theatre has announced that Amy Thone and Varinique 'V' Davis will co-star in the Seattle premiere production of The Niceties by Eleanor Burgess, directed by Sheila Daniels and associate director Jasmine Lomax. The play will be staged in the round at the Erickson Theatre (1524 Harvard Ave. Seattle WA 98122) as part of Intiman's residency at Seattle Central College, showing April 18-29, 2023. All ticket tiers are now available.
The Niceties is an epic showdown between a white baby boomer (Thone) and a Black millennial (Davis) at an elite university. The campus is torn apart as their polite clash in perspectives explodes into a dramatic fight that forces us all to choose a side. The effects of slavery on the American revolution are debated, and our shared history is called into question.
"We are excited to stage The Niceties after co-producing The Sign in Sidney Brustein's Window," says Jennifer Zeyl. "Both plays investigate progressivism, and though they were written five decades apart, they resonate with each other in unexpected ways."
"Especially in light of the recent conversations around critical race theory, higher education, and bans on African American studies, this play feels particularly timely," says Wesley Frugé, Managing Director.
The creative team includes Jennifer Zeyl (scenic design), Vada Briceño (lighting), Isabella Price (costumes), and Matt Starritt (sound). Hazel Rose Gibson will stage manage.
Tickets are on sale at intiman.org, ranging from $5-$80. Walk-up tickets on the day of the show will be FREE FOR EVERYONE starting 60 mins before show time on a first come, first served basis. Intiman Members make a monthly donation starting as low as $8/month and receive 50% off their ticket purchase.