BWW Review: Sweet Yet Powerful WINTER'S TALE from Seattle Shakes
There are some productions of Shakespeare which need all the flashy costumes and sets and transplanting to non-traditional times and places in order to make the show shine. And then there are productions like the outstanding production of "The Winter's Tale" currently being offered from Seattle Shakespeare Company where they've assembled such a talented cast and crew, innately fluent with the meaning of the show, who only require a few chairs and platforms and where the flash would just get in the way. It's those shows that remind us why we love theater when a group of actors can mesmerize us with their words.
"The Winter's Tale" may not be as familiar as some of Shakespeare's other works. It's seldom done; in fact I myself have never seen a production until now. It focuses on King Leontes of Sicily (Darragh Kennan). His best friend King Polixenes of Bohemia (Reginald Andre Jackson) has been visiting with him for several months and is about to take his leave. Leontes asks him to stay and entreats his pregnant wife Hermione (Brenda Joyner) to get him to stay. When she is quickly successful Leontes notices that the two of them are quite friendly with each other and begins to suspect they are having an affair. In his jealousy he orders to have his friend poisoned but Polixenes gets wind of this plan and quickly returns home. Leontes looks on this as proof of the infidelity and orders his wife imprisoned and the baby, which he suspects is not his, to be abandoned in the woods to die. But the baby Perdita does not die but is taken in by a kind shepherd and his son (Mark Fullerton and Spencer Hamp). Now 16 years later the grown Perdita (Jasmine Jean Sim) falls for Polixenes' son Florizel (Rudy Roushdi). But will she ever learn of her true parentage?
As I said, director Sheila Daniels has taken the pomp out of the show by simply letting the brilliant performances speak for themselves. Oh sure, there are still some gorgeous costumes from Kelly McDonald. And there are a few stunning lighting effects from Reed Nakayama but they don't show up until after we've already been wowed by the performances so they only add to the piece. But it's the cast for the most part that sells this magnificent show.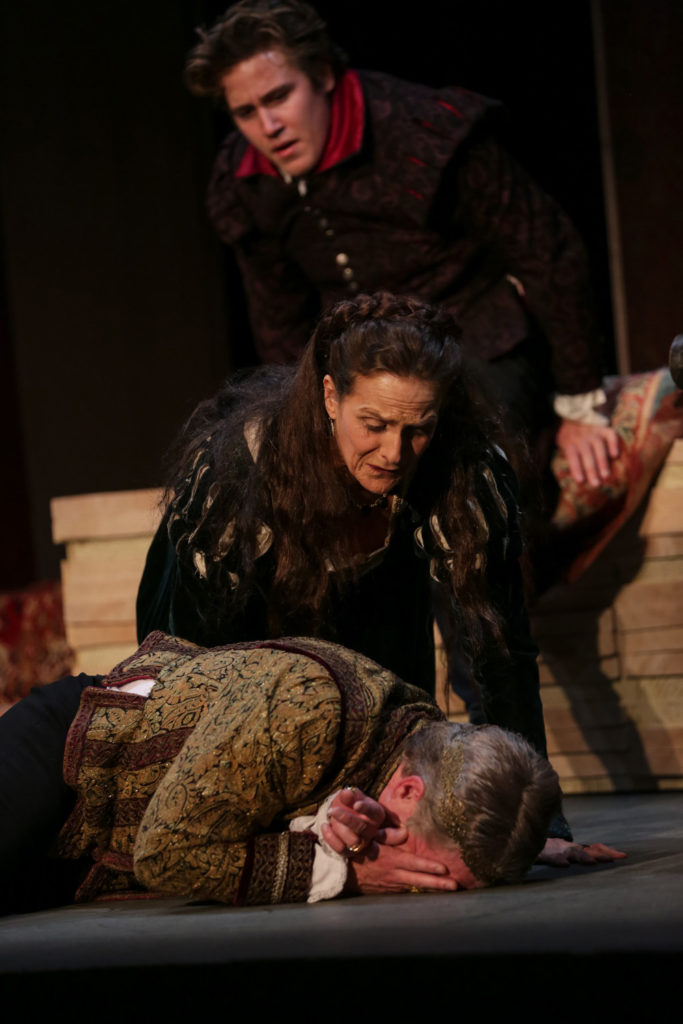 Sim and Roushdi are adorable together with their budding romance and have tremendous chemistry and presence. Jackson is a delight as the doting Father especially when he disguises himself to spy on his son's romance. Fullerton and Hamp as the kindly shepherds along with MJ Sieber as the local thief are hilarious and bring in some wonderful comedy to the show especially when they show off their finery as "Gentlemen". And I have to give kudos to George Mount as Antigonus who managed a quite heartbreaking moment as he is forced to abandon the baby. But it's Kennan, Joyner, and Amy Thone as the Queen's best friend who truly steal the show. The absolute power and commitment from all three made for several stirring and heart wrenching scenes as the King descends into the madness of jealousy while the two ladies insist on the Queen's fidelity. By the end of Act One the three of them had delivered a full and tear jerking story and character arc and we still had an entire act to go.
The show is simply put, a winner and aside from one minorly distracting wardrobe malfunction at the top of the show, my theater companion and I were completely riveted making the near three hour run time fly by. And so with my three letter rating system I give Seattle Shakespeare Company's "The Winter's Tale" a resounding YAY. It's just quite something when you see professionals at the top of their game.
"The Winter's Tale" from Seattle Shakespeare Company performs at the Seattle Rep through October 2nd. For tickets or information contact the Seattle Shakespeare Company box office at 206-733-8222 or visit them online at www.seattleshakespeare.org.