Review: Celtic Connections 30th Anniversary Concert, Glasgow Royal Concert Hall
Review of the opening night of the 2023 Celtic Connections festival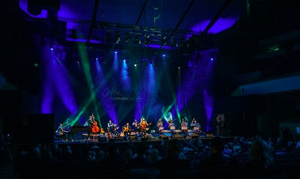 This year's Celtic Connections celebrates 30 years of the festival and its first in person festival since 2020. Celtic Connections is renowned as Europe's premiere folk and Americana festival.
The opening night concert is certainly one of the hottest tickets in the programme. The event, hosted by Anna Massie showcases artists who are performing and gives audiences a taster of what is to come over the coming weeks. This once-in-a-lifetime line-up includes Karine Polwart, Sierra Hull, Basco, Peat & Diesel, TRIP, Fergus McCreadie & Matt Carmichael, Maeve Gilchrist, Rachel Sermanni, and an extensive unique 'big band' originally conceived for the 2021 digital opening night and brought together in full live glory for this performance featuring Duncan Lyall, Sorren Maclean, Fraser Fifield, Patsy Reid, Graham Mackenzie, Laura Wilkie, Michael McGoldrick, Hannah Fisher, Ross Ainslie, Anna Massie, Greg Lawson,Alice Allen, Alyn Cosker and James Mackintosh.
The lineup gives an excellent taster of the festival and features traditional folk musical from all over the globe. A few acts take the time to reflect on their memories of the festival but a jam-packed bill means there isn't much time for chat which is a pity.
As is often the case with a Celtic Connections concert, the audience is almost impossibly respectful and remain rapt for the entire performance. It's been a long time since I've experienced a live music event with no chatter from the crowd!
The pace of the evening varies from gentle folk ballads from Karine Polwart and Rachel Sermanni to instrumental performances from harpist Maeve Gilchrist and the big band numbers featuring the youth pipers.
The 30th anniversary concert is the perfect way to kick off this legendary festival of world-class music and give us a taster of what else is to come.