EDINBURGH 2019: Sooz Kempner Q&A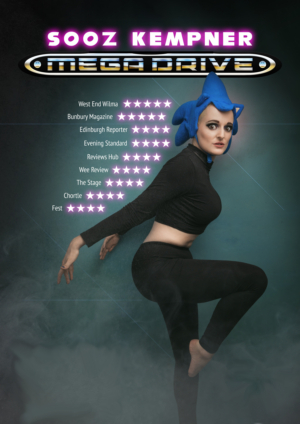 BWW catches up with Sooz Kempner to chat about viral fame and bringing Mega Drive to the 2019 Edinburgh Festival Fringe.
Tell us a bit about Mega Drive.
I grew up playing on my Sega Mega Drive in the 90s and the ambition, the mega drive (geddit?) I had 20+ years ago playing those games has followed me in to my 30s. But has it been put in the right place? Basically it's a very silly show where I reminisce about old video games, songs we sang in assembly and I even do some tasty singing.
Where else might we know you from?
WELL! A couple of months ago I'd have said "I'm frequently seen in various Prets!" but at the end of May I tweeted about 2007 when I was a Christina Aguilera tribute act in Ayia Napa and for some reason it went SUPER viral. Overnight I gained 20k new Twitter followers, I was retweeted by Caitlin Moran, Lily Allen, James Corden, Ed Miliband (my favourite Miliband!), Piers Morgan (don't worry about it) and more. Since this happened I've been recognised in the street several times just from "that Twitter thread!" and it is BIZARRE.
PS I also played David Cameron and Theresa May in Jonny Woo's All-Star Brexit Cabaret at the London Coliseum and Soho Theatre which was by Richard Thomas who wrote Jerry Springer the Opera. But TWITTER!
What are the benefits of performing on the Free Fringe?
Having performed both paid shows and free shows I'd say the most obvious benefit is not having to cough up three grand to rent a venue before the fringe has even started. On the free fringe it's also much easier to get people in to see your show just before it's about to start. Wandering the streets of Edinburgh aimlessly and need to kill an hour? Come on in! Lots of people will take a chance on a show that's free because then they can decide whether they want to pay at the end. Which you always should by the way.
As a fringe veteran, what are your top tips for surviving the festival?
It's so boring but sleep lots, eat well and avoid booze. I never drink at the fringe because it's not worth frying my body when my main aim at the fringe is to put on a good show. I'm taking my soupmaker to the fringe because it's a real easy way to get some vegetables in your system. You just rough chop veg, add stock, fill with water and press go and 20 minutes later you have great soup. I sound like I'm working for the soupmaker industry but honestly, these legends sell themselves. Also, try to do something non-fringe occasionally. Go to the cinema, kick back with Netflix, take a trip to Berwick on your day off. Something that reminds you that there's life outside the fringe.
Who would be your ideal audience member?
ED MILIBAND! I'd love Ed to come to my show, he says he never played the Sega Mega Drive but I think he'd still enjoy hearing about it.
https://tickets.edfringe.com/whats-on/sooz-kempner-mega-drive
Related Articles
Natalie has been an avid theatre goer since her first London production of Blood Brothers when she was 12. Based in Glasgow, she also reviews (read more...)