EDINBURGH 2019: FIRING BLANCS Q&A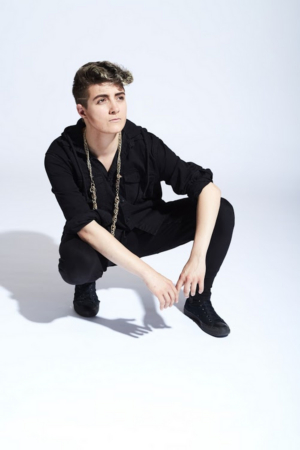 BWW catches up with Len Gwyn to chat about bringing drag king comedy character Len Blanco and Firing Blancs to the 2019 Edinburgh Festival Fringe.
Tell us a bit about Firing Blancs:
Firing Blancs is a drag king character comedy about the modern man of your dreams: Len Blanco. He's woke. He's feminist. He's vegan (Monday to Thursday with eggs on a Thursday). He used to be in a boy band and he just wants to prove to you how far he's come since 1998 (spoiler: not very far). It packs a punch to the patriarchy plus original, live music, lip sync and choreo. Reviewers have described it as "joyous and completely original" (WithinHerWords) with "a terrific singing voice" (QueerGuru), whilst audiences have said it's "up there with the best s*** I've seen ever" and "[Firing Blancs] basically made me piss myself", because audiences love to swear.
It's the show that has emerged from developing a three-dimensional parody of mainstream poster-boy masculinity whilst questioning and reforming my own gender identity.
What sets you apart from all those other boyband members we know and love?
Not much: Len is a basic bitch. But hey now, he's written his own spoken word poetry and plays his own acoustic songs, practices his own yoga moves and has his own views on how we need to fight The Man. He's actually so cool that he's been described by a few separate audience members as "the Alan Partridge of drag".
Why bring the show to Edinburgh?
I'd like to expose more diverse and international audiences to drag kings and long-form character drag. Hell, maybe someone would even like to book me for a tour! Drag kings are uniquely placed to illustrate problems with the patriarchy because we explore what masculinity means. Queens are still dominating the scene (say hello again to the patriarchy, everyone), and whilst I love and value queens immensely, there's so much space for kings to develop and platform their work. I am excited to take a tasty slice of London to the melting pot of the Fringe, to meet people who are making wonderful work and see art which fuels me for the rest of the year.
Who would you recommend comes to see Firing Blancs?
Anyone who's up for a laugh. Genuinely no prior knowledge of feminism or gender politics required.
What's next for you after the festival?
A biiiiiiiiiiig nap.
Sponsored content
Related Articles
Natalie has been an avid theatre goer since her first London production of Blood Brothers when she was 12. Based in Glasgow, she also reviews (read more about this author...)