EDINBURGH 2018: BWW Review: TABARNAK, Underbelly Circus Hub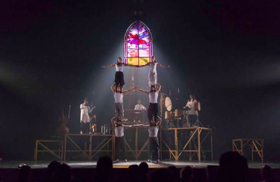 The opening of Tabarnak reflects a church service as the audience are asked to rise while the ensemble sings a hymn. Tabarnak dives straight into the action as the troupe begin to do impossibly smooth floor work on rollerskates.
Tabarnak is a visual feast as Cirque Alfonse blend spectacular circus with religious symbolism. The aerial rope work is performed as though bell ringing and thuribles are swung at lightning speed.
The title itself is a Quebecois expletive but this is an entirely family-friendly show. One of the particular highlights of the night was during the performers acting out a baptism in great clowning style, there were uncontrollable giggles from a toddler echoing around the tent.
I don't review circus often and that is partly because I don't want to fall into clichéd language. However, I really was on the edge of my seat with my mouth open for the entire 60 minutes of this performance. During some particularly tense jumps, I actually grabbed the arm of the poor woman sitting next to me.
While the skill of all the performers is endlessly impressive, the church themes of the piece make it quite a unique show. The pace never drops during the entire show and makes for a mesmerising hour.
https://tickets.edfringe.com/whats-on/tabarnak
Related Articles
Natalie has been an avid theatre goer since her first London production of Blood Brothers when she was 12. Based in Glasgow, she also reviews (read more...)