BWW Review: NORA: A DOLL'S HOUSE, Citizens Theatre, Glasgow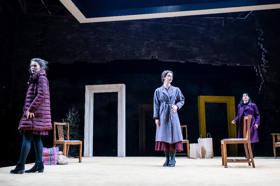 From the offset, Nora appears to be the perfect wife and mother. She is dedicated to making sure that her home, children and husband are taken care of and puts their needs before her own. This time, she's gone too far to protect them and risks losing everything.
This radical new version of Henrik Ibsen's play written by Stef Smith is set during three different time periods. All three Nora's appear onstage at the same time as the narrative shifts between generations. One Nora is from 1918 when women had just been granted the vote, another is from the swinging sixties and the third is set in modern times. Although it is the same story across all three Nora's, it is clear to see the shifts in attitudes.
It's no surprise that the strongest performances in this powerful play come from the three women who alternate between Nora and Christine in each setting- Maryam Hamidi, Anna Russell-Martin and Molly Vevers. While all are initially seen as quite submissive and meek, Nora seems to grow in confidence during the second act and one particular monologue from Molly Vevers is guaranteed to ignite a fire in your belly. Every line in Nora: A Doll's House is so carefully constructed- it would be a delight to dissect and it is a joy to listen to.
Tramway feels like the perfect theatre for this production as the staging feels like it has a lot more freedom than it might in other venues. The stage is set almost in the round and actors are free to move in all directions. The set is also layered which feels like a nice touch with the way these three stories are intertwined. Lee Curran's lighting design is a triumph and enhances this beautiful staging.
This production of Nora: A Doll's House is bold, exciting and gripping throughout.
Nora: A Doll's House is at Citizens Theatre @ Tramway until April 6th.
Photo credit: Mihaela Bodlovic