Westcoast Black Theatre Troupe Announces 2020-2021 Season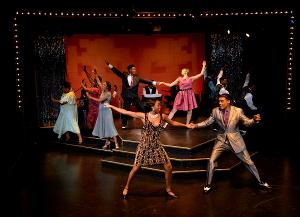 Westcoast Black Theatre Troupe (WBTT) has announced its 21st anniversary 2020-2021 season. In addition to four regular-season shows, the schedule includes a special holiday show, available outside of the subscription. Running from October 7, 2020 through June 6, 2021, the regular season shows are "Broadway in Black," "Eubie!," "Pipeline" and "Smokey Joe's Café." The holiday show is "Black Nativity."
"We are excited to showcase the journeys of African-American artists, producers and directors to Broadway, the recognized pinnacle of professional theater productions," said WBTT Founder and Artistic Director Nate Jacobs. "Originally shut out of 'The Great White Way,' black performers and artists surprised audiences and producers when they created popular and financially successful Broadway productions, often without support of traditional producers. Once integrated audiences were allowed, these productions also helped create more diverse audiences for Broadway - just as we endeavor to do here locally!"
WBTT opens the subscription season with "Broadway in Black." Broadway musicals have charmed the world for decades. WBTT salutes that genre with an original revue by Nate Jacobs - who will direct - first presented in the summer of 2017. Sing along with your favorite songs from award-winning shows and breakthrough roles that helped launch the careers of such African-American artists as Melba Moore in "Purlie," Ben Vereen in "Pippin," Jennifer Holliday in "Dreamgirls," and Nell Carter in "Ain't Misbehavin'." It's Broadway, WBTT style! Jacobs will direct. Show runs October 7 - November 22, 2020.
Next up in the regular season lineup is "Eubie!" a toe-tapping revue of Eubie Blake songs that stormed Broadway in the 1970s and was nominated for three Tony Awards. Blake's infectious style is evoked in over 20 wonderful songs, including the classic "I'm Just Wild about Harry." With its sizzling score and energetic dance numbers, "Eubie!" is a crowd-pleasing salute to a Black Broadway pioneer. It's also one of the first shows staged by WBTT in its 21-year history - back by popular demand! Jim Weaver will direct. Runs January 6 - February 21, 2021.
The season continues with "Pipeline," by Dominique Morriseau. Nya, a dedicated inner-city public high school teacher, is desperate to give her only son, Omari, opportunities her students will never have. When a controversial incident at his private school threatens to get him expelled, Nya must confront his rage and her own choices as a parent. Pipeline is an unforgettable story of a mother's fight to give her son a future - without turning her back on their community. Runs March 3 - April 11, 2021.
"Smokey Joe's Cafe: The Songs of Leiber and Stoller," the Grammy Award-winning and Tony Award-nominated smash, celebrates the music of the legendary songwriting duo who penned hit after hit for icons like Elvis Presley, Ben E. King, the Coasters and the Drifters. The show's 40 show-stopping classics include "On Broadway," "Stand by Me," "Jailhouse Rock," "Hound Dog," "Love Potion No. 9," "Spanish Harlem," "Yakety Yak" and "Charlie Brown." Jacobs will direct. Runs April 21 - June 6, 2021.
During the holiday season-back by popular demand-WBTT presents Langston Hughes' "Black Nativity." This production is a celebration of the Nativity story with gospel, blues, spiritual, and Christmas music, paired with the poetry of Langston Hughes and the creativity of WBTT. Children and adults alike will be enthralled by this high-energy, inspiring show. "Black Nativity" is not included in the subscription series. Jacobs will direct. Show runs December 2-27, 2020.
"Our mission is to promote and celebrate the African-American experience and, as the only professional African-American theater in the region, we take our responsibilities very seriously," said WBTT Executive Director Julie Leach. "We hope this season will help to facilitate a greater awareness of African-American contributions to the catalog of American theater as well as an understanding of the challenging journey for inclusion, recognition and financial support."
Current subscribers will be able to renew their subscriptions beginning on May 4 by mail. Individual ticket sales and subscriptions for new subscribers will go on sale on August 3. Subscriptions will be processed in the order that they are received; best seats available will be assigned for the dates requested, and priority will be given to season sponsors who contribute $2,500 or more.
Related Articles View More Sarasota

Stories

Shows
More Hot Stories For You