BWW Review: RAISIN at Westcoast Black Theatre Troupe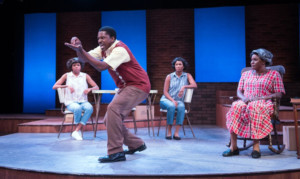 Raisin is a 1973 musical theatre production of Lorraine Hansberry's 1959 play, A Raisin in the Sun. The book is by Robert Nemiroff and Charlotte Zaltzberg, with songs by Judd Woldin and Robert Brittan.
The story is about an African-American family living in Chicago in the early fifties. Ruth Younger (JoAnna Ford), her husband Walter Lee Younger (Brian L. Boyd), their son Travis (Samuel Waite), Walter's sister Beneatha (Kiara Hines), and their mother, Mama Lena (Jannie Jones), live in a small, run-down apartment. The Younger family works hard but is getting nowhere. Walter's mother and wife are maids and he is a chauffeur. Mama does a have $10,000 check coming in the mail from her deceased husband's insurance policy. Mama has her heart set on putting money towards Beneatha's schooling, in hopes of becoming a doctor, and the rest will go towards a new home in an upscale neighborhood. Walter has other ideas. Tensions start to brew when Walter, who wants the money to invest in a liquor store with friends, and deeply religious Mama, who is against the sale of liquor, butt heads. And then there's the Home Owners Association to deal with from the all white neighborhood in which the Youngers are about to move into.
Enwrapped in this production above all else is the foreshadowing of racial tension and the Younger family's struggle to maintain their respectability. This production is impassioned with gut-wrenching songs about love, identity, grace, and compassion. The songs are written tightly into the storyline and paint a meaningful picture of what is going on deeply inside each character. The eclectic song and dance repertoire will swing you back to the fifties, hop over to Africa, then take you to church. This is the type of production that calls upon the actor's full force delivery. There is so much emotion and so much energy that has to go into each character, and as well written as this piece is, a dispassionate ensemble could not pull this off or do it the justice it deserves.
Brava to WBTT for once again nailing what I'm going to call one of the most passionate pieces of art you will see this year. They will make you laugh, cry, cringe, and maybe most of all...understand.
Brian L. Boyd as Walter Lee leads this remarkable cast with depth and believability. His vocal agility and soulful performance is triumphant. The song he sings to Mama, "You Done Right" will make your eyes water and "It's a Deal" will take your breath away. The role of Mama was created for Jannie Jones to bring to life. The complexity of her character from sweet and sassy to firm yet compassionate is a delight to watch. Her song, "A Whole Lotta Sunlight" that she sings while envisioning life in a new home while maintaining her gratefulness for the one she has now is pure joy. Even the way she looks at a scraggly plant on it's last leg and promises it a garden lets you know her big heart will always look after the things in which God has blessed her. And don't dare defile God in Mama's house.
Walter's wife Ruth is a loving wife and mother and shows it in every way she can. JoAnna Food sinks her teeth into this portrayal of kindness and loyalty and lends her gifted pipes to some of the most beautiful songs in this production. "Whose Little Angry Man" sung to her raucous little boy is just beautifully done. In "Sweet Time", a song between Ruth and Walter, Miss Ford brings in her raw emotions and matches vocal prowess with Mr. Boyd. They are dynamic together.
I particularly enjoyed "African Dance" and "Alaiyo" with Walter's sister Beneatha (Kiara Hines) and her Nigerian beau Joseph Asagai (William Tipton). They were well matched chemistry-wise and sung beautifully together. I loved the tribal flavor these songs brought into this production. Ten-year-old Samuel Waite stole everyone's heart with his spunky character performance and beautiful solo vocal rendition of "Sidewalk Tree". We're going to be seeing a lot of this young man.
Musical Director Brennan Stylez leads the proficient the off-stage band. Crafty, limited props by Set Designer Michael Newton-Brown helped the actors with furniture placement and minimal shifting. Costume Designer Angela Franklin-Mayo did a fine job with period clothing. I particularly liked the tribal costumes and the church scene. The brick walled backing of panels lit under the diverse array of lighting sequences managed by Lighting Designer, Michael Pasquini was exceptional. One minute the stage was aglow in deep purple with a white cross shining in the middle for a church scene and the next minute washed in red, white and blue for a patriotic number. Raisin incorporates an uncommon cast and crew that have come together to make this a memorable production.
A number to take away from this production is Mama Lena's "Measure the Valleys." If you have not heard this song, Goggle it and listen. We all need to listen to this poignant song written many years ago that rings so true today.
Raisin runs through November 11, 2018 at Westcoast Black Theatre Troupe. For more information visit www.westcoastblacktheatre.org.
Related Articles View More Sarasota

Stories

Shows