BWW Interview: Carolan Trbovich of TONY BENNETT I LEFT MY HEART TOUR at Van Wezel Performing Arts Hall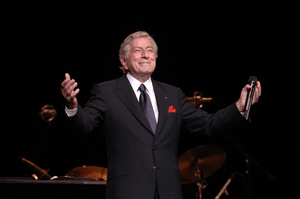 Celebrating their 50th anniversary in style, the Van Wezel Performing Arts Hall is pulling out all the stops with a magnificent roster of high caliber concerts and an impressive diversity of prominent Broadway shows. They are gearing up for none other than Tony Bennett's, I Left My Heart Tour and dat's a summa meata balla! By the end of this article, you'll be making lasagna - trust me.
Get ready to hear your favorite tunes from this beloved performer and for an extra treat, Antonia Bennett, his daughter and a graduate of Berklee College of Music, will open the performance with jazz and pop standards.
Mr. Bennett graciously took some time to answer a few questions for his BroadwayWorld fans prior to his upcoming show at the Van Wezel on December 8, 2019. Please enjoy the interview below...
What can fans expect from your concert tour?
I love to entertain the public and perform for them the best songs from The Great American Songbook with my magnificent jazz quartet who shares the stage with me each night. And if during the show they forget about their own worries and problems and enjoy themselves then that makes me very happy. I like to make people feel good so that's my premise as an entertainer.
Some followers may be surprised to know, you and your wife founded the highly successful Frank Sinatra School of the Arts in Queens. Why did you name it after Frank and to what do you attribute its distinguished ratings?
Well, Frank was both a mentor and like a brother to me and throughout my career he was a source of advice and inspiration and he was very supportive. He literally boosted my career to another level back in the 60's when he told LIFE magazine that I was his favorite singer - I remember reading what he said about me and knowing that it was not only exceptionally generous of him to say that but it also gave me a sense of responsibility to live up to his words. So when he passed away, we wanted to do something to honor him and we lobbied NYC and the Department of Education and with much support from private and public donors, Susan and I started Frank Sinatra School of the Arts and set up a non-profit Exploring the Arts to support arts education in public high schools. The Sinatra school is thriving in my hometown of Astoria, Queens and now Exploring the Arts supports over 40 public high schools in NY and LA making it possible for thousands of students to have access to quality arts programs during their school day. I know when I was growing up having art and music during school was very important to me and it's still the same with students
today. The arts brings students together and allows them to express themselves in a safe environment and they are excited to be in school. At the Sinatra school the kids don't want to leave the building at the end of the day! And it reminds me of Frank's shows at the Paramount in NYC when the bobby soxers didn't want to let him leave the stage.
As with many families with lineage in the arts, talent extends though the branches of the family tree. All four of your children are in the entertainment industry with son Danny as your manager. Do you also have grandchildren ready to take on the Bennett mantle in the performing arts?
I love that all the members of my family are creative people and it's very satisfying that both my sons, Danny and Dae are involved with my career - Danny as my manager and Dae as my record producer. And then my daughter Antonia, who used to come on stage with me when she was a little girl, is now on tour with me and my daughter Johanna supports new directors in the film industry. My grandchildren are already showing their artistic bent on a professional level as my granddaughters Kelsey and Remy are both filmmakers and Kelsey has also photographed many of my recording sessions over the last few years. I think its wonderful to have the ability to express yourself through the arts and whether it becomes a professional or just a personal vocation it a very rewarding endeavor.
You are so proficient in several disciplines in the entertainment industry. Is there a song or style you have yet to perform that you would like to bring to life?
I have been drawing and painting all my life and used to draw chalk pictures on the sidewalks of Astoria but it was Duke Ellington who really encouraged me to take my painting seriously. He advised that is was beneficial to do two things artistically rather than just one and he was absolutely correct as with painting and singing I can always stay in the creative zone without getting burned out. I can get on stage and sing in front of thousands and people and then the next day can be in my art studio all alone and paint - it's like a yin-yang relationship. As to songs or styles, I like to keep things spontaneous and in the moment so if there is a new song that I admire I can put it in my show or if I want to change a beloved standard and give it a different tempo or arrangement then with my jazz quartet we work it out.
Painter Anthony Benedetto, what is your favorite illustration that you painted and are you presently working on a new canvas?
I mentioned Duke Ellington as a source of support for my painting and my most favorite artwork is a portrait that I did of him that I called "God Is Love" as that what Duke always felt about spirituality and religion. In the background of the painting I included pink roses as Duke got in the habit of sending me pink roses every time he wrote a new song - it was an absolute thrill of a lifetime to have the National Portrait Gallery, which is part of the Smithsonian Institute, ask me to donate the portrait to their permanent collection where it now resides. Before that it hung in my apartment so I could see it every day. It's hard for me to believe that a kid from Astoria who started out drawing chalk pictures on the sidewalk has three paintings in the Smithsonian's permanent collection....all I can say is wow!
You have accomplished what few entertainers have done, in addition to your myriad of awards and accolades, you have won over a whole new generation who love your work. What brilliant strategy was behind this?
My very first premise when I first started my recording career was to pursue a "hit catalog" and not just go after hit songs, which would often be novelty tunes that would hit it big for a few weeks and then instantly forgotten. I wanted to stick with quality songs and work with the best musicians and arrangers so that each record would stand the test of time - so that has always been my goal. My son Danny understood that so when he approached me about working with MTV and exposing the Great American Songbook to a younger audience it was not about changing what I do to capture a new audience but trusting that these songs would appeal to a new generation. And it really worked out well - in fact I remember during that time that a father and son had come to see me backstage and the son said to me that his father and him rarely agreed on anything but the one thing they could connect with was my music. That meant the world to me and when we did all the duets recordings it was my hope that the fans of the younger artists that we worked with would start to discover popular standards as a result. And then Lady Gaga - who instantly said "yes" to me when I asked her to record with me - really embraced pop and jazz music and in fact, re-discovered her own love and affinity with this music - and all her fans got turned onto it as well.
Would you share a favorite Italian recipe?
Of course, as an Italian- American it has to be pasta and my mother Anna Benedetto made a fantastic lasagna that we always had on the table every Sunday afternoon when the family would come over for a gathering and on the holidays. Here is a link to the recipe so I hope that everyone enjoys it if they decide to make it for their family: https://bit.ly/353aHYw
Are there any upcoming projects you can tell us about?
There are always a few things that I am working on but keeping them under wraps for now.
Anthony Dominick Benedetto is an Italian-American from Queens and known for his songs in various genres including traditional pop standards, big band, jazz and Broadway show tunes. Mr. Bennett is also a painter using the undersignature of Anthony Benedetto. Much of his work is on permanent public display in several art institutions.
Tony fought in World War II as a US Army infantryman. Soon after he developed his singing technique, signed with Columbia Records and had his first number one song, "Because of You". In 1962, Bennett recorded his signature anthem, "I Left My Heart in San Francisco". His career and personal life experienced a setback for some time but he staged a comeback in the late 80s and 90s, with albums going gold again and expanding his audience to the MTV generation. He has won 19 Grammy Awards, a Lifetime Achievement Award, two Emmy Awards and is an NEA Jazz Master, and a Kennedy Center Honoree. Mr. Bennett has sold over 50 million records worldwide. Tony is one of a handful of artists that had new albums charting in the '50s, '60s, '70s, '80s, '90s, and now in the first two decades of the 21st century.
To learn more about Tony Bennett visit www.tonybennett.com
To learn more about upcoming shows and check for tickets to Tony Bennett's tour visit www.vanwezel.org.
Photo credits:
Tony singing, Larry Busacca
Tony painting, Mark Seliger
Related Articles View More Sarasota

Stories

Shows
Carolan Trbovich is an innovator who used both corporate savvy and her considerable creativity to blaze new trails in entertainment industry operations for two powerhouse (read more...)