Feature: A Conversation with PORCUPINE's Jena Malone at the 2022 Sarasota Film Festival
Her insights from nearly three decades of carefully crafted creativity.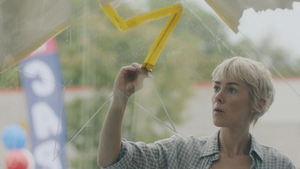 Fifteen minutes into the Friday night question and answer segment following the Sarasota Film Festival's opening night screening of the film "Porcupine," Jena Malone sprints down the center aisle and onto the stage. It takes a moment for the audience to connect her to the character they've just watched for the past hour-and-a-half, the one whose grounded and subtle performance made them laugh, perhaps even shed a tear or two. Jena apologizes for running late - between the red carpet and post-film Q&A, she returned to her hotel to tuck in her five-year-old son. She dives into the conversation, pausing briefly to search her purse for some water, finding only her son's blue sippy cup, and drinking from it anyway.
M. Cahill, director of "Porcupine" describes the journey the film took from his first concept, tentatively named "Hatched," to the finished film, re-titled after the spiky animal after realizing the shared way both Malone's character Audrey and her adoptive father Otto, played by Robert Hunger-Bühler, navigate the challenges of becoming close to someone who also has sharp edges. Jena laughs, not having heard that story before, as the film's title change suddenly makes sense.
The film's many slow, quiet moments with protagonist Audrey illustrate her aloneness in the world and build our relationship with her. She's a woman who's just been dumped, distant (emotionally and physically) from her parents, a lover of silly animal videos, an adaptable nomad who finds it hard to plant roots anywhere. When she responds to an online ad for a family seeking to adopt an adult child and meets Sunny (played by Emily Kuroda) and Otto, the same slow pacing serves to emphasize the awkwardness of their situation and allow space for the characters' pasts, quirks, and relationships to shine.
Responding to a question about preparing for the role, Jena muses: "fear is the place you want to be creating from." She says she sought minimalism and naturalism in her "Porcupine" performance, something that felt a little intimidating. In many of her previous roles, she's prepared extensively in advance, seeking to understand, define, and build the character she's playing well before the cameras started rolling. But for Audrey, Jena chose to go in blind, discovering those things on set, in the moment. Many of her choices as an actor thus reflected who she is as a person. Though, she says, she and Audrey are still very different people.
Saturday afternoon, I attend the career retrospective discussion with Malone at Sage SRQ, where she'll be honored with the Sarasota Film Festival Excellence in Acting Award. Throughout the event, Jena smiles and waves to Ode, her son, who sits in the audience. He patiently listens to his mom recount highlights from her twenty-seven-year career, which includes roles in films of nearly all genres, from blockbusters to micro-budget independent films.
Jena remembers being inspired to pursue acting at the age of ten after seeing her mother step onto the stage as Rosie in a dress rehearsal of a community theatre production of "Bye Bye Birdie." She describes the moment as the first time she saw someone transform via performance, disappearing and reemerging as a character before her eyes. She then made a list of creative endeavors she wanted to pursue: acting, singing, writing, dancing, teaching. "I started with acting," Jena says, "because it was the first thing on the list."
Her acting career took off almost instantly: Malone starred in over a dozen films as a pre-teen and teenager. She expresses her gratitude for the opportunity to work with so many female directors early on, who demonstrated the power of autonomy and decisiveness in a male-dominated industry. Even more importantly, she's appreciative of the way many directors, including Anjelica Huston, chose not to treat her like a kid, but rather, as a person capable of making choices, who deserved to have a voice. She laughs, recounting how, "as an eleven-year-old, I told my agents I didn't want to do commercials anymore, can you imagine?"
But her creative work doesn't stop at acting. She says, "I realized the most important work I'll do is the work I don't get paid for." Jena is an artist of many mediums, including music, photography, and dance, which allow her to practice her skills as a storyteller in new and exciting ways. Doing these projects, in addition to her work on screen, "feels like planting seeds," which often reemerge in unexpected ways - like 2001's "Donnie Darko," an initial flop that has since become a cult classic. "It's exciting to see, like, the purple tomato that's doing really well in an area you didn't expect," she says.
After the discussion, I join Jena and director M. Cahill at the Ritz-Carlton for an interview. Jena's wearing a button-down shirt over a swimsuit; she's spent the hour between events in the hotel's pool with Ode.
Jena, you were cast as Audrey in "Porcupine" several years before production began in 2019, and it would be an additional two years before the film's release. What was the project's evolution like from an actor's perspective?
The life and death cycle of independent film is very long and arduous - you have to have a lot of flexibility and a little bit of a "one foot and one foot out" attitude. You can't have all of your eggs in a basket, in a way, because you read a script and you love it. Then they go and try and get the money and sometimes they never get the money. Sometimes it takes two months, sometimes it takes seven years. Or you get the money, and you lose it, and you get it again.
It's a very strange courting process. Being involved for a long time was a rarity. But for me, something I had never really been a part of is that I sort of signed on to one script, thought that it was nothing was happening with it because I hadn't really heard much. Also, I became a mom and moderately checked out. Having a script come back that felt very fresh and new, almost like a completely different film in a way, and knowing that that film was financed and ready to go and still something that [Mike] wanted me to be a part of was the most unique part of it.
What were some of the discoveries you made while seeking such a natural, minimal performance in this film?
It's interesting trying to do something that's multi-layered and also not artificial. I'm not playing myself - obviously, I'm not Audrey. I think my most interesting guiding course was where to allow the lack of artifice to lead, and the compass to lead. I didn't really know what that was gonna be until we were doing it. So, that was like the figuring out of, like, now I'm in a space needing to guide this or build this. It's just sort of more gelatinous and allowing, you know? I had to feel it. Day to day, it felt to me there was not a lot of planning. Which was not easy, but it was also not disastrous.
I felt like I had a plan, you know, of what I would sort of want to do, but discovery is almost too small of a word for what we do as actors and artists, you know? Because it's just a big space of allowance. And underneath it is trust and work, then it's the allowance, and then it's the crafting, shaping. It's just allowing, it's being present. It's being present, but pre-determinedly understanding where you need to be present and not present, you know, then just kind of softening the mind, and allowing whatever happens in that space to happen.
What is the importance of characters like Audrey: independent women not defined by a romantic relationship?
That's a question that doesn't need an answer. The thing I was so happy about ["Porcupine"'s] script was that it didn't try to push some sort of romantic undertone with Audrey and Otto. I'm so bored of the old man and the young woman relationship. My brain shuts down, you know, I can no longer receive that information. So I thought it was very smart of [Mike] to not even make it an issue. Not as its own mission, but just that there's a world where those things don't exist, that you don't even need to mention it.
"Porcupine" is available to stream online via the Sarasota Film Festival from April 1st through April 11th: https://www.sarasotafilmfestival.com/event/porcupine/. For tickets to other online screenings or live events visit https://www.sarasotafilmfestival.com/.
Film stills: "Porcupine" 2021, dir. M. Cahill
Photo Credit: Peter Le Photography