After Three Years, Florida Studio Theatre Presents The World Premiere Production Of PARALYZED
In this thrilling new play, the discovery of a mysterious suicide note in a Georgia hotel bathroom sets two strangers' lives in unforeseen directions.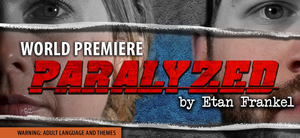 Florida Studio Theatre (FST) presents the World Premiere of Paralyzed by Etan Frankel, a striking story of guilt, personal responsibility, and the power of forgiveness. In this thrilling new play, the discovery of a mysterious suicide note in a Georgia hotel bathroom sets two strangers' lives in unforeseen directions.
Paralyzed was originally scheduled to bring FST's 2020 Stage III Series to a close, but the production never opened due to the arrival of COVID-19. Now, after three years, FST will finally share this dramatic two-hander with its audience. Paralyzed begins playing March 29 in FST's Bowne's Lab. Single tickets range from $18-39 and are now on sale at FloridaStudioTheatre.org or 941.366.9000.
"In a way, producing Paralyzed brings things full circle for us. Paralyzed was supposed to start tech the same week that we had to shutter our doors due to COVID, so finally being able to present this play means a lot to us as a theatre company," said Richard Hopkins, FST's Producing Artistic Director.
This World Premiere follows Leigh and Lee, two strangers who have little in common besides their names. Leigh is a brilliant, Type-A statistician who tries to maintain control over her invariably changing life. Lee is a driven former football player who is ill-equipped to live a life that does not revolve around athletics. Pain, shame, and mercy set their lives on unexpected paths that go anywhere but according to plan.
"A single moment can alter our lives in irreversible ways," said show director Meg Gilbert. "In Paralyzed, we watch Leigh and Lee struggle to come to terms with the choices they have made-or the lack thereof. Not making a choice is what truly haunts us, and the last thing we want to see is our wrongs reflected back to us."
Playwright Etan Frankel is best known for his work as a writer and producer for Shameless, Friday Night Lights, Animal Kingdom, Get Shorty, and Joe vs. Carole.
Returning to FST to play Leigh and Lee, respectively, are the original cast members, FST Associate Artist Rachel Moulton and Alexander Stuart. The pair first met performing in FST's hit Mainstage production of The Curious Incident of the Dog in the Night-Time (2019). Stuart played the main character, a teenager named Christopher Boone, and Moulton played Christopher's mother, Judy.
"After living my whole life without being off of the stage for even close to a year, returning to it after three whole years makes me feel like I've set course for my home planet," said Stuart. "This play, which is about the loss of connection with self and world alike, feels far more relevant now than it ever could have been during its original March 2020 inception."
"Having the opportunity to bring this startlingly beautiful, simple, and profound story to life with such great friends and artists brings me such unbridled joy," said Moulton.
The production's creative team includes Clint Wright (Scenic Design), Erin Barnett (Costume Design), Andrew Gray (Lighting Design), and Louis Vetter Torres (Sound Design).
FST's production of Paralyzed is sponsored in part by the State of Florida, Department of State, Division of Arts and Culture and the Florida Council on Arts and Culture, and the National Endowment for the Arts. The production is also supported by The Shubert Foundation and Sarasota County Tourist Development Tax Revenues.
Florida Studio Theatre (FST) is Sarasota's contemporary theatre. Founded in 1973, FST has grown to a village of five theatres located in the heart of downtown Sarasota. Each theatre is small in size and large in impact- providing intimate and engaging settings for high-quality, professional performances.
Today, FST has established itself as a major force in American Theatre. FST is the largest subscription theatre in the state of Florida and among the largest in the country, serving more than 200,000 live attendees each year across its diverse programs: Mainstage, Cabaret, Stage III, Children's Theatre, The FST School, New Play Development, and FST Improv.
Even with its growth, Florida Studio Theatre remains firmly committed to making the arts accessible and affordable to as many people as possible. Under the leadership of Producing Artistic Director Richard Hopkins, FST develops theatre that speaks to our living, evolving, and dynamically changing world. Hip and historical, entertaining and challenging, we are where everyone is welcome to engage in the art of theatre.