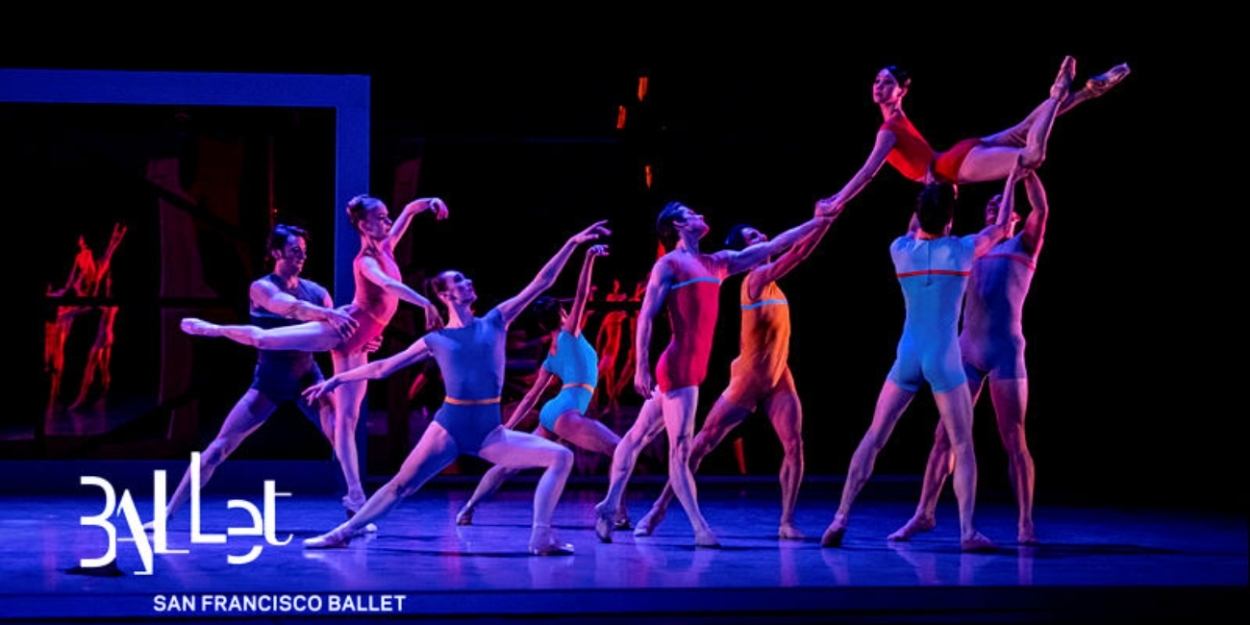 Review: THE COLORS OF DANCE at San Francisco Ballet Is Truly a Thing of Beauty
The gorgeous program of 3 contemporary ballets runs through March 19th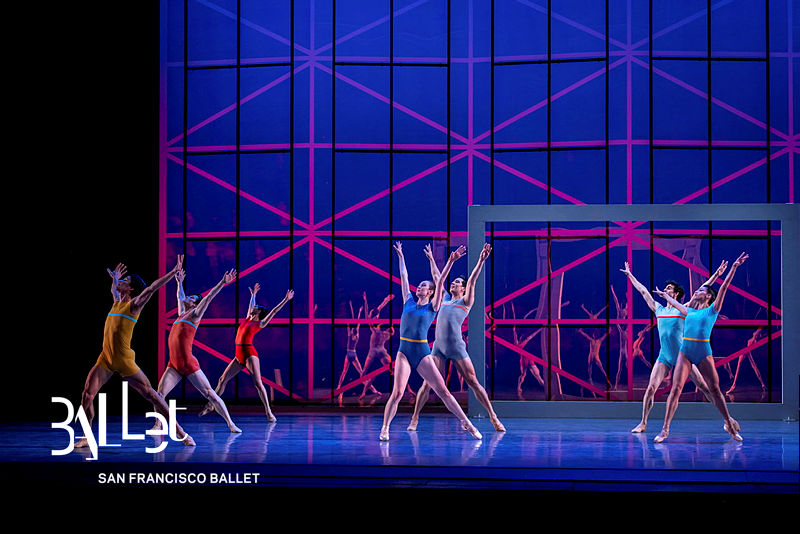 For anyone out there wondering why so many of us consider ballet to be the most beautiful artform on the planet, look no further than San Francisco Ballet's The Colors of Dance, its new program of three very different contemporary ballets, each one drop-dead gorgeous in its own way.
The program kicks off with Helgi Tomasson's 7 for Eight, which is about as perfect a curtain-raiser as you're going to find - substantial enough to be eminently satisfying while sufficiently light that it leaves you still hungry for more. The piece is trademark Tomasson with ravishing music used as a springboard for choreography intended more to showcase the dancers' glorious artistry than the dancemaker's whizbang ingenuity. The ballet has been made with such craft that it still looks fresh as morning dew almost two decades after its debut. Tomasson set seven movements from various Bach concertos to devise a transporting series of short dances for a cast of eight. The style is straightforward neoclassical, with the focus on the dancers' impeccable line, unforced technical prowess and lively musicality. Dressed in Sandra Woodall's understated black costumes and backed by a moody scrim, the dancers articulate every step so cleanly that the ballet seems to fly by and nothing overstays its welcome.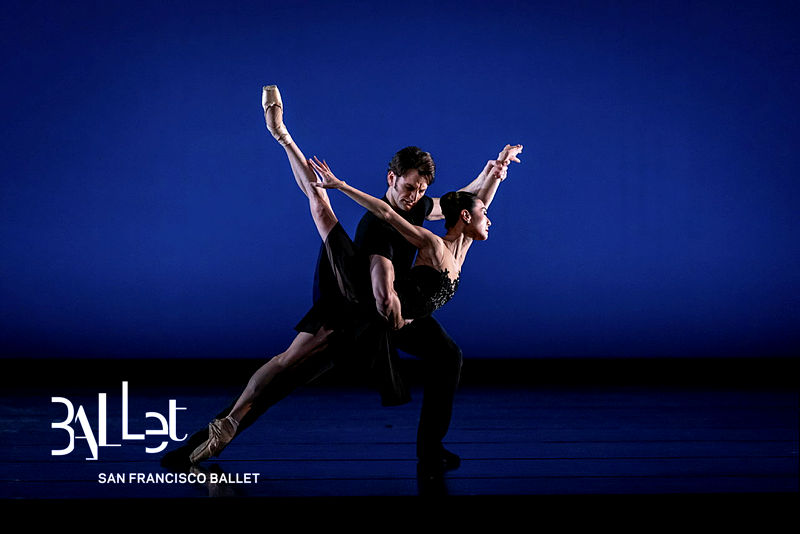 The piece begins with the ever-astonishing Yuan Yuan Tan and Aaron Robison standing in silence before Robison offers Tan his arm in a courtly gesture, setting the tone for the entire ballet and cuing the orchestra to launch into the 2nd movement of Bach's Keyboard Concerto No. 5, surely one of most beautiful tunes ever composed. Their pas de deux is introspective and romantic, perfectly mirroring the piano line (played exquisitely by Mungunchimeg Buriad). This gives way to a fizzy pas de deux for the exuberant Cavan Conley and Norika Matsuyama, followed by an equally delightful pas de trois, and so on. Tomasson surprisingly gives an understated adagio to the type of male dancers who are more typically called upon to provide the pyrotechnics and brings back the first couple for a second, even more tender pas de deux, before ending in a romp for the entire cast.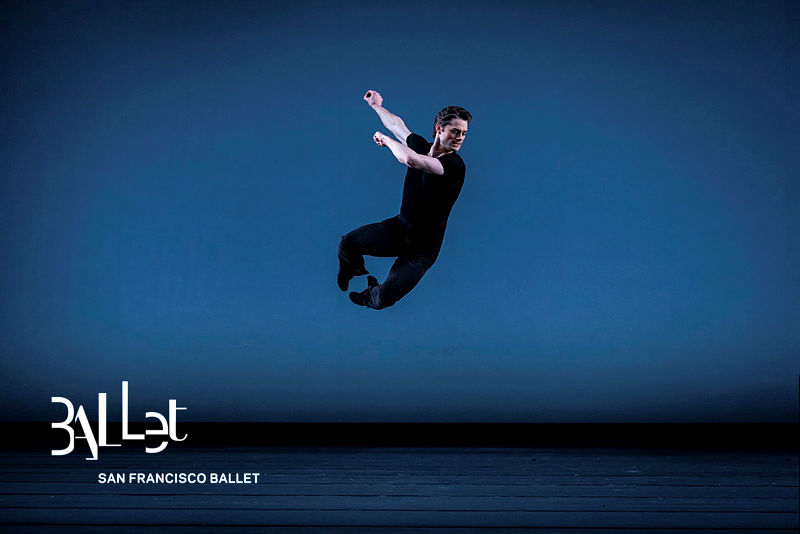 All were wonderful on opening night, with a few notable standouts. Cavan Conley seems to have found himself this season, dancing with more assurance and newly refined technique. His leaps and air positions were full of bravura without bravado. Norika Matsuyama exhibited a delicious playfulness I've not previously seen from her. Corps de ballet member Carmela Mayo delivered yet another intoxicating performance that made it clear she is more than ready to dance larger roles. Yuan Yuan Tan and Aaron Robison made a most pleasing lead couple, her striking ethereality handsomely complemented by his steadfast gallantry. I felt they were still negotiating a few of the trickier bits of partnering on opening night, but they make such a natural pair that I hope they will be given the opportunity to develop their partnership further.
The middle ballet on the program is the sort-of world premiere of Myles Thatcher's COLORFORMS. I was eagerly anticipating this one because when it was originally presented in a reconceived-for-film format two years ago at the height of the pandemic, COLORFORMS was easily the most transporting virtual performance I saw during that entire period (and trust me, I saw a ton of them!). Perhaps because the video was so thrillingly moving, it was almost a foregone conclusion that the stage version wouldn't quite live up to expectations, and that proves to be the case here.
While basically plotless, the stage version follows the same structure as the video, wherein a group of random museumgoers transforms into ballet dancers in a rehearsal space before a sort of spirit guide beckons them to explore the larger universe. Onstage, it remains a mostly winning and pleasurable ballet, even if Jim French's décor feels unresolved to me - the museum setting too spartan, the ballet studio too fussy and the final section too indistinct. Also, a motif involving paper airplanes comes across as muddled and undersized on the vast Opera House stage.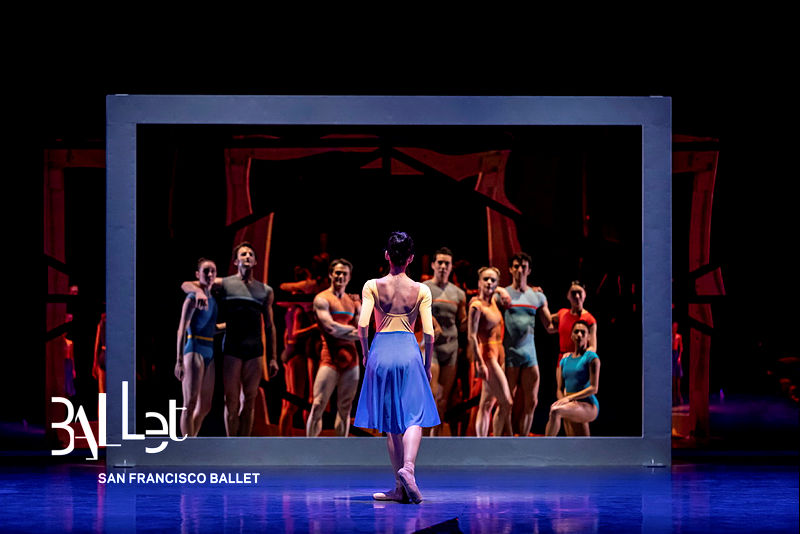 The ballet features countless moments of stunning beauty, though. Susan Romer's kicky costumes and French's supersaturated lighting are in a riot of colors that manage to run the gamut from pastels to jewel tones and earth tones and still feel balanced rather than clashing. Thatcher has chosen a challenging yet eminently danceable score in Steve Reich's effervescent and edgy Variations for Vibes, Pianos, and Strings. The music is so fabulous that I found myself wondering why there haven't already been a zillion ballets set to it. Thatcher matches its angular, irregular rhythms with exuberant, athletic movement that feels like an extended sprint until it reaches a whooshily dreamy middle section and then speeds back up again into a final frolic. I'm not sure it all worked, but I'd be more than happy to see it again. This just might be one of those ballets that needs a little more time to settle in.
The dancing was captivating as ever from the cast of ten. Although the ballet features an onslaught of brief solos and small group passages, it's ultimately an ensemble piece that suggests a community reaching some kind of breakthrough. I could easily point out stellar moments from any of the ten dancers so let me focus on two corps members who are rarely given their moment in the sun - Maggie Weirich and Davide Occhipinti. Both danced with vividness, vivacity and endless charm, showing off the remarkable depth of SFB's bench.
The program concludes with William Forsythe's Blake Works I, a ballet so beautiful it might break your heart. Blake was my favorite new ballet from SFB last season and is even more rewarding on return visit. It's a large piece for 21 dancers set to the angsty, bluesy recordings of contemporary pop star James Blake. Given that Forsythe normally eschews anything even faintly resembling accessible music, Blake would seem to be an odd match for him, but turns out to be anything but. Forsythe's idiosyncratic, go-for-broke movement is perfectly tuned to Blake's ethos of twisty contemporary ballads rife with unresolved endings and ruminations over lost love. In its mixture of strictly balletic classicism with looser social dance and off-balance postmodern weirdness, Forsythe's choreography seems to be in conversation with itself as it explores the boundaries between pristine technique and schlumpy everyday movement.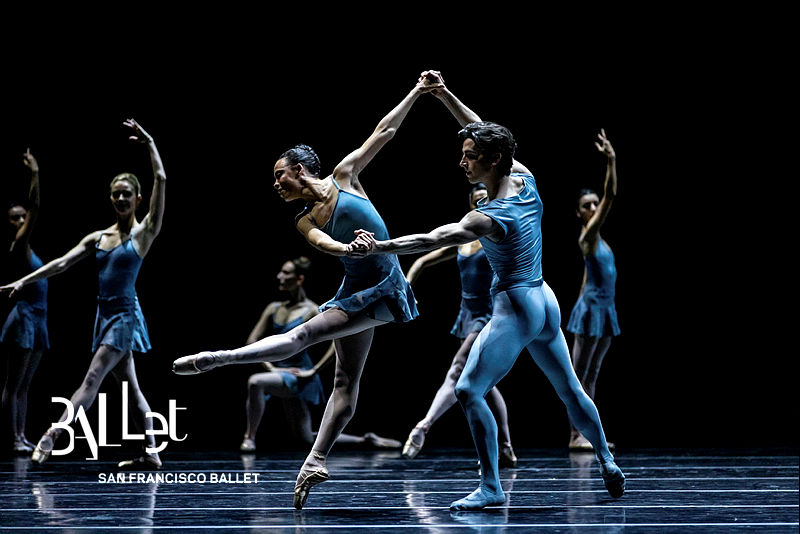 The ballet waxes and wanes in unexpected ways before seeming to culminate in an expected, rambunctious all-company rave-up that has the company dancing as much for themselves as for the audience. But wait, there's more - a brief coda for two dancers that could not be simpler or more sublime, set to Blake's "Forever," a tender meditation on the impermanence of love that ends this big ol' crazy quilt of a ballet on a note of exquisite grace.
The true beauty of the piece is the way it invites the dancers to express their complete selves onstage in a way that feels unprecedented. Afforded a second season to tear into this work, each and every dancer onstage seems to relish in rising to the challenge of both showing us their impeccable technique and who they truly are as human beings. Thus, an exhilarating series of mammoth leaps might culminate with the dancer tromping nonchalantly offstage. Or a ballerina may toss off a triple pirouette, pause for a second and then throw in a few extras just because she can. I certainly don't know any SFB dancers personally, so I can't verify this, but I feel like no other piece in the repertoire allows them to be so them.
Among the large cast, there were way too many standouts to give each their due, and I'm sure repeat visits would reveal a whole different set dancers to laud. On opening night, I just could not get over how fabulous Isabella Devivo was, consistently extending her line from her toes right on up through her fingertips as she whipped through the super-demanding choreography. It might have been off-kilter, but she never was. And what a hoot to see Sasha DeSola and Nikisha Fogo, two of SFB's fiercest women, paired in a way that contrasted the former's luscious undulations with the latter's grounded gutsiness. It was a would-be diva-off that showed no sign of rivalry, because when women are this fabulous and secure in who they are, there is no need to compete with each other.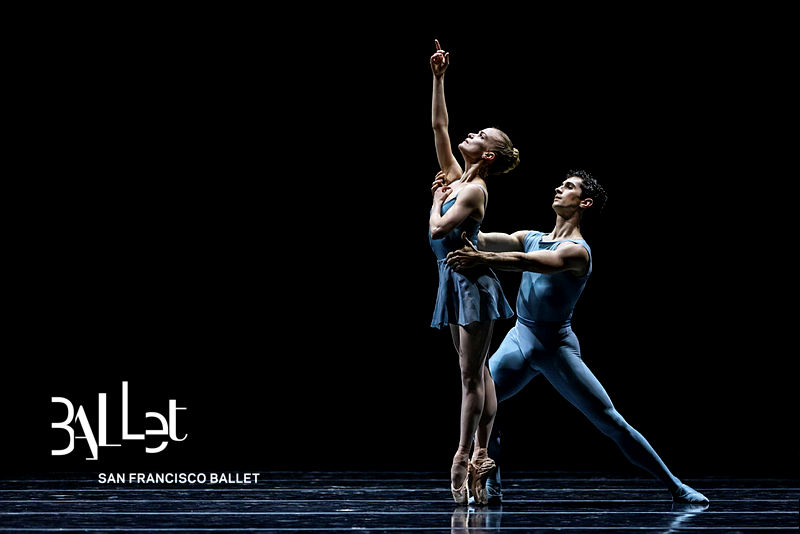 Max Cauthorn exhibited an electric fluidity in his solos and was paired with DeSola for that final, heartbreakingly gorgeous duet. Their alternately staccato and floaty movements were so perfectly synchronized they seemed to breathe as one being. When the curtain came down to a hushed audience, it felt like a whispered benediction. Yes, this is what only ballet can do.
(all photos by Lindsay Thomas)
---
Performances of San Francisco Ballet's The Colors of Dance continue through Sunday, March 19th at the War Memorial Opera House, 301 Van Ness Avenue, San Francisco, CA. Running time is approximately 2 hours 5 minutes, including one intermission. For tickets and additional information, visit www.sfballet.org or call (415) 865-2000, M-F 10am-4pm.