Review: MEAN GIRLS at BroadwaySF
Mean Girls continues through February 26th, 2023.
When her mother gets a new job in Chicago, Cady must leave the wilds of Kenya for High School in yet another type of jungle, where the power cliques prey on the weaker links. Its Social Darwinism dished out by a group called 'The Plastics', the Mean Girls of writer Tina Fey's musical based on her 2004 film of the same name. It's a familiar story of bullying, acceptance and social groupings with an OK score and clever wise-cracking dialogue.
The first act zips along nicely with all the main characters getting numbers that clearly explain their places in the pecking order. Damian (Eric Huffman) is the clichéd flamboyant gay, Janis (Lindsay Heather Pearce) the goth outsider, singing "Where Do You Belong?" to newcomer Cady (English Bernhardt). The Plastics are Regina George (Nadina Hassan), the Queen Bee, Gretchen (Jasmine Rogers) the nervous, eager-to-please second in command, and Karen (Morgan Ashley Bryant), an African-American stereotypical 'dumb blonde'.
Janis and Damian have Cady infiltrate the Mean Girls and before the first act is through, Regina is humiliated and defeated and freedom reigns ("Fearless"). Tight, concise act that for me, would've been enough. There's clever staging utilizing sliding school desks and chairs, and a fantastic musical number using red lunch trays as props. Scenic designer Scott Pask interestingly projects 3-D graphics on the back walls to create a variety of landscapes from Africa to school prom.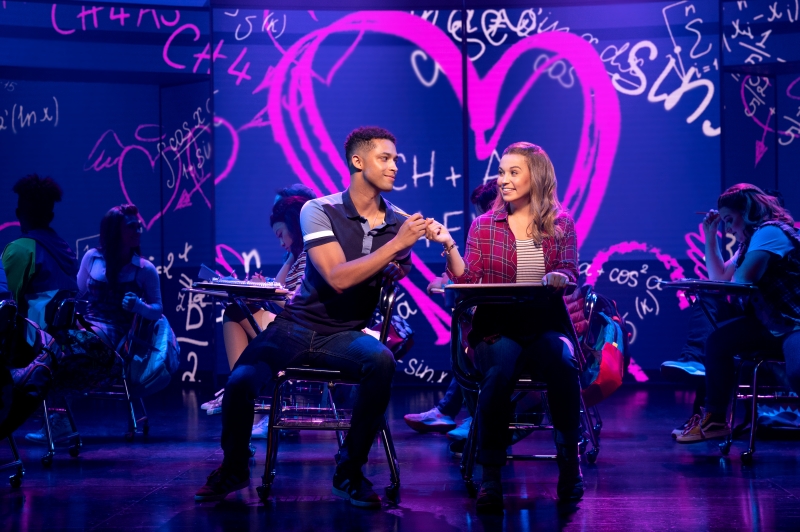 Mean Girls second act stretches the concept a little thin with a few throwaway numbers. Of course Cady becomes a plastic, replacing Regina and losing her real friends and boyfriend as well before all is resolved in a happy ending. The leads are all one-dimensional, but Fey's writing lifts the material with some really funny lines. The female vocals all tended to reach screech levels so sharp that dogs in the vicinity started barking.
Mean Girls added to the group of teenage angst films both serious and comic like Breakfast Club, School Ties, Clueless and Easy A. Fey has the ability to highlight the absurdity of these social conventions while making us want to revel in it. Maybe its absolution for our participation?
Mean Girls continues through February 26th, 2023. Tickets available at broadwaysf.com.
Photo credit: Jenny Anderson