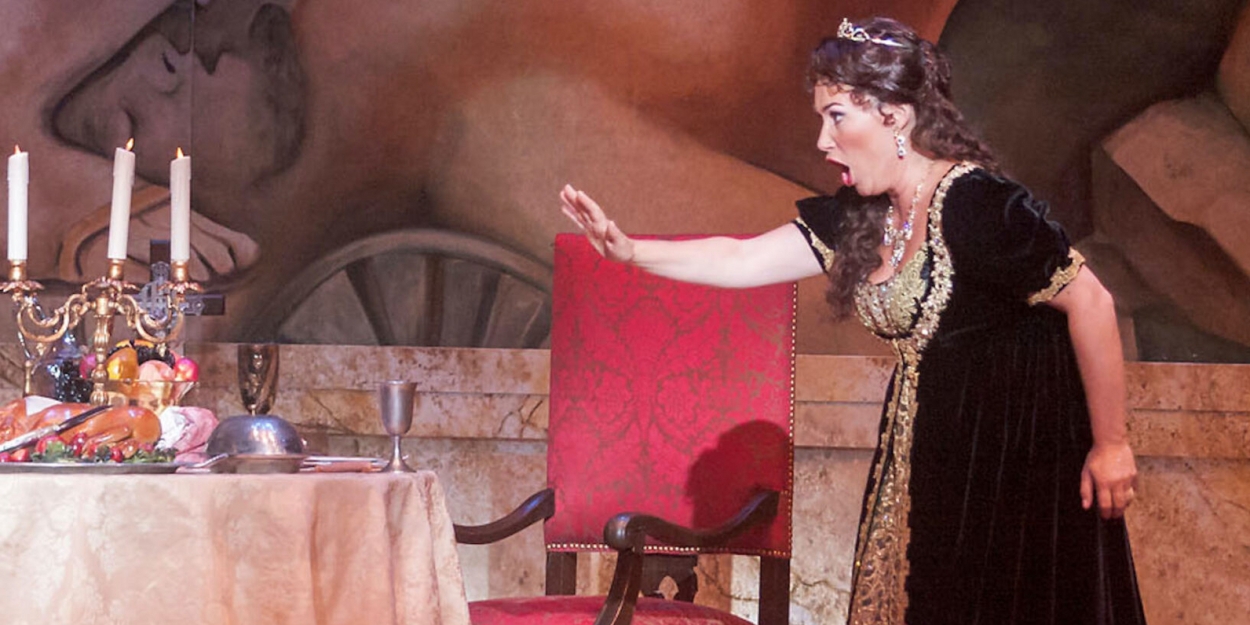 Opera San José to Conclude Season With TOSCA in April
Tosca, sung in Italian with English and Spanish supertitles, will be presented April 15–30, 2023.
Opera San José's 2022-23 season will conclude with a vivid production of Puccini's thriller Tosca. With breathtaking music and some of opera's most celebrated arias, the work follows the tragic story of a tempestuous opera singer and her artist lover, whose illicit involvement with a political prisoner has made them targets of the chief of the secret police. Opera San José Music Director Joseph Marcheso conducts, while OSJ's Resident Director Tara Branham makes her exciting California Theatre mainstage debut. Casting includes Maria Natale as Tosca, Adrian Kramer as Cavaradossi, Kidon Choi as Scarpia, Alexander Scheuermann as Spoletta, Robert Balonek as Angelotti, Igor Vieira as Sacristan, Joshua Hughes as Sciarrone, and Andrew Fellows as Jailer. Tosca, sung in Italian with English and Spanish supertitles, will be presented April 15-30, 2023 (dates/times below) at the California Theatre, 345 South First Street, San Jose. For more information or to purchase tickets ($55-$195), the public can visit operasj.org or call (408) 437-4450 (open Monday through Friday, 9:00am-5:00pm).
Puccini's Tosca premiered at the Teatro Costanzi in Rome on January 14, 1900 and has been a hit ever since, remaining one of the most frequently performed operas around the world. Featuring a libretto by Luigi Illica and Giuseppe Giacosa, the work is based on Victorien Sardou's 1887 French drama La Tosca, which was set in Rome during the height of the Napoleon wars, and premiered at time of political unrest in Italy, with its first performance postponed a day in concern for potential disturbances. Although critics did not rush to praise the work, audiences were rapt, and its powerful score contains some of opera's most iconic music, including the breathtaking soprano aria "Vissi d'arte" ('I lived for art') sung in the second act by Tosca. The tender "Recondita armonia" ('Concealed harmony') performed early in the first act by Cavaradossi (like Verdi, Puccini occasionally enjoyed rewarding prompt opera-goers - or punishing latecomers) has been recorded by famed tenors from Caruso to Luciano Pavarotti and Plácido Domingo. One of the most famous arias in opera, "E lucevan le stelle" ("And the stars were shining"), is performed by Cavaradossi in the third act as he awaits his execution, with vocal pyrotechnics that include a range from F#3 to A4..
The creative team for this production includes Joseph Marcheso (Conductor), Tara Branham (Director), Steven C. Kemp (Scenic Designer), Lee Fiskness (Lighting Designer), Alyssa Oania (Costume Coordinator),ChrisTina Martin (Hair & Makeup Design), Johannes Löhner (Assistant Conductor and Chorus Master), andKaryn Morton (Assistant Director).
Artist bios:
Maria Natale (Tosca)

After appearing as Countess Almaviva in Opera San José's production of Mozart's The Marriage of Figaro earlier this season, soprano Maria Natale returns to make her debut as the title role in Puccini's Tosca. Praised by The New York Times for her "plummy, penetrating voice," Natale is the recipient of many awards and grants from some of the most prestigious vocal competitions nationwide. She was awarded First Prize in the National James Collier Vocal Competition, Second Prize and Audience Choice in the Elizabeth Connell Prize, Second Place in the Gerda Lissner International Vocal Competition, a Grand Finalist in the Loren L. Zachary Vocal Competition, a grant recipient from the Licia Albanese-Puccini Foundation, Giulio Gari International Vocal Competition, and the Second Prize winner of the Opera at Florham Vocal Competition. Natale made her debut at Tulsa Opera in 2020 as Cio-Cio San in Puccini's Madama Butterfly. She is a favorite with audiences at OSJ, where she has been seen in leading roles including Rosalinde in Strauss' Die Fledermaus, and Nedda in Leoncavallo's Pagliacci, as well as Countess Almaviva in this season's The Marriage of Figaro transported to colonial India during Victorian Imperial rule. Other engagements include Opera Maine as Violetta in Verdi's La Traviata under conductor Stephen Lord, about which Opera News wrote "her powerful soprano easily filled the house." In her Sarasota Opera debut as Liù in Puccini's Turnadot, Natale was hailed by New Outpost as having an "unequivocal Italian sound." As a concert soloist, Natale has been featured at Carnegie Hall in Fauré's Requiem and Mozart's Missa Solemnis with MidAmerica Productions. She has also appeared as the soprano soloist with NYC Master Chorale in Dvořák's's Te Deum and Mozart's Requiem.



Adrian Kramer (Cavaradossi)

After earning critical praise in recent seasons with companies throughout North America and Europe for his vocal appeal and strong theatrical engagement, tenor Adrian Kramer will make his company debut with Opera San José as Cavaradossi. Kramer debuted as Hoffengut in Walter Braunfels' Die Vögel with Pacific Opera Victoria in February 2023, and will join the roster of The Metropolitan Opera to conclude the 2022-23 season, where he will cover the role of Steuermann in Wagner's Der fliegende Holländer. In 2024, Kramer will appear as Don José in Bizet's Carmen with Orchestre Philharmonique et Choeur des Mélomanes. He has sung several roles with Opera Philadelphia,
Opera Omaha, San Diego Opera, Edmonton Opera, and Santa Fe Opera, and made his Off-Broadway debut in collaboration with Ensemble for the Romantic Century as the Tenor in Tchaikovsky: None But the Lonely Heart. Recent performances include his European operatic debut with the Komische Oper Berlin as TOBY HIGGINS in a new Barrie Kosky production of Kurt Weill's Aufstieg und Fall der Stadt Mahagonny, and as Die Nase, Iaryzhkin, and a Eunuch in Dmitri Shostakovich's Die Nase.

Kidon Choi (Scarpia)

Baritone Kidon Choi makes his company debut with Opera San José as Scarpia. He is a recent graduate of the prestigious Lindemann Young Artist Development Program at The Metropolitan Opera. While in the program, Choi was seen in Puccini's La fanciulla del West (José Castro), conducted by Marco Armiliato; Verdi's Otello (Herald), conducted by Gustavo Dudamel; and Puccini's Madama Butterfly (Prince Yamadori). His 2022-23 season began with his return to the Korea National Opera for Offenbach's Contes d'Hoffmann(Four Villains), and will conclude with his company debut with San Francisco Opera for Madama Butterfly(Prince Yamadori) and Richard Strauss' Die Frau ohne Schatten (Night Watchman #2). Last season, Choi made his debut with The Cleveland Orchestra in Otello (Montano), conducted by Franz Welser-Möst and returned to Wolf Trap Opera for Verdi's La traviata (Germont). Recent appearances include La fanciulla del West (Jack Rance) with the Korea National Opera and scenes from Otello at the Bay Street Theatre, followed by debuts at North Carolina Opera in Leoncavallo's Pagliacci (Tonio), conducted by Keitaro Harada and Opera Idaho in Puccini's La bohème (Marcello).

Alexander Scheuermann (Spoletta)
Tenor Alexander Scheuermann also makes his company debut with Opera San José as Spoletta. Described by Arts Louisville as "a performer's performer," Scheuermann has been praised for his beautiful tone and nuanced stagecraft in operatic and concert productions across the U.S. and in Europe. Although his Carnegie Hall debut (Haydn's Lord Nelson Mass) was canceled due to the COVID-19 pandemic, Scheuermann bounced back with the opera world and has continued to perform with companies including Arizona Opera, Opera Tampa, Winter Opera St. Louis, and the La Porte County Symphony Orchestra. Recent performed roles include Fenton in Verdi's Falstaff, Frederic in Arthur Sullivan's The Pirates of Penzance, Tony in Leonard Bernstein and Stephen Sondheim's West Side Story (concert version), Marco in Sullivan's The Gondoliers, and concert repertoire spanning from Don Ramiro in Rossini's La Cenerentola to Candide in Bernstein's Candide. In 2021 he covered Tim Laughlin in Gregory Spears' Fellow Travelers as an apprentice artist at Des Moines Metro Opera. During the 2019-2020 season Scheuermann was a Sanford Studio Artist at Kentucky Opera, and an Artist in Residence at Pensacola Opera during the 2018-2019 season. He holds degrees in Voice from Florida State University and the University of Houston, where he studied with tenor Joseph Evans.

Robert Balonek (Angelotti)
Baritone Robert Balonek returns to Opera San José as Angelotti. Earlier this season, he covered the roles of the Count in Mozart's The Marriage of Figaro and Ford in Verdi's Falstaff. Relocated from New York City, Balonek now lives in Sonoma county where he is quickly adding to his West Coast repertoire. Aside from classic operas, Balonek was known on the East Coast for his adaptability and readiness to learn new works in a short amount of time while working with modern composers in world premiere operas - from Ricky Ian Gordon to Mohammed Fariouz, David Guerrero, Gerald Cohen, and Stefania De Kenessey. He has also performed a wide variety of oratorios including the title role in Handel's Saul, as well as the bass-baritone soloist for Haydn's Creation Mass, Bach's St. Matthew Passion, and many Messiahs and Requiems. Professional recordings include Prospero in Lee Hoibys Tempest and Father Francis in Lucas' Confession for Albany Records.

Igor Vieira (Sacristan)
Baritone Igor Vieira makes his company debut with Opera San José this season to appear as Sacristan. He has performed over 100 operatic roles in 11 different countries with opera companies that include the San Francisco Opera, Hawaii Opera Theatre, Theatro Municipal do Rio de Janeiro, Phoenix Hall (Japan), and the Rudolfinum (Czech Republic), among others. Parallel to his singing career, Vieira is a prolific stage director, having worked with companies such as the Tacoma Opera, West Bay Opera, and Opera Cultura.

Joshua Hughes (Sciarrone)
Bass-baritone Joshua Hughes returns to Opera San José to appear as Sciarrone. Lauded for his "lush, rich" voice (TheatreBloom), "powerful lyricism" (Texas Classical Review), and "brilliant vocal range" (DC Metro Theater Arts), Hughes has performed in a wide variety of repertoire. The "rising young singer"(Baltimore Sun) approaches every role with "power and dramatic effect" (Dallas Morning News) and "brings a palpable energy to every scene" (TheatreEddys). His 2022-23 season has included a house debut at West Bay Opera, performing Verdi's La traviata (Dottor Grenvil) and Mozart's Don Giovanni (Masetto and Commendatore); continued work with OSJ in Alma Deutscher's Cinderella (Minister); and a principal debut at Lamplighter's Music Theatre in Arthur Sullivan's Iolanthe (Lord Chancellor). Currently based in the Bay Area, Hughes is a frequent soloist with Soli Deo Gloria and often sings with the San Francisco Symphony Chorus and San Francisco Opera Chorus. He has performed internationally at Hong Kong Disneyland and across the U.S. with the American Baroque Opera Co., Dallas Bach Society, Young Victorian Theatre Company, Victorian Lyric Opera Company, Opera in Concert, Orchestra of New Spain, and Lyric Baltimore.

Andrew Fellows (Jailer)
Baritone Andrew Fellows returns to Opera San José to appear as Jailer in Puccini's Tosca. Currently based in the San Francisco Bay Area, Fellows has performed in opera, musical theatre, and concerts. He made his professional debut in 2019 singing the roles of Man One & Two, while covering the role of Elder McLean, in Festival Opera's production of Carlisle Floyd's Susannah. During the pandemic Fellows took part in Lisette Oropesa's masterclass series, followed by his return to the operatic stage in 2021 where he appeared in the role of Rodin's Apprentice in the World Premiere of A Jake Heggie Triptych with Festival Opera. The following year, Fellows joined Opera San José for its production of Bizet's Carmen. He later went on to debut as Figaro in the Stanford University Opera department's production of Mozart's Le nozze di Figaro, as well as Escamillo with Varna International Music Festival's production of Carmen, under the baton of Gregory Buchalter. Since 2010, Fellows has studied voice and trained privately with teachers and coaches that include Amy Shoremount-Obra, Zachary Gordin, Eugene Brancoveanu, John Brancy, and William Sauerland.

Joseph Marcheso (Conductor)
Joseph Marcheso, Music Director and Principal Conductor of Opera San José, returns to conduct Puccini'sTosca. He was most recently seen conducting OSJ's classic production of Verdi's Falstaff. Marcheso has conducted more than 25 productions for OSJ, including the company premiere of Jake Heggie and Gene Scheer's Moby Dick, the West Coast premiere of Kevin Puts and Mark Campbell's Silent Night, and the World Premiere of Mark Weiser's Where Angels Fear to Tread, among others. As staff conductor and cover at San Francisco Opera, he has served on many productions including the San Francisco premiere of John Adams's Nixon in China, the World Premiere of Mark Adamo's The Gospel of Mary Magdalene, and Heggie and Scheer's It's a Wonderful Life (cover). Prior to joining Opera San José, Marcheso was on the conducting staff for Washington National Opera's Manon Lescaut and served as the Music Director for the Amato Opera in New York City.

T

ara Branham (Director)
A director of opera and theatre, Tara Branham returns to Opera San José for a third consecutive year in the company's resident ensemble, making her mainstage directing debut with Tosca. In the 2022-23 season, she served as Assistant Director for Mozart's The Marriage of Figaro and Verdi's Falstaff. In July 2022, Branham directed the U.S. premiere of Mark-Anthony Turnage's Coraline at West Edge Opera, in collaboration with Papermoon Opera Productions. Earlier in the 2022-23 season, Branham returned to Opera Theatre of Saint Louis (OTSL) to direct a reimagining of Mozart's Così fan tutte. She has previously directed The Barber of Seville for OTSL's Opera on the Go education program, seen by over 80,000 students nationwide. As Resident Director for Opera San José, Branham helmed digital productions of Jake Heggie's Three Decembers, starring Susan Graham, and Love & Secrets: A Domestic Trilogy, which included Wolf-Ferrari's Il segreto di Susanna, Ned Rorem's Four Dialogues, and Tom Cipullo's The Husbands. She has also directed and co-created the musical pastiches Sing For Your Supper! and The Parting Glass for Opera San José. Her production of the U.S. premiere of Octagon, starring Kiki Layne (If Beale Street Could Talk, The Old Guard) at Jackalope Theatre, received a sold-out extension. This was a culmination of three years of development and collaboration with Kristiana Rae Colón (Showtime's The Chi), with whom she also directed and co-produced the sold-out premiere of Good Friday.
Opera San José
(OSJ) is a flagship arts organization of Silicon Valley. Maintaining a resident company of artists, OSJ presents four mainstage productions annually in San José's beautifully restored, magnificent California Theatre. It also regularly broadcasts fully produced productions from its state-of-the-art Heiman Digital Media Studio. OSJ specializes in role debuts, serving as an artistic incubator for established and emerging artists and administrators, producing world-class operatic performances for diverse audiences throughout the Bay Area and around the globe. More information is available at operasj.org.
The California Theatre is one of the most magnificent, best-preserved examples of 1920s-era lavish motion picture palaces. Lovingly restored at the turn of the 21st century, its opulently ornamented interiors were completely refurbished, including the elaborately stenciled entry foyer ceiling and magnificent gallery. With only twenty rows of seats in the orchestra section, five rows in the grand tier, and six in the mezzanine, every seat has an excellent view of the stage. With just over 1,100 seats, The California is comparable to England's Glyndebourne and Venice's historic Teatro la Fenice and is in the select ranks of the world's most intimate opera houses.