One Found Sound Launches The Herbert Franklin Mells Project Next Month
The concert on Saturday, March 4 at 8 p.m. will present the world premiere of Mells' Symphony No. 1 in D Minor and more.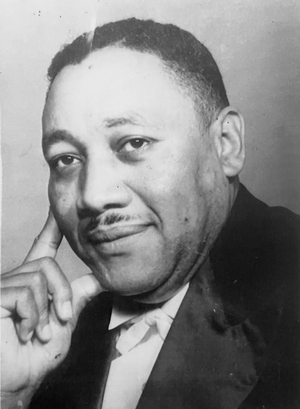 One Found Sound, a conductorless orchestra now celebrating its tenth anniversary, has announced the launch of its most ambitious initiative to date: The Herbert Franklin Mells Project, a five-year undertaking that includes the preparation, performance and recording of the composer's large orchestral works written from 1938 to 1945.
The concert on Saturday, March 4 at 8 p.m. will present the world premiere of Mells' Symphony No. 1 in D Minor alongside Ludwig van Beethoven's Coriolan Overture, Op. 62, and Quinn Mason's Reflection on a Memorial. The concert will also feature a visual program created by filmmaker Max Savage with artwork by Sharon Virtue. Tickets are now on sale at onefoundsound.org/events.
Born in 1908, Herbert Franklin Mells was a composer, educator and choral director, and the first Black American to receive a Ph.D. with a focus on symphonic music. He was only the second Black American to receive a Ph.D. in music composition. While serving as the music department chair at Langston University, Hampton Institute, and later at Tennessee State University, Mells wrote numerous choral pieces and works for solo voice as well as arrangements of traditional songs. While most of his musical output remained unpublished upon his untimely death at the age of 44 - he was a victim of spinal meningitis - his vocal works have had a lasting impact, having remained in the repertories of many choirs. Among the titles he is remembered for are "Burden'd Chile (A Spiritual Lament)," "I've Got Religion" and "A Christmas Lullaby: In the Style of a Negro Lullaby."
Ten of Mells' orchestral works have been discovered, but significantly all of them are unknown, having been neither published nor performed during his lifetime. Rounding out his musical production are more than 30 instrumental works for violin, piano, organ, strings and brass.
One Found Sound has undertaken to correct this historical lapse by preparing four of Mells' symphonic works for their long overdue premiere. One Found Sound will also undertake the recording of each of these works. Kicking off the series next month is Mells' Symphony No. 1 in D Minor, written in 1938 in partial fulfillment of his master's degree from Indiana University. The works to follow in the coming years include his Symphony No. 2 in B Minor (Burden'd Chile) (1944), Newsflashes of Late '44 (1944) and A Symphonic Poem of the Americas (1945).
One Found Sound has recruited R. James Whipple, artist lecturer in Composition at Carnegie Mellon University, to prepare Mells' handwritten manuscript for performance. Having been introduced to Mells more than a decade ago through one of his grandchildren, the baritone Eugene Perry, Whipple previously arranged several of the composer's songs for the wind quintet he leads in Pittsburgh.
"How can we possibly evaluate the contributions of African American composers if their music has never been heard?" writes Whipple in a program note. "In Mells' case, as is typical of African American composers of his time, publishers - even including Mells' friend, W.C. Handy - were willing to publish spiritual settings because there was sales potential, but they had absolutely no interest in publishing instrumental music, especially orchestral music. This is why Mells' instrumental compositions remained undisturbed in a trunk, waiting for their chance to be brought to life."
"A number of clearly defined goals drive The Herbert Franklin Mells Project," said One Found Sound Co-Founder Sarah Bonomo. "In bringing to life Mells' orchestral music, we seek not only to highlight Mells' artistry and biography, but to draw attention to longstanding barriers and inequities in orchestral music institutions, the classical music community and society at large. This project is a reparative act, intended to inspire further change to unjust and discriminatory practices in American orchestras, and to amplify the work of Black artists, both living and deceased."
"Beyond this, we intend to support the secure ownership of Mells' orchestral music to his family's estate. Under current copyright laws, these scores would fall into the public domain due to their composition prior to 1978. However, because they were never published nor registered during his lifetime due to racial barriers, we hope to see the rights to the scores turned over to the Mells family, so that they may remain the benefactors of their publication and performance."
For more information about The Herbert Franklin Mells Project, visit onefoundsound.org/mells-project.