Merola Opera Program's Summer Festival to Conclude With Merola Grand Finale in August
The Merola Grand Finale will be presented at 7:30pm, Saturday, August 20 at the War Memorial Opera House.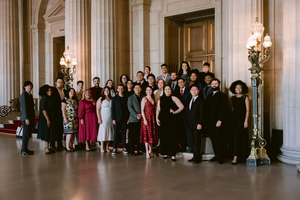 Merola Opera Program's Summer Festival ends on a high note with the Merola Grand Finale, a concert featuring the 31 young artists of the 2022 program performing some of opera's most thrilling arias and ensembles. As the largest class in company history, and the first group of Merola participants to return to in-person performances in nearly two years due to the COVID-19 pandemic, the culmination of this season is monumental, setting the stage for the bright future that lies ahead. Directed by 2022 Merola Stage Director Matthew J. Schulz, this performance will showcase the dedication, passion, and extraordinary talent of opera's exciting new voices. The performance will be conducted by Patrick Furrer, a Metropolitan Opera staff member since 2011, who made his conducting debut at the Metropolitan Opera in December 2021 with Mozart's Die Zauberflöte, followed in February 2022 by the company's first-ever production of the original five-act French version of Verdi's Don Carlos. The Merola Grand Finale will be presented at 7:30pm, Saturday, August 20 at the War Memorial Opera House, 301 Van Ness Ave., San Francisco. For more information or to purchase tickets ($25/$40/$50), the public may visit www.merola.org/calendar.
The repertoire for the Merola Grand Finale will showcase selections from a wide variety of operas, including Mozart's Le nozze di Figaro; Puccini's Madama Butterfly and La bohème; Bizet's Les pêcheurs de perles and Carmen; Gounod's Roméo et Juliette and Faust; Pietro Mascagni's L'amico Fritz; Handel's Amadigi di Gaula; Berlioz's L'enfance du Christ; Donizetti's Don Pasquale, L'elisir d'amore, and Lucia di Lammermoor; Jeanine Tesori's Blue; William Grant Still's Highway 1, USA; Britten's Albert Herring; John Adams's Doctor Atomic; Verdi's Falstaff; and Strauss's Ariadne auf Naxos.
The young artists performing are:
Veena Akama-Makia (Mezzo-soprano)
Amanda Batista (Soprano)
Cody Bowers (Countertenor)
Le Bu (Bass-baritone)
Andres Cascante (Baritone)
Shawn Chang (Pianist/Coach)
Edwin Jhamaal Davis (Bass)
Daniel Luis Espinal (Tenor)
Adia Evans (Soprano)
Gongming Jiang (Pianist/Coach)
Chance Jonas-O'Toole (Tenor)
SeungYun Kim (Bass-baritone)
Maggie Kinabrew (Soprano)
Scott Lee (Baritone)
Chelsea Lehnea (Soprano)
Yang Lin (Pianist/Coach)
Celeste Morales (Soprano)
Artyom Pak (Pianist/Coach)
Jonghyun Park (Tenor)
Olivia Prendergast (Soprano)
Nikola Adele Printz (Mezzo-soprano)
Maggie Reneé (Mezzo-soprano)
Deborah Robertson (Pianist/Coach)
Ashley Marie Robillard (Soprano)
Arianna Rodriguez (Soprano)
Sahel Salam (Tenor)
Moisés Salazar (Tenor)
Matthew J. Schulz (Stage Director)
Olivia Smith (Soprano)
William Socolof (Bass-baritone)
Erin Wagner (Mezzo-soprano)
ABOUT PATRICK FURRER:
Born and raised in Switzerland, Patrick Furrer studied piano in Zurich and conducting in Bern, Vienna, and Aspen. He started his professional career at the Theater Basel as a répétiteur and conductor, working on many productions. He later served as First Kapellmeister at the Tiroler Landestheater Innsbruck. Furrer has led numerous new productions at various opera houses, including Humperdinck's Hänsel and Gretel, Ernst Krenek's Jonny spielt auf, Verdi's Un ballo in maschera, as well as Prokofiev's Romeo and Juliet and Otto Nicolai's The Merry Wives of Windsor in Innsbruck, Donizetti's L'elisir d'amore at the Volksoper Vienna, Mozart's Don Giovanni in Lucerne, Strauss II's Die Fledermaus with the Hong Kong Academy for Performing Arts (where he also conducted Mahler Symphonies No. 5 & 9), and Berlioz's Béatrice et Bénédict at the (Northwestern) Bienen School of Music. He also conducted performances of Mozart's Così fan tutte and Die Zauberflöte, Verdi's Otello, and Massenet's Werther in Innsbruck; Verdi's Rigoletto in St. Gallen; Un ballo in maschera and Die Zauberflöte in Mannheim; Hänsel and Gretel in Nürnberg; Schoeck's Penthesilea, Puccini's La bohème, and Wagner's Der fliegende Holländer back in Basel; as well as Offenbach's Les contes d'Hoffmann at the Zurich Opera House. In the symphonic field, Furrer has conducted the Tonhalle Orchestra Zürich; the symphony orchestras of Basel, Bern, St. Gallen, and Biel; Münchner Rundfunkorchester and Tonkünstler-Orchester; and the Orchestre du Conservatoire National de Paris. He also conducted the opening ceremony of the Swiss National Exposition.
ABOUT MATTHEW J. SCHULZ:
Based in Austin, Texas, Matthew J. Schulz is a multifaceted stage director and theatre artist who is committed to fostering inclusivity, community, and integrity within his artistic pursuits. He strongly believes that the world of opera and the musical stage are crucial to the community's development as a society and understanding of the human condition. Past stage works include Viktor Ullmann's Der Kaiser von Atlantis, Donizetti's L'elisir d'amore, Menotti's The Telephone and The Medium, Jessy Eubanks's XOR, Jenny Schwartz and Todd Almond's IOWA, and Keith Allegretti and Cecelia Rake's Good Country.
ABOUT THE MEROLA OPERA PROGRAM:
The Merola Opera Program is widely regarded as the foremost opera training program for aspiring singers, pianists, and stage directors. Merola nurtures the opera stars of tomorrow through master classes and private coaching with opera's most accomplished singers, conductors, and directors. Participants also receive training in operatic repertoire, languages, diction, acting, stage movement, and professional development. Offered free of charge to all participants, the Merola Opera Program is unique in the industry in many ways. It is the only young artist program to provide financial support to developing artists for five years following their participation, offering aid for essential career development expenses including coaching, language classes, and audition travel.