Photo Flash: First Look at La Jolla's AMERICAN NIGHT
La Jolla Playhouse presents American Night: The Ballad of Juan José, written by Richard Montoya (Zorro in Hell) for Culture Clash, developed by Culture Clash and Jo Bonney (The Seven, Adoration of the Old Woman), directed by Jo Bonney. A co-production with Center Theatre Group and originally commissioned and produced by the Oregon Shakespeare Festival, American Night: The Ballad of Juan José will run January 27 - February 26, 2012 in the Sheila and Hughes Potiker Theatre.
The cast of American Night features: Stephanie Beatriz as Lydia/Ensemble; Rodney Gardiner as Ben Pettus/Ensemble; David Kelly as Harry Bridges/Ensemble; Terri McMahon as Mrs. Finney/Ensemble; René Millán as Juan José; Culture Clash founder/member Richard Montoya as Juan José the First/Ensemble; Kimberly Scott as Viola Pettus/Ensemble; Culture Clash founder/member Herbert Siguenza as Neil Diamante/Ensemble; Daisuke Tsuji as Johnny/Ensemble.
The creative team includes: Jo Bonney, Co-Creator/Director; Neil Patel, Set Designer; ESosa, Costume Designer; David Weiner, Lighting Designer; Darron L. West, Sound Designer; Shawn Sagady, Projection Designer and Ken Roht, Choreographer.
Last seen at The Playhouse in 2006 in Culture Clash's Zorro in Hell, Richard Montoya and Culture Clash return with their latest work, American Night: The Ballad of Juan José. As Juan feverishly studies for his U.S. citizenship exam, he becomes ensnared in a tumultuous, whirlwind journey through pivotal moments of American history. Juan discovers America's best in a handful of unsung citizens who made courageous choices in this provocative, irreverent comedy about our shared past - and future.
La Jolla Playhouse will be hosting several audience engagement events in conjunction with American Night, including an interactive Panel Discussion on the themes of the play, to take place on Saturday, February 18 following the 2:00pm performance; Discovery Sunday on February 26 following the 2:00pm performance; Talkback Tuesdays, a post-show discussion series with the cast and crew, on February 7 and February 14; Insider Events, a series of pre-show discussions with Playhouse staff, on Thursday, February 9, Friday, February 17, Saturday, February 18 (matinee), Wednesday, February 22 and Saturday, February 25 (evening performance); and Foodie Friday, a pre-show food truck event, on February 10 at 6:00pm.
American Night: The Ballad of Juan José is sponsored by Morrison & Foerster, Deutsche Bank, Gurtin Fixed Income, Don and Stacy Rosenberg and Camille and David Saltman.
Tickets for American Night: The Ballad of Juan José are available by calling The Playhouse Box Office at (858) 550-1010 or online at LaJollaPlayhouse.org. Photos are available in The Playhouse Media Room at (username: media; password: pelican).
Culture Clash was founded by Richard Montoya, Ric Salinas and Herbert Siguenza in 1984 and has since become the country's most popular and prolific Chicano/Latino performance troupe. Notable productions include The Mission, Bordertown, Radio Mambo: Culture Clash Invades Miami, The Birds, Chavez Ravine, Frank Loesser's Se?or Discretion Himself, Zorro in Hell, Water & Power and Peace. Culture Clash has appeared in several feature films and co-produced, wrote and starred in their own ground breaking television show for FOX-TV. Their third book of plays was recently published by TCG books. Culture Clash is the recipient of numerous awards, commissions and grants, Culture Clash is named along with Shakespeare in a law suit by the Arizona Attorney General as material and plays unsuitable for Tucson High School students. The case goes before the 9th Circuit Court of Appeals this spring in San Francisco - their birthplace.
Jo Bonney's credits include premieres of plays by Alan Ball, Eric Bogosian, Danny Hoch, Neil LaBute, Warren Leight, Will Power, José Rivera, Diana Son, Naomi Wallace and Michael Weller, as well as productions of plays by Carol Churchill, Nilo Cruz, Anna Deavere Smith, Lisa Loomer and Lanford Wilson. She has worked at The Public Theater, NYTW, Signature Theatre, Second Stage, Classic Stage Company, Playwrights Horizons, Goodman Theatre, La Jolla Playhouse, Geffen Playhouse, Williamstown Theatre Festival, Arena Stage, Mark Taper Forum, Long Wharf Theatre, and McCarter Theatre, among others. Awards include an Obie Award for Sustained Excellence in Direction, Lucille Lortel Best Musical (The Seven) and Lucille Lortel Best Revival (Fifth of July). She is also the author/editor of Extreme Exposure: An Anthology of Solo Performance Texts from the Twentieth Century (TCG).
Photo Credit: Craig Schwartz


Stephanie Beatriz, René Millán and Richard Montoya

René Millán and the cast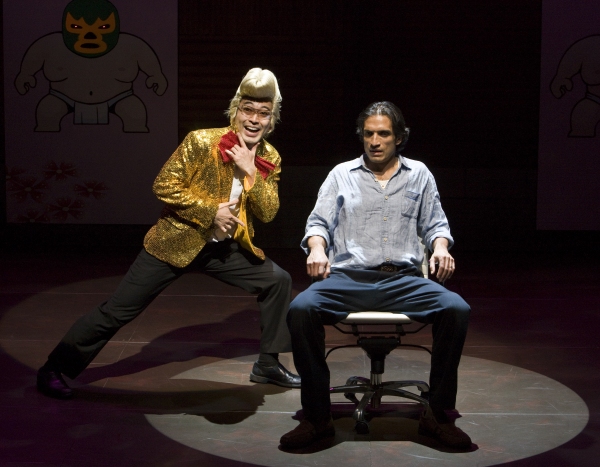 Tsuji and René Millán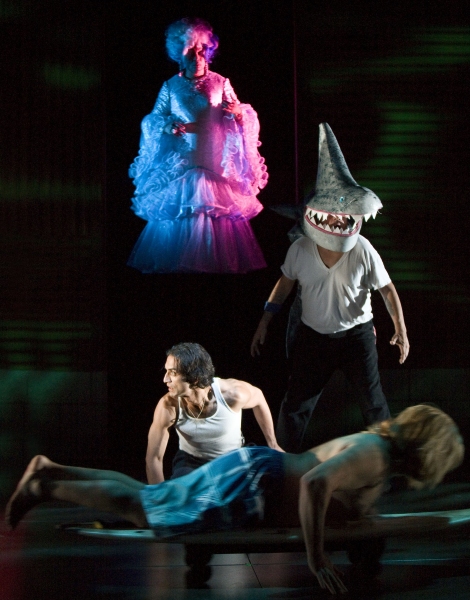 Daisuke Tsuji, René Millán and Stephanie Beatriz