Utah Rep Announces New Artistic Director and Creates Position to Lead Development and Fundraising at 'Five Seasons of Success' Celebration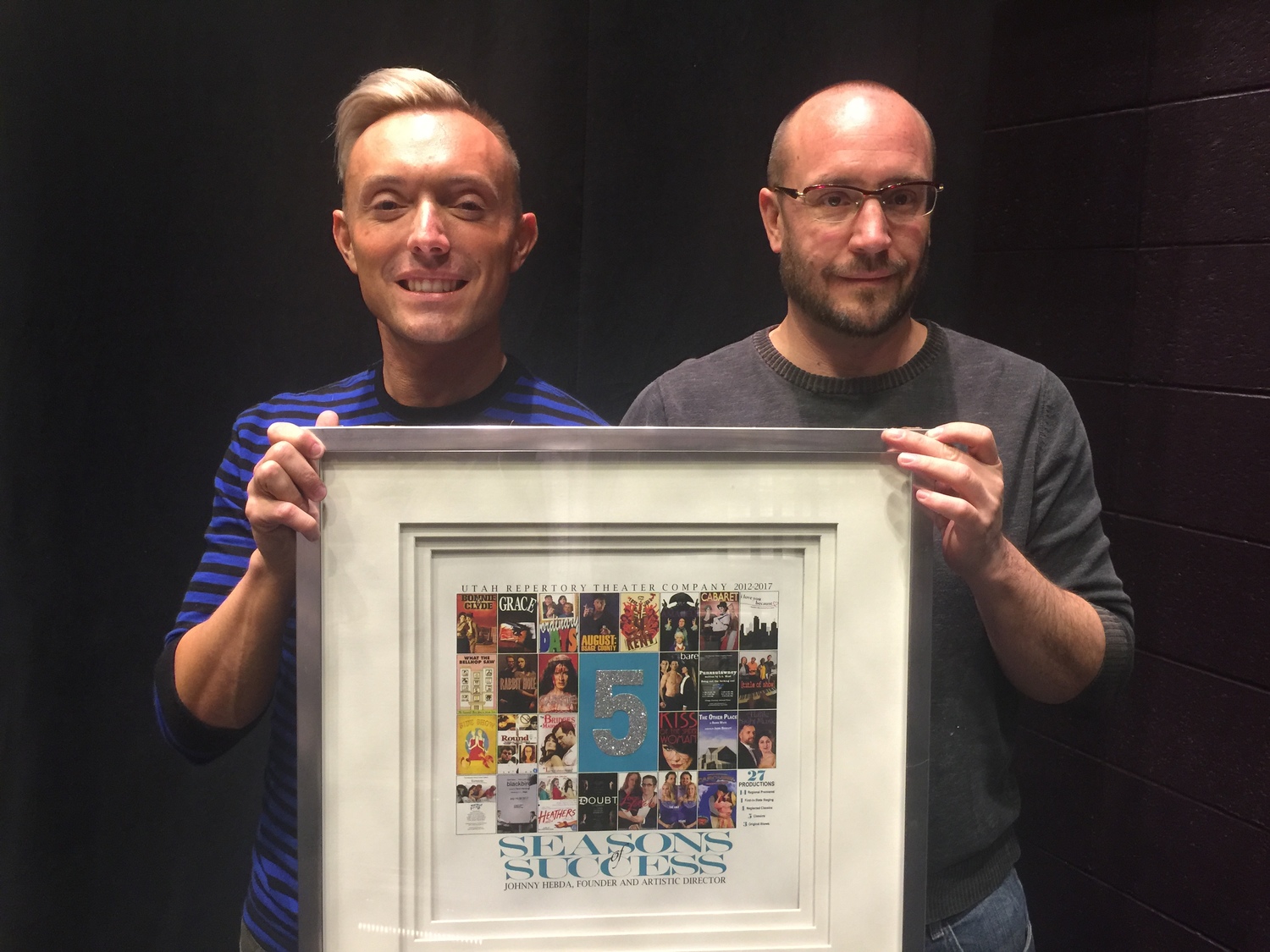 To continue its unprecedented growth and expand the focus on its unique mission for theater in the state, Utah Repertory Theater Company has announced a leadership change.
Utah Rep Board member JayC Stoddard will assume the role of Artistic Director for the company with Founder Johnny Hebda stepping aside for the newly created position of Executive Director, Development. Hebda will oversee a major fundraising campaign and additional ventures that will increase the company's stature within the Utah theater community.
The announcement was made at the final performance of THE BRIDGES OF MADISON COUNTY, which was a celebration of the company's "Five Seasons of Success."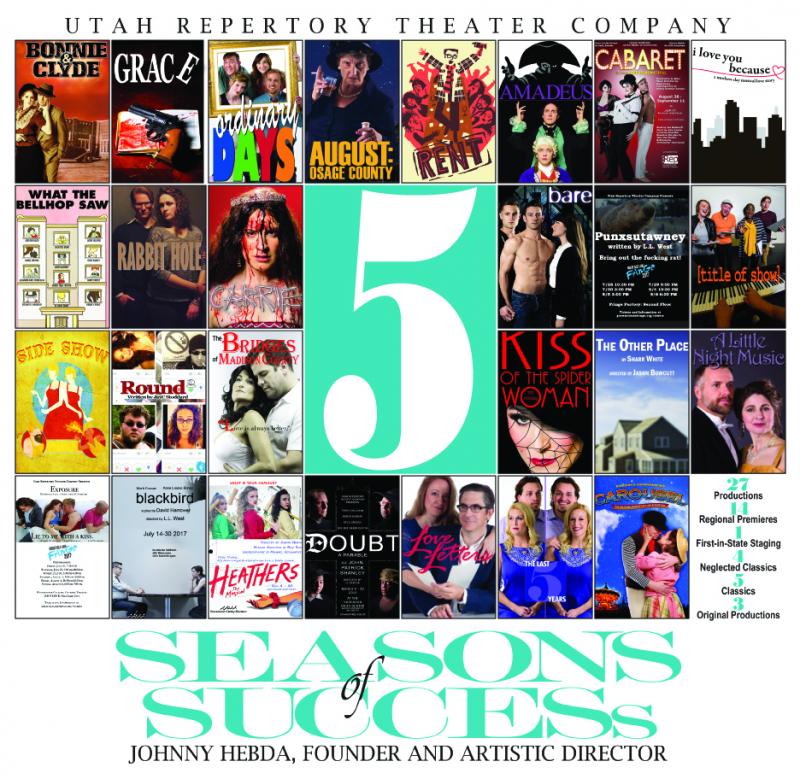 "My goal for Utah Rep has always been to create a professional Equity theater in Salt Lake City with a solely individual focus on the new-to-the-state and overlooked," Hebda said. "The major challenge is financial. I feel that I can best serve the mission of Utah Rep by dedicating time to securing sponsorships, building our season-ticket subscribers base and focusing on grant writing. Working as artistic director as a volunteer position in addition to my full-time profession outside the world of theater has made it near impossible to have time to dedicate to these important tasks."
A longtime company member, Stoddard will continue the emphasis the company has followed during its five-year history staging 27 productions -- 14 regional premieres, one first-in-state staging, four neglected classics, five classics and three original productions -- since the company's first production, the regional premiere of SIDE SHOW in 2013. According to BroadwayWorld, Utah Rep is "the area's only successful company to focus on premieres and neglected shows."
"Naturally, it is my hope that the company will continue on a path of reputation for quality productions," Stoddard said. "I hope to draw more talent, more voices, more actors and dancers and singers and musicians and technicians and directors-artists of all types-to a place where we can share this vision. To all be part of something whose sum is greater than all the individual parts. It is my hope that with each new season, we are able to bring our productions to more and more people."
Utah Rep has enjoyed an enthusiastic embrace from adventurous theatergoers and exceptional support from the theatermaking community in Utah through its singular vision, according Stoddard.
"I truly believe that there is not only an audience for new and neglected shows, but a veritable artistic thirst for something more than JOSEPH...DREAMCOAT or LES MIZ for the 1,000th time," he said. "There are so many incredible stories out there waiting to be shared. Utah Rep gives home to those stories. I am beyond thrilled to be a part of that and bring with me the drive to make sure that is always the goal: to discover more and to share more."
After overseeing all artistic and administrative endeavors of Utah Rep over its five seasons, Hebda will continue his dedication to the company, albeit in a new arena."My drive for success and winning and accomplishing lofty goals is what gets me up in the morning and keeps me up late at night," Hebda said. "I am only satisfied with perfection and being the best. Though this is not always accomplished, it's this drive that pushes me and gives me the energy to keep going amongst challenges and obstacles. That tenacity and sheer willpower have led to much of my success in life, and I won't stop until Utah Rep has reached these goals."
Explaining his enthusiasm for the role of Artistic Director, Stoddard said, "My passion is ultimately for storytelling and storyhearing -- for the stories that are important to us right now and the manner in which we tell them. I have always understood that in the course of human history, it is through the stories we tell that we grow and learn together as a community."
"I have found much artistic fulfillment," Hebda said, observing the company's first five years and producing 27 shows. "I have grown as an artist, gained an amazing education in arts administration, grown as a person and leader, and have made lifelong friendships and relationships. I have been able to collaborate with amazingly talented artists in Utah, as well as New York-based playwrights and composers, through my affiliation with Utah Rep."
Utah Rep's first meeting was on Dec. 12, 2012, with Hebda as the first Artistic Director. The company's mission statement indicates the objective to bring to Utah premieres of Broadway/Off-Broadway musicals and dramas along with productions of overlooked and classics shows.
At the five-year celebration, Utah Rep directors, music directors and choreographers who have helmed productions were recognized:
DIRECTORS Jason Bowcutt (2 productions), JC Carter (3), Emilio Casillas, Adam Cannon, Chris Clark, Bobby Cody, Mark Fossen, William Cooper Howell, David Josh Patterson, Ashley Ramsey, Chase Ramsey (4), JayC Stoddard, John Sweeney, L.L. West (2) and Johnny Hebda (7)
MUSIC DIRECTORS Justin Bills, Kevin Mathie, Jeanne McGuire (2), Anjanette Mickelsen, Anne Puzey (6), Rick Rea (2) and Melissa Thorne
CHOREOGRAPHERS Ashley Gardner Carlson (4), Michael Hernandez (2), William Cooper Howell (3) and Ashley Ramsey (2)
UTAH REP'S FULL HISTORY OF PRODUCTIONS:
Regional Premieres: "August: Osage County," "Bare," "Blackbird," "Bonnie & Clyde," "Carrie," "Grace," "Heathers," "i love you because," "Kiss of the Spider Woman," "Ordinary Days," "The Other Place," "Side Show," "[title of show]" and "What the Bellhop Saw"
First-in-State Production: "The Bridges of Madison County"
Neglected Classics: "Carousel," "Doubt," "A Little Night Music" and "Rabbit Hole"
Classics: "Amadeus," "Cabaret," "The Last 5 Years," "Love Letters" and "Rent"
Original Productions: "Exposure," "Punxsutawney" and "Round2"
JAYC STODDARD BIO: For Utah Rep, Stoddard has directed "Rabbit Hole" and served as assistant director for numerous company productions. He played lead roles in Utah Rep's "Grace" and "Amadeus." Stoddard wrote "Exposure" (Audience Choice Award winner), with Natalia Noble, and "Round2" for Utah Rep's productions staged at the Great Salt Lake Fringe Festival. JayC's acting career has spanned 35 years. He has worked as an actor in Wyoming, Oregon, Montana, Idaho, Nevada and Utah, and he studied Theater at the Utah State University. His first Utah title role was "Picasso at the Lapin Agile" (Around The Globe Theatre) and other acting credits include "The Glass Menagerie," "The Tempest" and "Bob Juan Casanova" (ATG), "Three Days of Rain" (Pinnacle Acting Company), "Steadman & Walker: Zombie LLC" (The Hive Theater) and multiple shows at The Grand Theatre.
Utah Rep is a non-profit 501(c)(3) organization.