BWW Feature: Award-Winning New York City Playwright of STRAIGHT Joins Utah Rep for Developmental Staged Reading of His Followup, JUDGING HAYDEN

Utah Repertory Theater Company audiences had the unparalleled opportunity to enjoy the first public developmental staged reading of New York City playwright's followup to the off-Broadway hit STRAIGHT.
Drew Fornarola traveled to Utah to not only coach the cast and production team, but was eager to elicit responses from theatergoers on how to further develop the early version of the JUDGING HAYDEN script at post-performance talkbacks. As co-author with Scott Elmegreen, Fornarola also was able to join the company for its successful production of STRAIGHT.
Along with his achievement with STRAIGHT, Fornarola is artistic director of Starring Buffalo and includes work at Dreamworks Animation on his resume. He also wrote CLAUDIO QUEST and Molly Shannon'S TILLY THE TRICKSTER.
Each of the stagings drew record attendance, with audiences and company members richly rewarded through their experiences with Fornarola for his openness and generosity.
"Over the past 25 years, I have attended innumerable staged play readings, often doubting that post-play discussions with playwrights would provide any insight into how they might work further on the script," said audience member Alexis Baigue, a frequent cast member at Salt Lake Acting Company, which has as its major mission developing new plays, and seen onstage at the city's second Equity house, Pioneer Theatre Company.
"At Friday's JUDGING HAYDEN talkback, however, Drew Fornarola demonstrated the wisdom to be unattached to his script under scrutiny, as well as eagerness to learn everything he could from the audience, especially those critical of his writing; he did not just face their fire, he elicited more, probing with questions, delving further into what each person disliked or assessed did not work - all to improve the play. He left his ego outside and drew value from every person's response. I am eager to see in what direction he takes his script now."
On Facebook, Stephanie Brandner wrote: "It's always good to see you, Drew, and whatever amazing show you are a part of. But also it was so good to see the process that goes into make a show that leaves audiences thinking and gets people talking. Even in a not yet polished state, [JUDGING HAYDEN] provided such great conversations. I look forward to seeing it finished one day."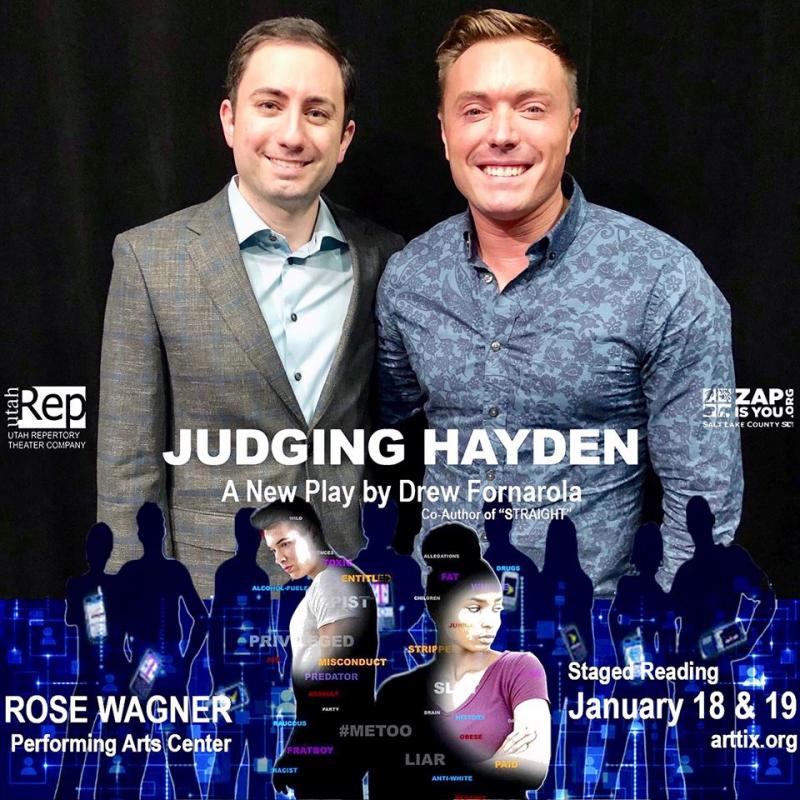 "It was a great weekend producing Drew Fornarola's staged reading of JUDGING HAYDEN," said Johnny Hebda, who arranged the visit. "The play gave us so much to think about, and I'm excited to see where this show goes, including a hope to see it on a Utah Rep season soon!"
Following the staging, Fornarola said: "I want to thank Utah Rep for an incredible week of development on JUDGING HAYDEN. Working on this piece with the cast, creative team and community taught me a great deal about where the play goes right and where it can be improved.
"I particularly want to thank the Utah Rep audience for its support. We had full crowds both nights who not only came to support the actors, but also stayed to talk and give feedback until they actually had to close the building! I think this both speaks to the generosity and thoughtfulness of the Salt Lake audience, and also to the fact that this work in progress can ultimately be a provocative and engaging play. I'm leaving motivated and excited for the future of JUDGING HAYDEN, and hope I can continue my collaboration with Utah Rep very soon."
About his travel to Salt Lake City, the playwright wryly observed on Facebook: "People are so nice here. Including (and especially?) the teenagers. And unlike the South (where people are undoubtedly polite), they actually seem sincere about it. It's ... disturbing."
Which prompted some fun responses, including from JUDGING HAYDEN cast member Dallon D. Thorup, "Well, I am a bitch, so it balances out." (Fornarola's response: "Thank God.")
And: "I've only been there once. I was 11. Visited Mormon Tabernacle. Mom went to bathroom and left me alone. Some people asked me questions. I said I was Jewish. And they said something like, 'We love Jews!' Mom returned to find a group of people trying to convert me. She politely said we had to get back to the hotel, and that was the end of it."
Along with: "'They seem sincere.' Key word is 'seem.' Scratch the surface and ..."
Fornarola concluded with: "And so we come to the end of a fascinating week at Utah Rep. JUDGING HAYDEN was born, I reconnected with some great old friends and made a number of amazing new ones.
"Feeling thankful and convinced there is nowhere in the world quite like Salt Lake City."